The best way to improve my blog is to deliver the type of content you want to read. But how can I know what kind of posts you enjoy reading unless I know more about you. That's why today I'm asking you to take a survey for me so that I can get to know you better. Just pretend we are sitting down in a cute cafe together and I'm just nonchalantly asking you questions about yourself while you sip your coffee or tea or hot chocolate — see, I don't even know which you'd be drinking!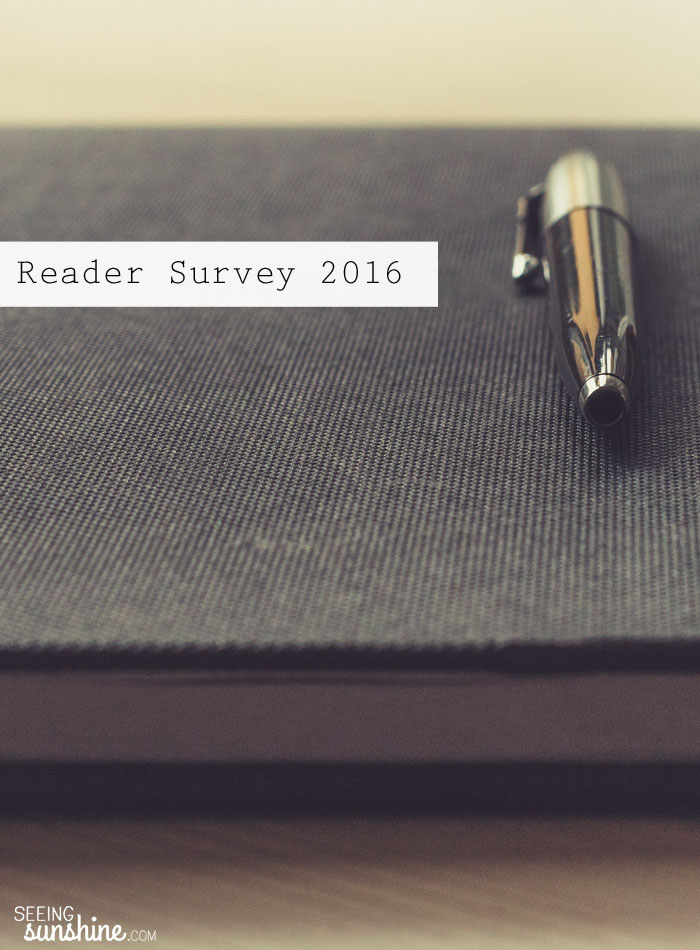 This survey is for anyone who reads my blog. So if you are reading this, I'd love for you to take it. Even if you don't read every post. Even if you just stumbled upon my site last week, or yesterday.
Or, and especially, this is for you if you read my blog a lot. Like you are a subscriber and a loyal Seeing Sunshine fan. (Hi, thank you and I love you!)
I tried to keep it short and sweet and super easy so you can quickly get back to your coffee, or tea, or hot chocolate. 🙂 Please be aware, though, that some of these questions may seem personal. This is because some of the things I write about — like faith and miscarriage — are personal topics. I want to know if they relate to you, so I appreciate your honesty. There are no names in this survey, so I won't know who wrote what.
And while you're here, if you are an avid reader or perhaps a new reader — here's how you can connect with me!
Subscribe via email. It's a great way to make sure you never miss a post because they come directly to your inbox.
Follow along on Facebook. Did you know my goal for 2016 is to hit 1K followers? I'm getting close!
Follow on Pinterest. I love me some Pinterest!
Check out my Instagram. This is where it gets a little more personal, so you'll see pics of my hubby and all the fun stuff we do over the weekends.
Read my About page and get to know me better. Like did you know I've never had a hamburger at a restaurant before?