Hey all you blogging beginners out there! I'm super excited for you and your new websites! There is so much to learn and so much hard work ahead for you, but hopefully it will all be worth it.
If you haven't already, be sure to read How to Start a Blog Part 1 where I share the first six steps you should take before even buying a domain. Then, read How to Start a Blog Part 2 where I share the step-by-step instructions for getting your own website.
Once you have all of those 12 steps finished and you've begun writing great content, it's time for the next steps! Today, I'm sharing with you the next steps of blogging for beginners.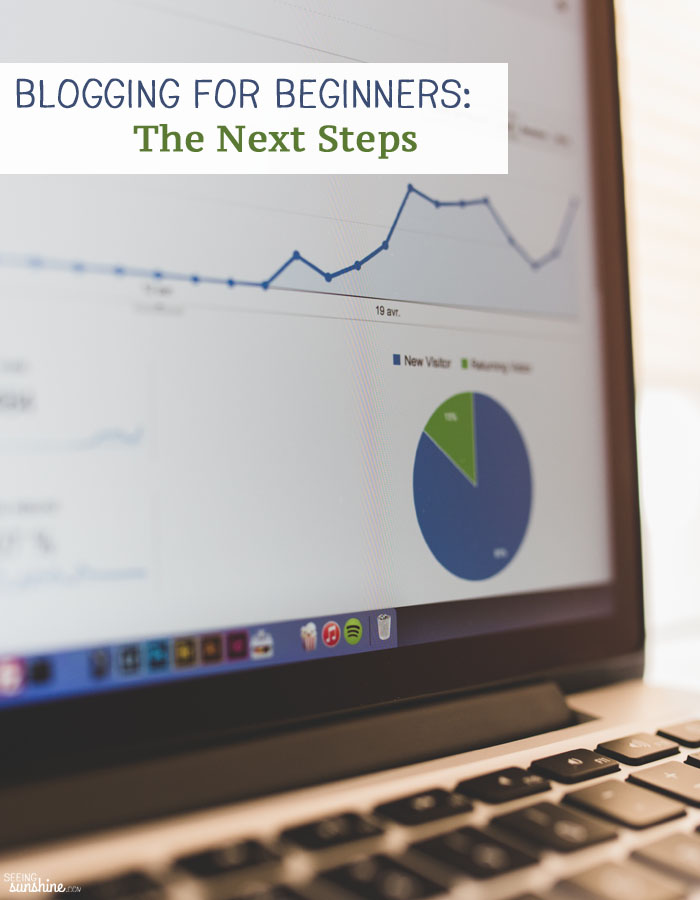 The Next Blogging Steps for Beginners
1. Email
First of all, you need to create your own email specifically for your blog so that people can contact you. It can be something like Tiffany@seeingsunshine.com or you can use gmail like I do and create something like SeeingSunshine1@gmail.com — that's my actual email for this blog!
Secondly, you need to decide if you want your readers to be able to receive your posts via email in an RSS subscription. Most bloggers have some type of subscription service — allowing their readers to connect with them via email. This is a really important way to get information out to your readers because everyone checks their email. I have an RSS email subscription, meaning each post I write gets sent to your email inbox if you sign up. There is also the option to get an email each week that just includes the links to each of my posts for that week. Other bloggers don't have this option, and instead they opt to send out a weekly or monthly newsletter. This newsletter may have updates on their life, their website, and links to their recent posts. It's completely up to you what you offer.
Read more about RSS here.
I use MailChimp for my email services. I really like how easy it is to set up their emails and brand them to your website. They have options for both RSS or newsletter type emails. It's free to use until you reach 2,000 subscribers, so if you're just starting out you don't really need to worry about that right now.
2. Social Media
Nowadays if you don't have social media, people may think you aren't even a real business! Social media is so important for any blog or business these days. You need to have social media accounts specifically for your blog!
Create a Facebook business page. Create a Pinterest business account. Create an Instagram account. Create a Twitter account. Do not get a social media account just to have one. Create one and use it. If you personally don't like Instagram, then don't bother. Only use the social media platform that you enjoy using because that means you'll actually use them. If you aren't posting to them frequently, no one is going to follow you.
Personally, I kind of despise Twitter. I hardly ever use it, and honestly I need to just delete my account. On the other hand, I love Facebook, Pinterest, and Instagram and use them every day! So those are the three platforms I need to focus on when it comes to my blog.
You also need to ask yourself where your audience is. For instance, I've never gotten any traffic from Twitter (maybe that's why I don't like it), so I don't think that's where my audience is. However, I get tons of traffic from Pinterest and Facebook!
You don't have to have every single platform out there. Just start with one or two.
3. Facebook Groups
One of the very best tools for learning about blogging is to talk with other bloggers. I have learned a ton and even been able to connect with some great blogging friends through blogging Facebook groups. Find them and join them. Ask questions. Get involved. Read, read, read. You'll learn a ton and probably make some friends along the way.
Here are my favorite Facebook blogging groups:
Inspired Bloggers Network
Mil-Blogging Buddies
The Peony Project
Equipping Christian Women in Business
VA for Hire and Pinterest-Friendly Content for Bloggers
Christian MilSpouse Bloggers
Christian Women Bloggers Network
Faithful Bloggers
4. Google Analytics
The very best way to keep track of how your blog is growing or not growing is by using Google Analytics. This is a great tool for all bloggers! You sign into your account and it gives you all kinds of stats such as how many page views you had this month, which pages are your most popular, how many people are on your site right now, and where your traffic is coming from. You can learn about your audience and about your content. This can help you see which post topics are your most popular and therefore which topics you should write about more. It's also pretty darn exciting when you meet a goal and finally hit 100, 1,000, 10,000, or 100,000 page views!
Sign up for Google Analytics and follow the on-screen instructions.
Set up a property — your website — by following these instructions.
Set up your tracking by following these instructions.
Once you've finished those three main steps, your analytics will be all set up and within days you can start checking your stats!
5. Disclosure & Privacy Policies
Your blog is about to become your business, especially if you plan to monetize. Because of that, you need to have a disclosure policy about your advertising and affiliate links, as well as a privacy policy. This is where you will disclose all that important information such as the fact that the words on your blog are copyrighted and should never be used in full form without your consent — same goes for photos.
You are welcome to use my disclosure and privacy policies as a template to create your own. You can find mine on this page I like to call Fine Print. You might not think this is important, but it is. And it's better to get this part out of the way now so that when you are ready to begin monetizing, you will already have this vital step finished.
What advice would you give to blogging beginners? If you are a beginner, what questions do you have or what other topics would you like to read about?
Be sure to follow my Pinterest board Writing/Blogging for tons of posts with helpful blogging tips and tools. You may also want to read my post 7 WordPress Plugins You Should Use.