We have a new favorite meal! I make a ton of this cajun chicken & veggies because we both love to eat a lot of it, and Travis loves to take it in his lunch the next week. I love how flavorful the dish is. It's a got a small kick to it too, but nothing you can't handle.
My favorite part of this meal is how easy it is to make. I don't have to do any planning or a ton of prepping other than chopping a few veggies. It means its easy to make as a last minute meal when I suddenly realize it's suppertime and there's nothing in the crock pot!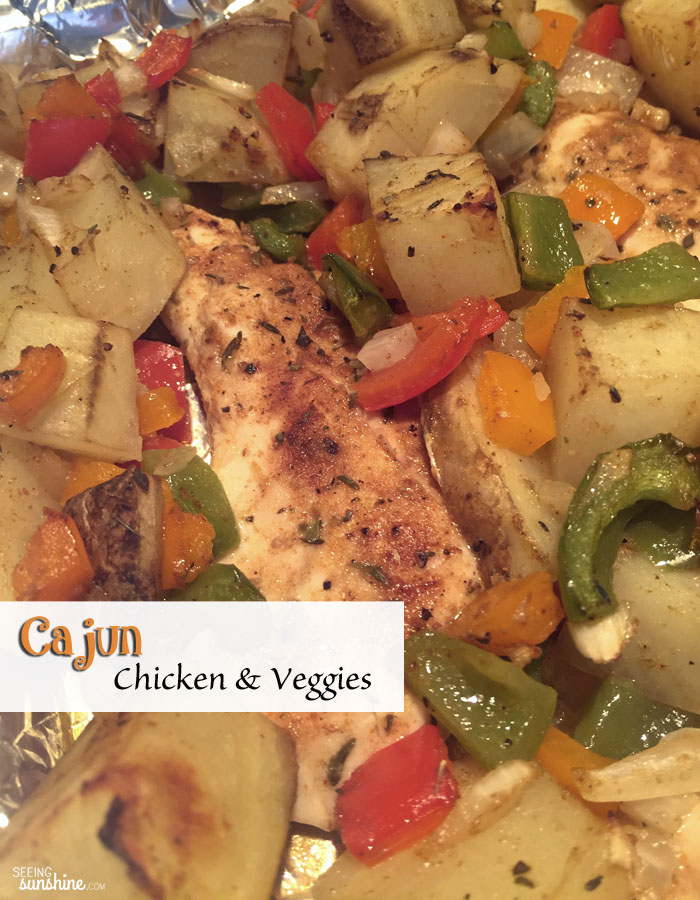 Try this Cajun Chicken Dish
Here's what you'll need:
Potatoes
Bell peppers
Onion
Chicken
Onion powder
Oregano
Thyme
Garlic powder
Paprika
Salt
Pepper
Cayenne pepper
Olive oil
I know that looks like a lot of ingredients, but most of those are just seasonings. And you probably already have all those seasonings in your kitchen! I think this recipe is super easy and that's why I love it.
Start by cutting up the potatoes, bell peppers, and onion. I partially peel the potatoes but not all the way. I also use different colored bell peppers — red, green, orange, or yellow — or use all of them!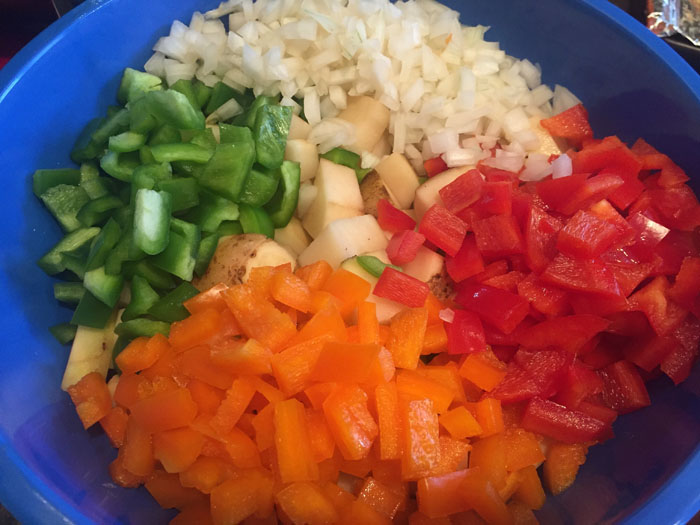 Next, mix up all your seasonings. Cover a rimmed baking sheet with foil. Rub a little bit of olive oil on each piece of chicken — both sides — and place them on the baking sheet. Rub the seasoning over each piece of chicken — both sides.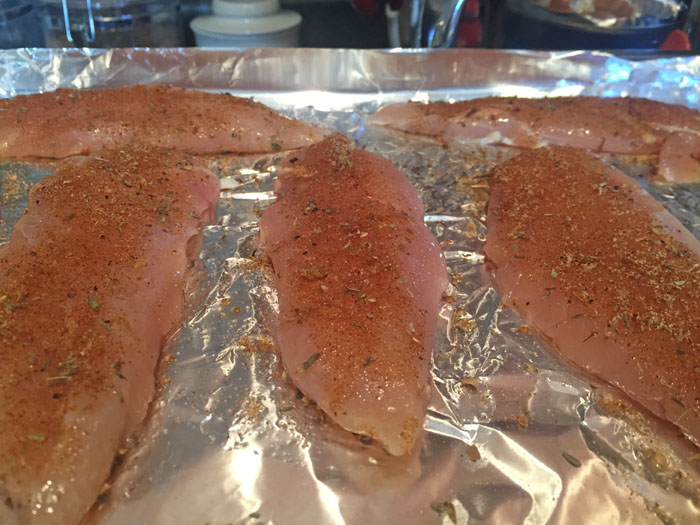 Add two tablespoons of olive oil to the bowl full of vegetables. Add the remaining seasoning mixture to the veggies and toss until all of them are coated. Place the veggies around the chicken on the baking sheet. Bake for 30 minutes.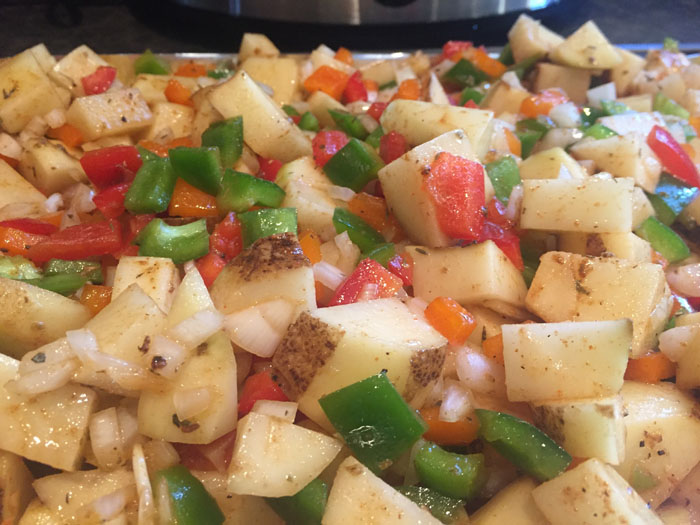 Cajun Chicken & Veggies
Ingredients
6 Chicken breast tenderloins, boneless and skinless
3 Potatoes, partially peeled and cut into large chunks
3 Bell peppers, chopped
½ Onion, chopped
4 Tbs olive oil, divided
2 tsp Paprika
1 tsp Onion powder
1 tsp Garlic powder
1 tsp Oregano
1 tsp Thyme
1 tsp Pepper
1 tsp Salt
½ tsp Cayenne pepper
Instructions
Preheat oven to 425 degrees
Line rimmed baking sheet with foil
Peel potatoes partially and chop into large chunks
Chop the bell peppers and onion
Add all the veggies to a bowl and toss with 2 Tbs olive oil
Add all the seasonings together
Rub about 1 tsp olive oil over each piece of chicken, both sides
Rub about 1 tsp seasoning mixture over each side of chicken tenderloin
Add remaining seasonings to veggie mixture
Place everything onto the baking sheet
Bake for 30 min
For more recipes, check out this
page
. Be sure to follow my
Pinterest
to see all my yummy recipes!