If you are thinking of starting a blog, just started a blog, or are fairly new to the blogging world, you've got to check out my posts that I wrote just for you! But even if you aren't new and you've been blogging for years, finding valuable blogging resources to help you improve your website is so important.
Check out these posts if you're new to blogging:
How to Start a Blog: Part 1 — The first six steps to starting a blog before you even purchase a domain. These steps will help you get on the right track and stay on it!
How to Start a Blog: Part 2 — The six steps it takes to set up your own website including buying a domain, getting a web host, and more.
Blogging for Beginners: The Next Steps — The five things you need to do after setting up your website such as installing Google Analytics so you can watch your blog grow.
And now, it's time you find some great blogging resources to help you make your blog the best it can be. I've been blogging for four years now, and these are my favorite blogging resources.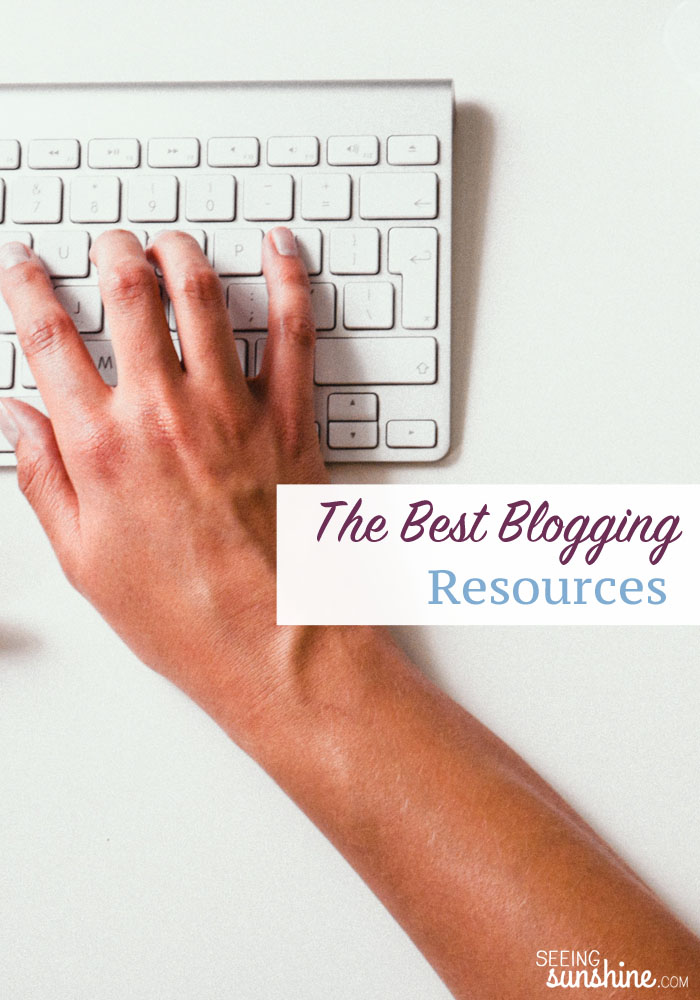 6 Blogging Resources You Should Use
When I first started my blog back in 2012, I don't know what I would have done without Amy's blog. She writes tons of posts with step-by-step instructions about blogging. I learned lots of things through her posts, and you can too! Start on this page, and you can spend hours learning from Amy.
2. Bluehost
When I started my blog I was using the web host Fat Cow. After about a year, I ran into some problems and when their IT/customer service person basically told me to "google it" rather than helping me, I decided it was time to switch. I moved my website to Bluehost, and when I say I, I mean they did it. They did all the work for me, and took all the stress away from me. Bluehost, if you use them as your web host, has great customer service, and I've never had any problems with them.
Right now, they are offering web hosting for $3.95 per month. That includes:
Free domain
Free site builders
1-Click WordPress install
24/7 Support
Money-back guarantee
This is my all-time favorite resource to date. I bought this eCourse in 2014 and began working through it at the beginning of 2015. I've been taking my sweet time as I work through this course, so I'm still not finished with it. But I've already seen a huge increase in my traffic, and I can see a huge difference in my blog — design, content, organization. I feel like a more professional blogger thanks to this course. I wish I had began it back in 2012 when I first started!
This eCourse includes:
12 Unit videos that go over content, social media, monetization, and building a business
12 Detailed unit workbooks with video outlines
16 Handouts
30 Assignments (this is my favorite part because this is where you really work on your blog!)
Training webinars
Accountability and community, as well as a place to ask questions, within a private forum
A mobile app so you can work from your phone
Weekly newsletters with more tips and encouragement
Money-back guarantee
I've just begun the units of this course that go over monetization, and I'm really looking forward to seeing my income grow. I've already seen more than a 150% increase in traffic since starting the course and using the lessons to improve my blog. My favorite part is that you can set your own pace, so I can go over each unit thoroughly and not feel rushed.
Unfortunately, the enrollment for this blogging resource is not open right now. They only open the course up to new members about once a year for a week. You can sign up for the waiting list, though, so you know when enrollment will open up. When you sign up for the waiting list, you also get a free eBook called 7 Surefire Ways to Boost Your Blog Income Overnight.
4. CoSchedule
For Christmas this year, I used money I received as a gift to get CoSchedule. It has been my most used Christmas gift for sure! I love having CoSchedule because it saves me tons of time when it comes to social media. I like to post frequently on Facebook, but I don't have time to sit on Facebook all day long. CoSchedule allows me to schedule all of my Facebook posts — or other social media platforms, but I just use it for Facebook mostly. Below you can see I have all my Facebook posts organized and scheduled for a full week. I love color coding them, so I know which are my posts and which are someone else's posts.
I use this tool as a virtual assistant too. I am a Facebook manager for one of my clients, and I schedule all of her posts via CoSchedule. It makes both our lives' so much easier. I'll probably be writing a full post on how to use CoSchedule next month.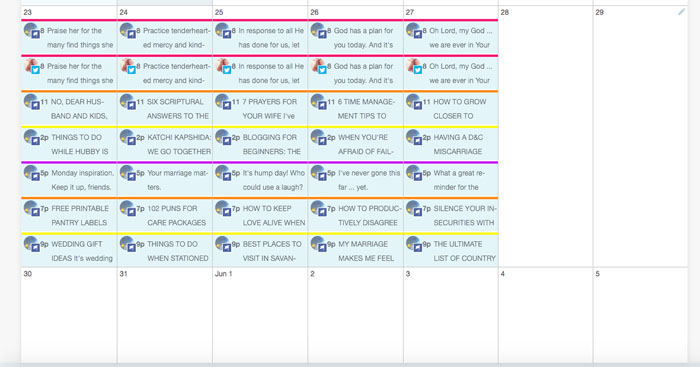 I just recently got Board Booster as a way to schedule pins on Pinterest. I'm still learning the ins and outs of this tool, but so far I like it. It only takes a little bit of work to get it up and running, and then you just sit back and let Board Booster do the work for you. I've gained more than 200 followers in less than a month, and I've seen tons of people repining my pins. So far, I really like Board Booster, and I think I'll keep it!
This online course includes 10 lessons all about Pinterest. It helps you make your Pinterest the best it can be, and therefore increasing, not only your followers, but your website traffic through Pinterest.
The lessons include:
Your Pinterest Account — setting it up and optimization
All About Pinterest Boards — making your boards organized and attractive
Group Boards & Secret Boards — learn to use them to your advantage (this was my favorite lesson!)
Anatomy of a Pinterest Pin — how to make perfect pins
Pinterest Scheduling — helping you get better reach
Grow Your Pinterest Following — learn how to gain more followers
Making Pinterest Optimized Images — tips for making your images stand out
The Pinterest Smart Feed — understanding how it works
Joining the Group — join the private Facebook group to ask questions and gain encouragement
As far as Pinterest goes, I noticed that Elite Blog Academy and Pinterest for Bloggers have many of the same tips, so if you are only looking for tips on Pinterest I recommend getting the Pinterest course because it's much cheaper and you'll learn the same things. However, if you are looking for a course that goes over way more than just Pinterest, check out EBA. It's worth the money. Both are excellent blogging resources!
What blogging resources would you add to this list? What has helped you become a better blogger?
For more tips and blogging resources, check out my Pinterest board Writing/Blogging. You may also want to read 7 WordPress Plugins You Should Use.