Military life means a whole lot of moving. A PCS is a Permanent Change of Station, or in other words a move. Most military members and their families move every two to three years. As a military spouse, I have now moved three times in three years, and at the end of the month we're supposed to be moving again.
All this moving can make it hard to find a community and a church home. I think finding a church that suits me is really difficult, and to be honest I never enjoy the search. It's hard to know on your first visit if it's the right church for you and your family. And since church only happens once a week, it can take months to find the right one.
We have been here at Fort Leonard Wood, Missouri for just over four months and so far we have not found a church that we can call "ours." We have visited a couple that we liked, but didn't love. Of course how can you know if you love it if you haven't been going there awhile, right? We have also found a few where we definitely didn't fit, so we can mark those off the list.
Someone recently asked me to write a post about finding a church after a PCS. I feel a bit unqualified to write such a post considering we haven't found one ourselves! That's why I called in reinforcements. Today, I'm sharing with you my tips and tips from other military spouse bloggers on how to find a church after a PCS.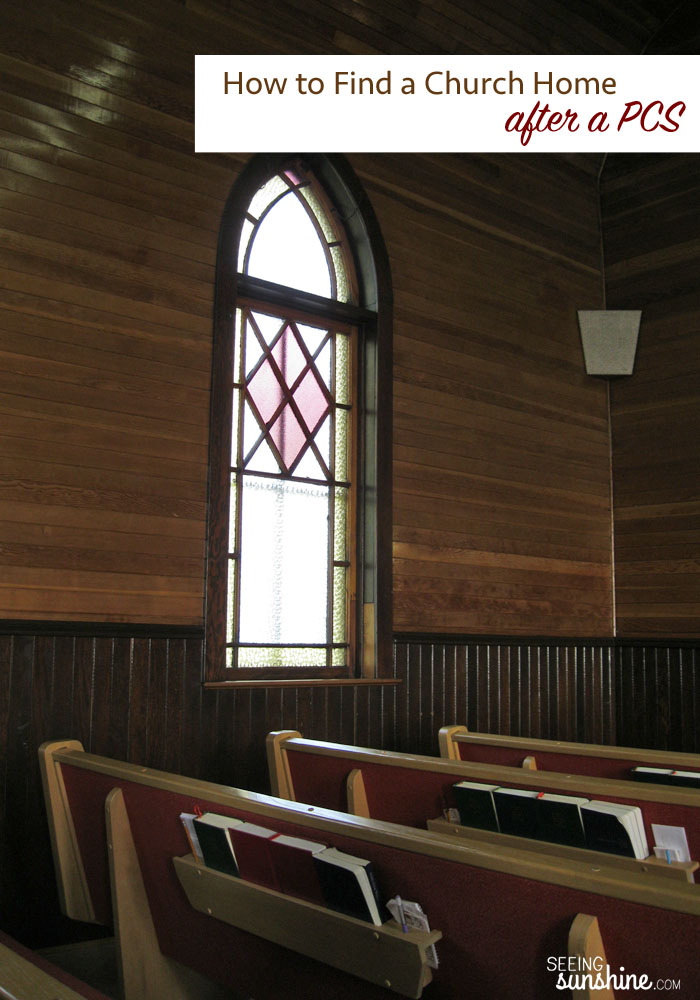 How to Find a Church after a PCS
First of all, I've written a post with nine tips for finding a new church home. Check those out first! I would recommend joining the Facebook group Military Church Search, which is specifically for the military community and a great place to find church recommendations.
Now, let's check out what other military spouses are saying about how to find a church after a PCS.
I like to do an online search first and read about the different churches in the area. Then, I ask in Facebook groups with a description with the type of church I'm looking for, and then once we're there we spend the first few Sundays trying out different churches to see what is the best fit for us.  – Kayla Roof
Word of mouth. I may ask friends that have been to where I'm going. – A Purpose Driven Wife
We are Lutheran and Presbyterian, so we check out those local congregations first. We also stay connected digitally to our home churches. – Jo, My Gosh
We are Catholic and have been struggling to find a church home at our current duty station! We have a criteria of what is important to us and try each one starting with which is closest to us based on our criteria. – Burke Does
Word of mouth is my favorite. I ask friends and fellow bloggers who live or lived in the area which are their faves. I haven't even moved to Ft Knox yet but we already have our church home picked out, thanks to a co-worker of mine who knows a pastor in Radcliffe! – Becoming Bailey
What are your tips to find a church after a PCS?
You may also want to read:
Be sure to follow my Pinterest boards Military Life and Faith: Christian Living for more posts.