Many people have asked me how I make money on my blog. In all honesty, I don't make a ton of money from my blog … yet! I have used affiliate links for awhile, but I barely make any money off of them. I only began monetizing my blog seriously in just the past month. I'll be writing a post soon about it. Until then, I want to share how I have been making money. And that's by being a virtual assistant.
When people ask me what I do, very few know what a virtual assistant is. It's not a well-known job but I believe soon it will be. With so many people now working from home thanks to technology and the internet, virtual assistant jobs are about to become very popular. I'm so excited that I've gotten into it early!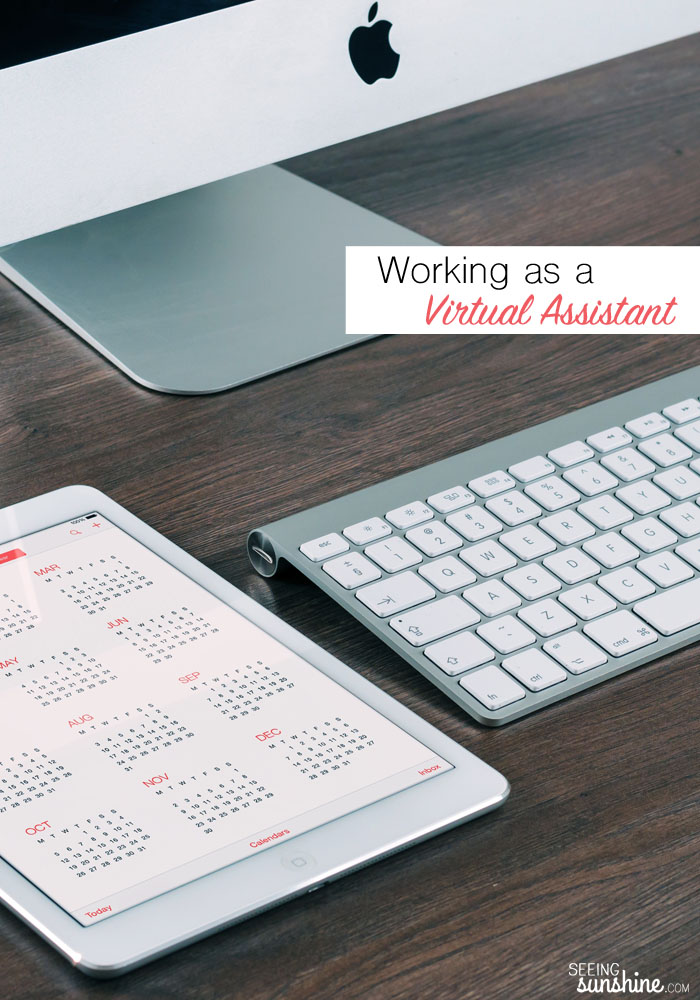 What is a Virtual Assistant?
A virtual assistant or VA is someone who works from anywhere that has internet on various jobs for others. The job description is so vast because we do all sorts of things. Virtual assistants write emails, manage Facebook pages, write blog posts, schedule travel plans, make spreadsheets, create images, promote books, and about a million other things.
My job as a virtual assistant is working specifically with other bloggers. I tell people that I basically do everything the other blogger doesn't want to do or doesn't know how to do. The fact is I save bloggers time by handling certain things for them — giving them more time to work on other areas or just to spend time with their families.
I began working as a virtual assistant with Singing Through the Rain back in September, and I have done all sorts of work since. Here's what I've done in the past nine months:
Edited and formatted blog posts
Optimized blog posts for SEO
Created images for blog posts
Wrote emails
Scheduled posts to Facebook
Wrote blog posts
Managed Facebook pages
Finished share threads
And that's just the tip of the iceberg when it comes to what our business does for others. Here are some of the other things we offer:
Blog coaching
Monetization coaching
Designing media kits
Book marketing
Social media scheduling
Social media management
Social media coaching
Why I Love this Job
My favorite part of this job is that I can work from home. This means if we move (and thanks to military life that seems to happen a lot), I still have a job. The job goes with me. I can sit at home in my jammies and work all day long, or I can get out of the house and take my computer to Panera and work.
I make my own schedule. That's the next best thing about being a virtual assistant. As long as the job gets done by its deadline, it doesn't matter when I do it. I can work way ahead and have several weeks of work finished so I can go on vacation without my computer. Or I can wait till the last minute and stay up late working on a project. This is great for when life happens — I can make my own schedule and work it around my life. (If you know me, you know I get ahead!)
I love that this job lets me have my own identity. I'm not just a military wife. I am a virtual assistant. I have a job. I make an income, and I help support our family. It helps me feel like I have purpose, and that can be hard when you are constantly following your service member. I love that this job is part time so I can also focus on my own blog. I love that it helps me learn more about blogging, but also lets me use the skills I already have. I feel like I'm using my degree in journalism because many of my jobs include writing and/or editing for other bloggers.
So, all that is to say working as a virtual assistant is great. If you are looking for a job that can move with you and you have skills in the online world, try this job out!
If you are a blogger or business owner, and you don't know how to do some of these things or you would like to save time, consider hiring me and our team at Singing Through the Rain. Check out the website, see the services we offer, and shoot Kathryn an email. Let her know I sent you! I would love to help you make your blog better!
What would you use a virtual assistant for?
Check out these posts:
Be sure to follow my Pinterest board Writing/Blogging for more great tips and follow me on Facebook so you don't miss my posts!