I woke up early and wasn't able to get back to sleep. I did my normal morning routine, and ate my bowl of cereal on the couch while watching the Today Show. I'm normally not up and watching the 8 am hour of the show, but thanks to my early rising I got to see the co-hosts Matt and Savannah bringing me the news.
And then out of nowhere, she announced it. I wasn't expecting it, and neither were the other hosts of the show. Savannah pulled the paper from the fish bowl and asked, "Are you pregnant?" Her answer was yes. Everyone cheered and asked questions.
And my heart sank.
I turned on the couch, clutching the throw blanket, and I let the tears come. Once again, someone is pregnant. And I'm not.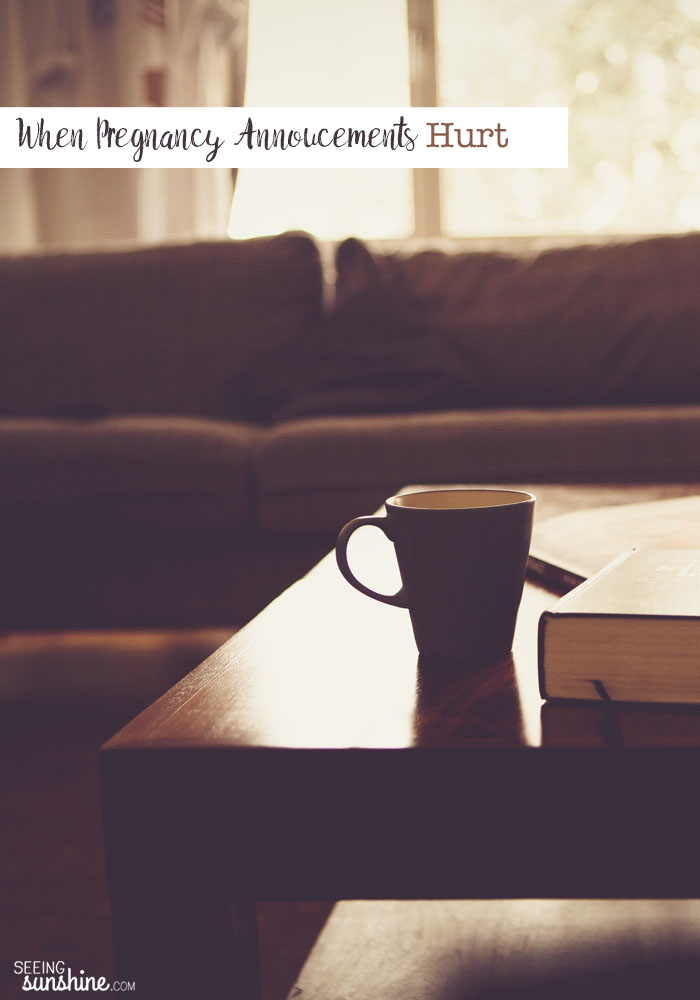 When the Pregnancy Announcements Aren't Yours
Please don't get me wrong. I am very happy for Savannah and every other person who has been documenting their pregnancies and birth on social media (is it just me or does it seem like it's literally everyone?) I would never ever wish anything bad on them. It's not the type of jealousy where I wish I could take away their joy. It's just that I would like some too. I want them to have the happiest and healthiest pregnancies and babies. I am so thankful that they aren't where I am.
But the fact that I'm not where they are — it hurts. I'll be honest with you, I've been struggling with feeling jealousy or anger at every announcement lately, especially ones where the pregnancy was accidental. This wasn't a big problem after my miscarriage like you may think. I wrote a post called To My Pregnant Friend After My Miscarriage, and I meant every word of it.
But just in the past few weeks, it has gotten much harder to see so many pregnancy announcements and updates and babies being born.
It's like each time I see another announcement or another photo of a newborn baby, I get poked. Sometimes, it's a light poke and I barely feel it. Other times, though, it's a hard poke that hurts. And when you get poked in the same spot over and over, that spot begins to get tender, bruised, and sore. Eventually, even the soft pokes begin to hurt.
I know that God knows best, and His timing is best. But I can't help but want what I want when I want it. It's a constant battle to let go and trust God.
Wait for the Lord; be strong and take heart and wait for the Lord. – Psalm 27:14
After my miscarriage, I was really struggling with trusting God. Eventually, it came to a point where I realized I just had to proclaim my trust in God, even in the midst of total pain. Even in the doubts. Even in the questions.
And I did. I sat there at my kitchen table with my Bible open and I said it out loud, "I trust You God." The song "Trust in You" by Lauren Daigle became my anthem. I would play it on repeat basically every day, proclaiming my trust in God in the shower, at my desk, while making dinner, in the car. I proclaimed with my lips until my heart finally caught up. And the clouds began to part and some sunshine poured through.
That was a couple months ago. And after listening to the Today Show announce over and over the good news of Savannah's pregnancy, I realized I needed to proclaim my trust in Him again. Because it doesn't matter how many people I "unfollow" on Facebook, more and more pregnancies just keep popping up — even on my morning newscast. I will keep getting poked, and only God can heal that bruise.
So here I sit at my computer in my little home office. I can hear the TV on in the living room, and morning light pours in through the window. And I proclaim, out loud, "God, I trust in You."
I trust Him. Even in the waiting. Even with a bruised spot that keeps getting poked.
"I still trust You." And I will proclaim it again and again until my heart catches up.
Let the morning bring me word of Your unfailing love, for I have put my trust in You. Show me the way I should go, for to You I entrust my life. – Psalm 143:8
I pull up the video. Hit play. And sing my heart out. Again.
Do you have a spot that keeps getting poked? Are you in the midst of waiting? Are you full of doubts and questions?
Do the pregnancy announcements hurt?
Perhaps you, too, need to proclaim your trust in God.
The Lord is my strength and my defense; He has become my salvation. He is my God, and I will praise Him, my father's God, and I will exalt Him. – Exodus 15:2
You may like these posts:
Follow me on Facebook and Pinterest for more faith-based posts.
If you have suffered a miscarriage, you may want to order my eBook called Miscarriage & Mourning: Encouragement after Pregnancy Loss.