Fort Leonard Wood in Missouri is often referred to as Fort Lost in the Woods because it seems to be out in the middle of nowhere. For people who are used to city life, this duty station can be a big change. It can definitely feel like there's not much around. But Travis and I both feel like every duty station is what you make of it. You can PCS and be totally depressed … or you can have a good attitude and find new adventures — even while lost in the woods!
Travis and I have only been stationed at Fort Leonard Wood for five months, but we have already found a ton of fun things to do! Yes, some of them are a bit of a drive, but we grab our road trip snacks and hit the road! Now that we found out we get to stay at this duty station, who knows what other adventures we will find!
If you are stationed at Fort Leonard Wood or just got orders here, check out this guide to all things fun near Fort Lost in the Woods.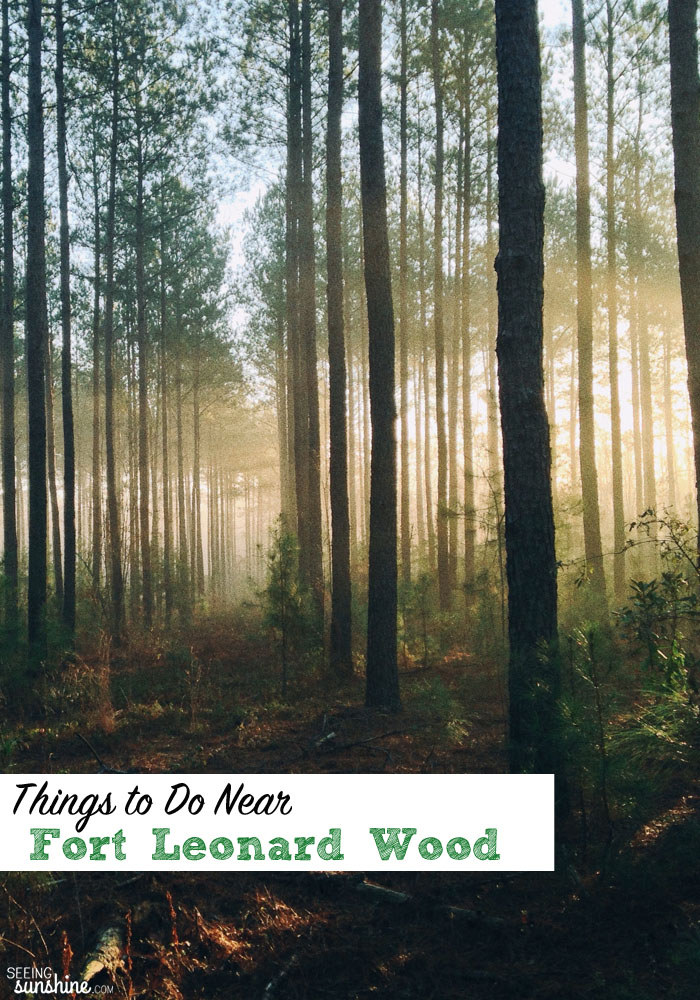 Fun Things to Do Near Fort Leonard Wood
Visit Meramac Caverns — It's an hour away, but there's lots to do. Go camping, take a cave tour, go zip lining, or play in the river to cool off. We went zip lining there, and it was very fun!
Go to Six Flags — Less than two hours away and it's guaranteed to bring hours of fun!
Visit St. Louis — This big city is just a couple hours away, so it's great for a weekend trip. There are tons of things to do there, so check out my post specifically for things to do in St. Louis.
Go kayaking — We spent a day at Boiling Spring Campground, renting kayaks and paddling down the river. It was so fun! We saw a ton of turtles too. We noticed the campground also has the option to rent campers, which we plan to do one of these days!
Walk around downtown Waynesville — This little town has cute shops, a yummy ice cream parlor, and some cute restaurants like Nona's. It's a very small town, but it could be a fun little afternoon date. There's a nice park nearby too — complete with walking trails.
Hike to Miller Cave — This spot is actually on the Army post, so it's the closest activity on this list. Check out the trails and find Miller Cave. It's a beautiful spot. We like to take visitors there because of the great view. Follow the signs on post to get to it.
Check out the local farmers markets — Rolla, Waynesville, Fort Leonard Wood, and places farther away like Springfield all have farmers markets. Grab some locally grown herbs, vegetables, or even eggs and meats.
Do some wine tasting — With not too far of a drive, you'll find St. James Winery and Vineyard. Take a tour of the vineyard and enjoy some wine tasting while you're at it. Check out their events page to see what's going on.
Visit Osage Beach — Osage Beach is one hour away and its a windy drive, but if you like shopping or going to the lake, this is the place! There's a huge outlet mall here, as well as a ton of other stores. Plus, they have the lake — hence the beach part of Osage Beach.
Visit Springfield — Springfield is probably the largest, closest city to FLW. We love to go here for shopping. Like when I'm craving a Hobby Lobby stop! Check out my post all about Springfield and what it has to offer.
Catch a movie — When we first moved here, we thought the closest movie theater was in Rolla about 30 minutes away. But now we know better! There's an awesome movie theater with reclining seats and tons of great food in Waynesville. It's called the B&B theater.
Play with puppies — OK, who doesn't love to play with puppies? You can hold them, pet them, and run around with them at the K9 Cabin. I love how you can play with the puppies without any pressure to adopt one. And if you are looking to adopt, well check this place out. They have lots of different doggie options.
Go horseback riding — We spent a day riding the trails like cowboys at Cedar Ridge Trails in Laquey. The owners are so nice, and their ranch is beautiful. They also give riding lessons.
Other Things On Our List To Do While Here
Visit Eureka Springs, Arkansas
Go play at the Jefferson City water park
Check out the Ha Ha Tonka State Park
Visit Bennett Springs near Lebanon
Have a date night at the Bow & Barrel shooting range
Since we are going to be living here for awhile now, we would love to hear your suggestions for other fun things to do in the area! What do you love to do near FLW?
Stay tuned because I've got a post coming about the best restaurants to try near FLW!
Check out these other great posts:
Be sure to follow me on Facebook and Pinterest so you don't miss other great posts!