I had my blog up and running for at least a year before I began to monetize it. But it's honestly never too soon to start. There are two main ways to monetize a blog that are perfect for beginners — whether a monetizing beginner or a blogging beginner.
What I love about these two ways to monetize is that you can get passive income. By that I mean you do a little work at the beginning and then sit back and watch the pennies roll in.
I say pennies because I want you to know this is not a get-rich-quick method. I know very very few people — actually none — who suddenly made a lot of money overnight. It takes hard work to get a blog to be successful in the money-making sense. It takes great content, loyal followers, and time. I'm not even close to making an income from my blog. I make very little money, but I do make some. And these are the two ways I do that.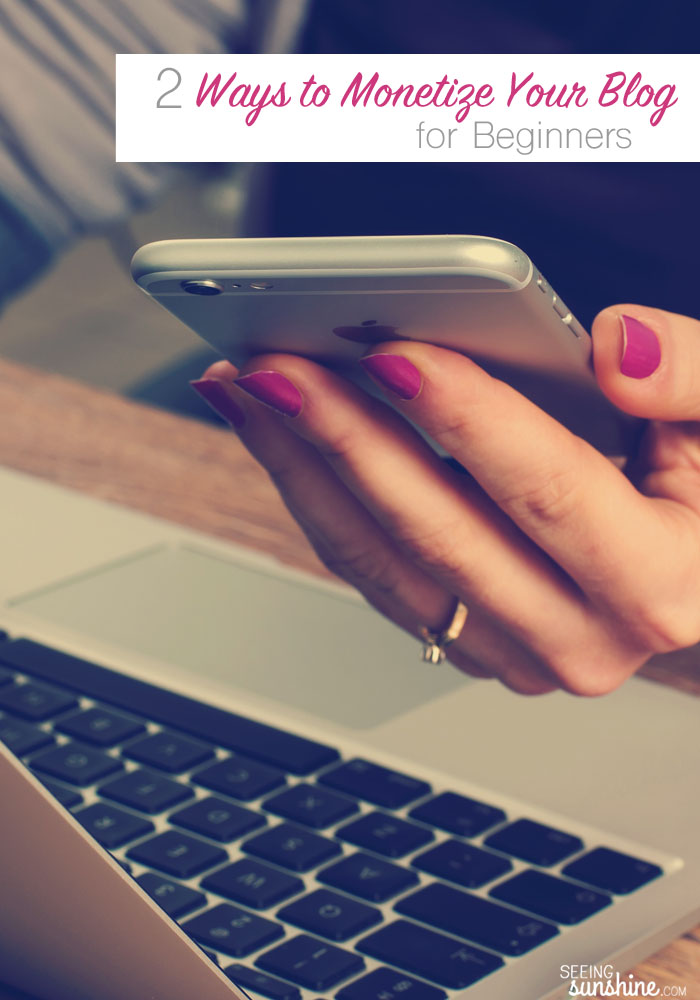 Two Great Ways to Monetize
1. Google Adsense
This program is run by none other than Google. It allows publishers to serve advertisements targeted to site content and audience. Basically, you sign up for Google Adsense, and place the code within your blog. Then ads will show up in those spots. The ads will change depending on the person's cookies on their computers (in other words, things they have been searching or looking at online). These ads generate revenue on either a per-click or per-impression basis.
You'll get paid based on your page views and how many clicks you get to those ads. Of course, don't go clicking all those ads yourself. Google is smarter than that!
You have to make $100 before you can get paid, and the payments are made the month after you hit that threshold.
What I love about Google Adsense is it's really easy to set up. Once you get an account and you get approved (which can take a couple days), then you have to place a code they give you onto your website. I did this by using plugins or widgets to place the codes where I wanted on my website. I have three ads on my website — one above the fold, one on the sidebar, and one at the bottom of every post. I've read that it's best to have three ads to make the most of Google Adsense.
It doesn't take long to get all set up. You will have to confirm your mailing address, and eventually set up your direct deposit. But once you do those things it is just passive income — a great way to monetize. You don't have to do anything. Just sit back and watch the money roll in.
I've been using Google Adsense for about three months now. I am really close to hitting that $100 threshold. Of course, the more page views you have, the more money you're likely to make. But even if you are a beginner with very little page views, this can be a great way to start making money. Set it up now, because each penny counts! Here is a great video for learning how to set up Google Adsense.
2. Affiliates
Affiliate marketing is when a company pays you a percentage of sales when you direct a buyer to their products. For instance, I'm an affiliate for Amazon. If I post a link on my website to a product I like from Amazon, and you click that link and then make a purchase (for that product or another one), I make a small percentage of that sale. It doesn't cost the customer any extra.
I love talking about products and services that I use and enjoy. It's something I do naturally on my blog, so if I can link to that product or service and actually make some money from it — even better.
My favorite affiliate programs are:
Amazon, because so many people use it! You may want to read Amazon Affiliate: Make Money with the Amazon Affiliate Program to learn the best ways to make an income from Amazon.
ShareASale is a place where you can become an affiliate for many different companies. You can get your links and your payments all in one place. I find it's easy to use and has many companies I like already. For instance, I work with DaySpring a lot, and I have become an affiliate with them through ShareASale.
As an affiliate, you must disclose that you are using affiliate links. Any time you are being compensated, you must disclose that it is an advertisement, sponsored post, or affiliate link. This is FTC regulations. The disclosure must come before any links, so I use a disclosure statement at the top of every single post to make sure I'm safe.
Affiliate marketing is another form of passive income. You can place a link on a blog post and months or even years later, it can still generate income. You can also use banners inside your posts or on your sidebar from affiliates, which look like advertisements.
Each company's affiliate program is different. For some you will make 4% off a sale, while for others you can make 40%. Be sure to read each one's guidelines.
I believe these are the two best ways to begin monetizing any website. There's no better time to start than now. For these two monetization methods, there is no need to wait until you've reached a certain level of followers or page views. You can start immediately and slowly begin to make an income.
These are my two main methods of monetization. I don't make a ton of money … yet. But I hope to someday bring in a steady income thanks to my hard work. I'm hoping that by next year, I'll be monetizing in other ways too.
Have you began to monetize your website yet? What is holding you back?
Check out my other posts about blogging:
You can also follow my Pinterest board Writing/Blogging for more great tips on how to monetize a blog.