When we announced we would no longer be moving to New York but instead would be staying here in Missouri, everyone kept asking if it was official. My response was always, "as official as it can be."
You see, in the military nothing is ever official.
Even after you receive orders, they can still change. In fact, I have even heard stories of people who have moved to their new duty station, started unpacking, and within two weeks their orders had been canceled. They had to move again.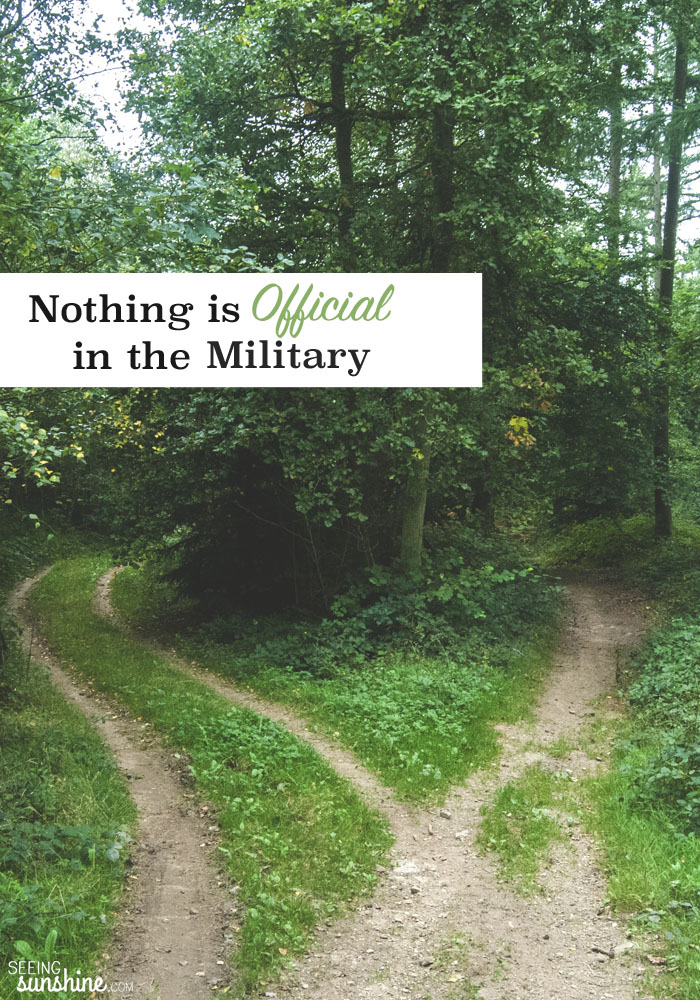 If there's one thing you'll learn from military life it's to be flexible. Things will change. A lot. Whether it's your next duty station, your homecoming date, or the uniforms.
As you probably know, we were supposed to go to New York, and then we found out we were getting to stay in Missouri just a few weeks before the movers were to come.
We were really excited to stay, and finally began settling in our home. We started landscaping. I planted herbs. We bought new outdoor lights and hung them up around our deck. I finally unpacked my jewelry.
But one day, while Travis was home for lunch, he got a phone call.
Isn't that how it always starts? One phone call and everything changes. 
We are no longer staying here in Missouri.
Our New "Official" Orders
We are now moving to Fort Campbell. In about a month, we will be living in Tennessee. As much as I hate change, we are actually happy about this because it's closer to both our families. We are excited to explore a new area.
It's crazy to think of everything that has changed this year. We are only half way through 2016 and yet we've experienced six huge life changes.
Finding out I was pregnant.
Moving to Missouri.
Preparing to move to Tennessee.
Six giant changes in six months. I definitely feel like I'm becoming more flexible. More open. A tiny bit more "go-with-the-flow."
I imagine God is trying to teach me, grow me, stretch me. Ever heard of growing pains? Growing pains ache, but then you get to be taller. Stretching pulls and isn't comfortable, but then you become more flexible. I imagine by next year, I will be a much different person than I was last year. A better person.
Through all these changes, I'm learning I have to find my peace in Him alone — not in my circumstances or my home. I have to trust Him alone — not my plans or even the ever-changing plans of the military.
What is something you've learned about military life? Have you been to Fort Campbell?
Check out my other military life posts here!