As you read this, I'm sitting on a big beach towel looking out over the sand and waves with the sun soaking into my skin. Every year, Travis' family heads to Panama City Beach, Florida for the annual Stroud family vacation. The first year, Travis and I didn't have too long of a drive since we lived in Georgia. Last year, I came without Travis since he was in Korea. But this year, Travis and I took our longest road trip together — around 900 miles of driving.
We made it, and we have been enjoying time with family. But now, we are about to gear up for our next road trip to head back home. Are you preparing for a family vacation? About to take a road trip? Check out these tips I've compiled for you in partnership with TravelCenters of America, who have compensated me for this post. All opinions and work are my own.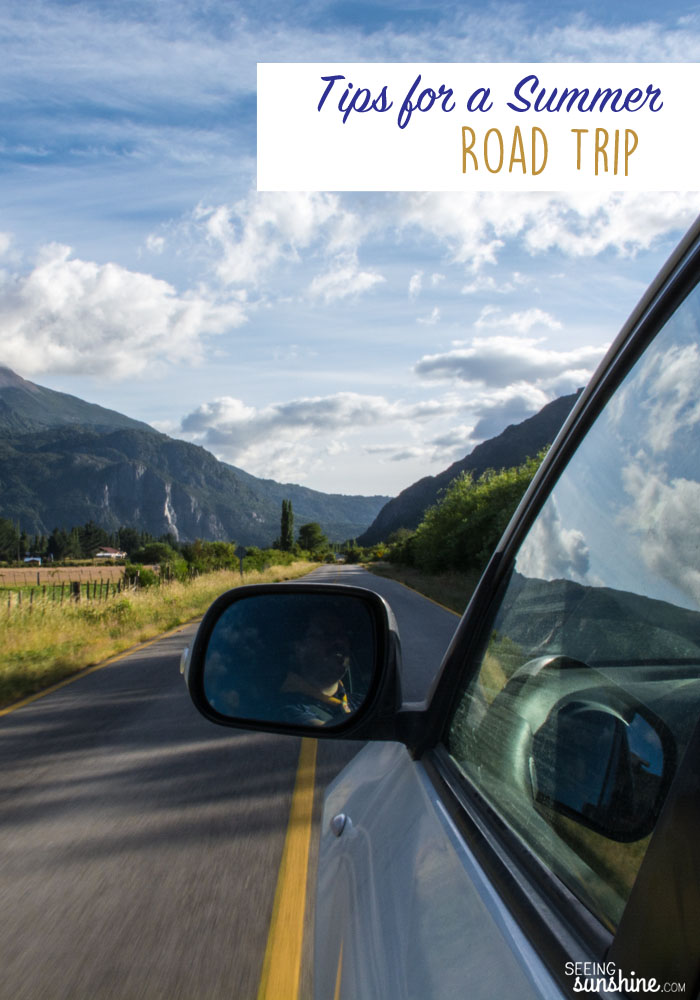 Road Trip Tips
1. Keep emergency essentials in your trunk.
Once on a trip to the Atlanta airport to head home for Christmas, a tire popped on our car and we were stuck. We didn't have a spare tire, and it was stressful trying to find a tow truck and a place where we could get a new tire, especially since it was late at night. You don't want to have to wait hours for a tow truck, believe me.
Before you leave for your trip, be sure you have the essentials you need just in case. Make sure you have a spare tire, a tire iron, jumper cables, a first-aid kit, and a tire gauge. You can also buy an emergency car kit to keep in your trunk.
2. Wear layers.
I tend to get cold in the car in the summertime because of the air conditioning. Of course, if Travis is hot, the A/C needs to be on. That's why I wear layers. I can keep myself warm with a long sleeve T-shirt and thick socks. But when we change directions and suddenly the sun is beating down on me, I can easily take a few layers off and stay cool. Speaking of things to wear, be sure you have a good pair of sunglasses — especially if you're the driver.
3. Download audio books.
Travis and I have decided we want to try listening to an audio book on our way home this road trip. Travis doesn't enjoy reading, but he does like listening to someone reading out loud. We just found out that military members can download audio books for free. Go to the Army MWR Library, create an account, and search for whatever book you want to download onto your phone or computer. You can also use OverDrive.com to do this. You will have to know your web login and pin number, which you can get at your library on post.
If you aren't into audio books, be sure to download some songs for when you can't find a good radio station. We love to create playlists on Spotify.
4. Visit Travel Centers of America.
Eating fast food on road trips get old fast. I usually crave real food after hours in the car. That's why we love places like Country Pride and Iron Skillet. I've always loved the home-cooked type meals they serve. Not only can you get some delicious food to refuel yourself, you can also support military families.
From now through August 5, participating Country Pride and Iron Skillet locations will donate $1 for each entrée ordered from a select group of menu items to the National Military Family Association (NMFA), a nonprofit that works to strengthen and protect military families.
5. Keep pillows in the car.
Travis and I usually bring our pillows with us on trips because well, we love our own pillows. Rather than packing your pillows in the trunk, keep your pillows inside the car with you. That way when you get sleepy, you can easily rest your head on the pillow and take a little nap. (This tip only works for passengers, by the way!)
6. Find a hotel that has a military discount.
If you take a long road trip where you have to stop somewhere to sleep, be sure you stay somewhere that has a military discount. Tons of hotels offer discounts to military families, so be sure you take advantage of it. Another great part of being a part of the military community is that you probably know people all over the country. You may be able to stay with friends at different duty stations in order to save even more money (and see friends while you're at it!).
7. Keep the kids entertained. 
When my parents took my brother and I on road trips for family vacations, they always had little toys or games for us to open throughout the trip. It was so fun when suddenly Mom would pull out a little gift for us to open. I remember one time she had us look under the car seats and we found small stuffed animals. Those little toys or games would give us at least another hour of fun in the car. This is a great idea if you don't want to hear, "Are we there yet?" every hour! Check out this Learning-Fun Travel Bundle from Melissa and Doug. I also think Spot It sounds like a fun game for the whole family.
What are your tips for summer road trips?
Check out all of my travel posts for more great tips! You can follow my Pinterest Travel boards too!