As a kid, teen, and young adult (basically my whole existence until Travis was in the picture) I hated going to new restaurants. I'm a picky eater, and going somewhere new freaks me out. What if they don't have something I like? But now that Travis is in my life, I know he will eat my meal if I don't like it. He's traded meals with me many times. He's also expanded my palate. I used to only eat chicken strips and french fries at basically every restaurant. But now, mostly thanks to Travis, I like more than just chicken!
Now that we both enjoy trying new restaurants and new menu items, we love exploring our new duty station each PCS. Each place as a variety of new restaurants to try. Here at Fort Leonard Wood, we haven't had quite as much time to try all the restaurants as we'd like, but we have tried quite a few.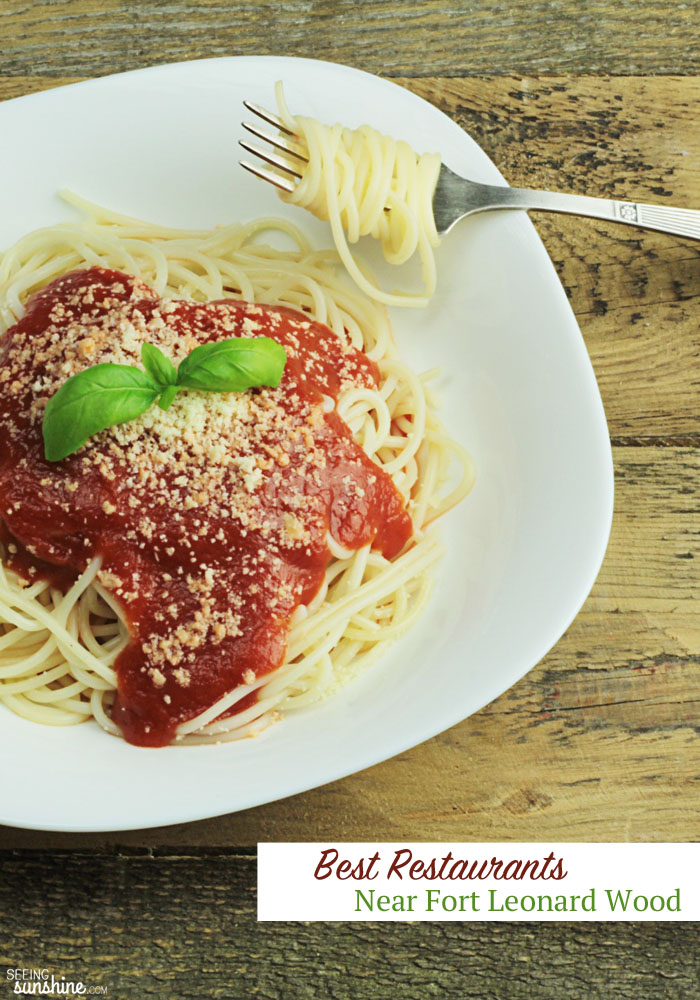 Our Favorite Restaurants Near FLW
Sweet Water BBQ
This is one of my favorite restaurants for sure. I love good BBQ and Sweet Water delivers. Their brisquet is probably my favorite. Be sure to try the hand-cut fries!
Small Cakes
This little bakery opened up while we lived in FLW. I believe it's a chain, but I had never heard of it or been to one, so it's making the list. Their cupcakes are amazing, and don't forget the gelato! Travis daydreams about the birthday cupcake and all its sprinkles.
Lamb's Donuts
Who doesn't love donuts? And Lamb's has the best. Skip Dunkin' Donuts on post, and head to Lamb's! Their donuts are fresh and delicious! I love going in the little shop. It reminds me of an old donut shop we used to have back home.
Blue Springs Cafe
OK, so this one isn't super close to FLW. In fact, it's over two hours away — around 30 minutes past St. Louis. But for us, it was always on the way when we are driving to or from home in Indiana. We have stopped here several times. They are known for their foot-high pies! They were even featured on the Food Network. The food is served family style, and it is really good. I recommend the chocolate creme pie!
Java Express
Every month, our spouses club would get together at Java Express. It's a cute little coffee shop with tons of delicious baked goods. Their banana Nutella muffin is glorious. They have a small area for kids to play with toys, and they even have a bunch of board games. I think this place would make a cute little coffee/dessert date night!
Cantina Brava
Did ya'll know I'm not a huge Mexican food person? It's true. It's not my favorite. Of course, it is Travis' favorite! That's just how marriage works, I think. Cantina Brava, however, is my favorite Mexican restaurant. It's the best one I've ever been to. I love their salmon tacos (tacos de salmon). That sounds like a weird combo, I know, but it is fantastic. Oh, and their table-side guacamole is a must!
TK's Pizza
If you are looking for a great local pizza place, TK's wins. There's also GW's in town, but I like TK's best. Just be sure you are calling the right number when you place your order. The first time I called, I accidentally called a pizza place in California called TK's. Turns out TK's here in Missouri didn't have our order when we went to pick it up! Oops!
Barn Restaurant and Grill
If you are heading toward St. Louis for the weekend, you might want to stop at the Barn Restaurant and Grill in Bourbon. This place is really cute and has pretty darn good food. We went there for breakfast one day and left happy and full. Their homemade pies look really good too!
Sybil's
Looking for a place to take your spouse for a fancy date night? Sybil's in St. James is the place to go! This restaurant is so nice, and the food was amazing. It is expensive, so save it for those special occasions. We went here for Valentine's Day. Be sure to make reservations!
Lambert's
Since this one is only an hour away in Springfield, I had to include it. Lambert's is very popular! There will probably be a wait, and they don't take reservations. But it's worth the wait! This is the place where they literally throw the rolls at you from across the room. The food is so good, and you get a ton of it! I love their roast beef and fried okra.
City Butcher BBQ
Here's another one in Springfield! I do love my BBQ, and this place has the best burnt ends I've ever tasted! You've got to try them!
Di Trapani's
Although there are several Mexican and Korean restaurants in the FLW area, there aren't a lot of Italian places. That's why we were so excited to hear about Di Trapani's in Dixon. It's way out in the middle of nowhere and you may think you're lost, but once you arrive the food is fantastic and if you get a seat by the window there's a beautiful view too.
Bonus: We've also heard great things about Matt's Steakhouse in Rolla and Slice of Pie in Rolla, but we haven't had a chance to try them yet.
What restaurants would you add to this list?
Be sure to check out my other posts about FLW:
Be sure to follow along on Facebook and Pinterest for more military life and travel posts!