I began blogging at Seeing Sunshine around four years ago, and if you looked back at some of my very first posts (now known as archive posts) you might not recognize that it's me writing. Each year, I have gotten better at this blogging thing. I've learned a ton about good content, easy-to-read formatting, and eye-catching graphics, and I've grown so much as a blogger.
As bloggers, we should constantly be improving, growing, and strengthening our blogging skills. Our spaces on the internet should keep looking better and better as the months and years go on. But what about all those posts from when we first began?
Archive posts are the ones that sit at the beginning of your blog. For me, I have some great content with terrible photos. I have a few posts where all I do is ramble, and I have other posts that could use just a little editing. A great way to increase your website traffic is to utilize your archive posts. By updating them with editing and better graphics, we can reshare them to social media and increase our traffic.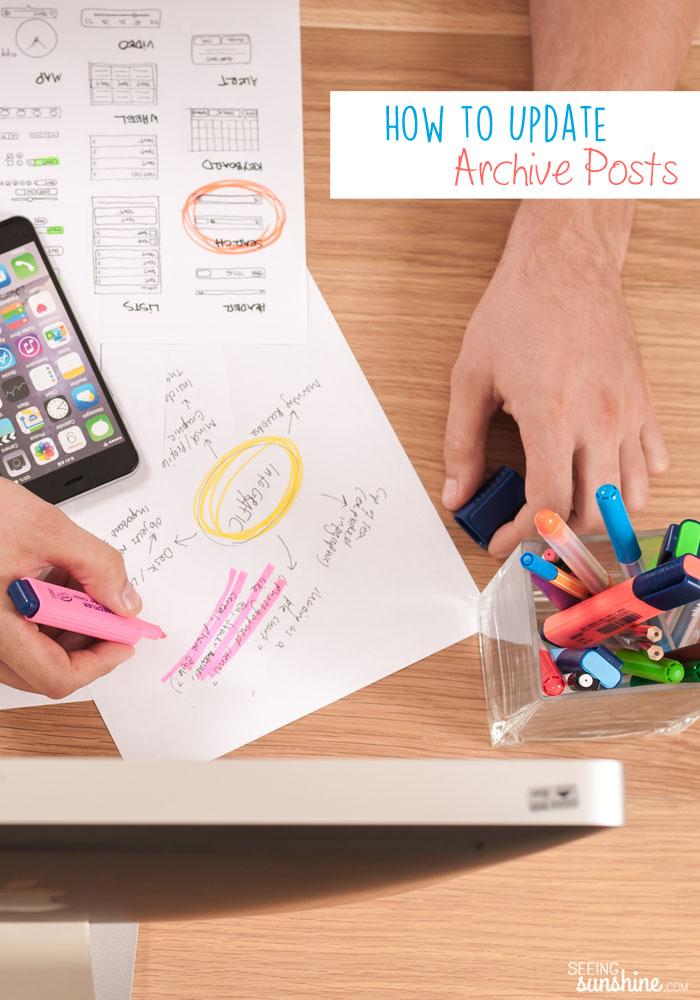 Six Ways to Update Archive Blog Posts
1. Proofread.
The first thing you should do is reread the old post, fixing any typos you find such as spelling, punctuation, or grammatical errors. This is a quick and easy fix and will help you become familiar with the content since it's probably been a long time since you wrote it.
2. SEO.
Optimizing the post for SEO (Social Engine Optimization) is really important. Back when I first started blogging, I had no clue what SEO was! To make your post SEO-friendly, choose a keyword. I recommend using the Keyword Planner offered from Google AdWords. This will help you know which keyword would be best in getting the most traffic to your website.
Next, be sure you have the WordPress plugin Yoast SEO. Install it and begin using it to optimize the post for SEO using your specific keyword.
3. Edit.
Now, you will begin editing your post. This is where most of the work comes in. You will want to make sure you use your new keyword in the post title and throughout the content. Read through the post again and make the content better. Maybe some sentences can be taken out. Maybe you need to clarify something better. Maybe you now have a great story to really push your point across. Add or delete sentences or even paragraphs as needed. Be sure you also include a header within the content that includes your keyword. Follow the Yoast SEO plugin to see what other changes you need to make.
4. Monetize.
When I first began blogging, I was not monetizing at all. I didn't even know that was an option! Now, I can go back through old posts and add affiliate links when I talk about a certain product. Throwing in these affiliate links is a great way to make passive income. You also want to check all links within your post to make sure they still work. Unlink or even delete any old links that no longer work. You also want to make sure any affiliate links from the past are marked as nofollow so that you are following FTC guidelines.
Affiliate links aren't the only links you want to add. If there is another post you have that talks about something you mention in the archive post, link to it. I also like to add links to the bottom of each post that my readers may want to also read. This is great for keeping people on your website and lowering your bounce rate.
5. Photos.
For a lot of my old posts, I either didn't have a photo at all or I had a really bad one. First of all, please know that all of your posts need to include a photo. Second of all, all of your posts need to include a good photo. I go through my old posts and create two new photos for each one.
I create a vertical image to be shared on Pinterest (I use 700×1000 pixels), and I create a horizontal image to be shared on Facebook (I use 1200×628 pixels). I make sure my photos are either taken by me or are free-for-commercial-use stock images. I crop them as needed and add text using Photoshop. Be sure you use bright, well-focused images and easy-to-read fonts. If you don't want to pay for Photoshop, you can also try out PicMonkey or Canva.
6. Share.
Once your old post looks brand new and you are happy with it, it's time to share it to social media. Pin it. Post it to Facebook. Tweet it. Be sure you pin it to group boards too so you can get as many eyes on it as possible. With your new graphics, it's sure to get more clicks and therefore, you will see more traffic!
One Thing You Shouldn't Change
You can change basically everything about those old posts, but there is one thing you shouldn't change. That's the URL. Do not change the slug — even if it's way too long or doesn't include your new keyword. By changing the URL, you could mess up the blog post and make it impossible for people to find the post. Some say you can get a plugin that will redirect those old links, but I play it safe and keep all my archive URLs the same.
What else would you recommend changing about old archive posts? Do you go back and update yours?
Check out these other posts:
For more great tips, follow my Pinterest board Writing/Blogging.