I was 21 when I finally tried salmon for the first time. Of course, Travis is the one who got me to try it. I didn't think I liked any seafood except shrimp at the time. Turns out, I love all sorts of seafood and salmon is my favorite fish of all time. You can ask my friends, I seriously order salmon at every restaurant that offers it!
My sister-in-law made me salmon patties once, and I was in love. I used her recipe and a recipe I found online, mashed them together, and created my own delicious salmon patties. I love making them because 1) they are easy to make, 2) they are delicious, and 3) they are good for you!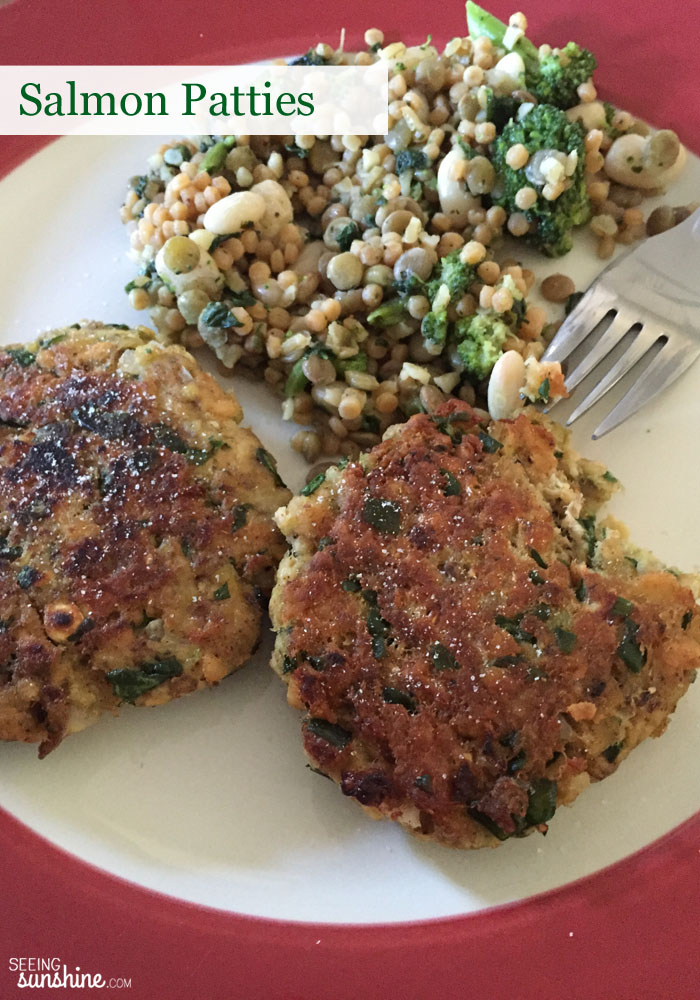 Check Out This Salmon Patty Recipe
Here's what you'll need:
Canned salmon
Saltine crackers
Garlic
Spinach
Yellow onion
Egg
Lemon
Old Bay seasoning
Salt & pepper
Vegetable oil
OK, so first things first — canned salmon. YUCK! I had no idea I would be using canned salmon in this recipe, and when I opened the can for the first time I almost lost my lunch. The smell, the look — not for me! Thankfully, Travis isn't bothered at all by fishy smells or bones everywhere. From now on, he handles the canned salmon for me.
You start by taking the big bones out and then flaking the salmon into small pieces. There are really tiny bones in the canned salmon. It may seem impossible to get them all out, but the good news is you don't have to. Leave the tiny bones in! I know, it sounds nuts. But it turns out these little bones are not only safe to eat, but they are really good for you! They are full of calcium. They are soft and can be easily crushed with a fork, so they are not a choking hazard. Mix them in and try it. You won't even notice they are there!
You might be surprised that there are Saltine crackers in this recipe. A lot of people use oats or something else to help hold the mixture together. I love using Saltine crackers because I always have them in my kitchen and don't have to add something else to my grocery list. Just crunch them up in a Ziplock bag before adding them to your salmon.
You can use a food processor for the spinach, but since we don't have one, we just chop it up in the smallest pieces we can get. Chop up the onion in small pieces too.
Throw everything together in a bowl, mix it all up. Use a spoon and your hands to form small balls and then flatten them between your palms to make the patties.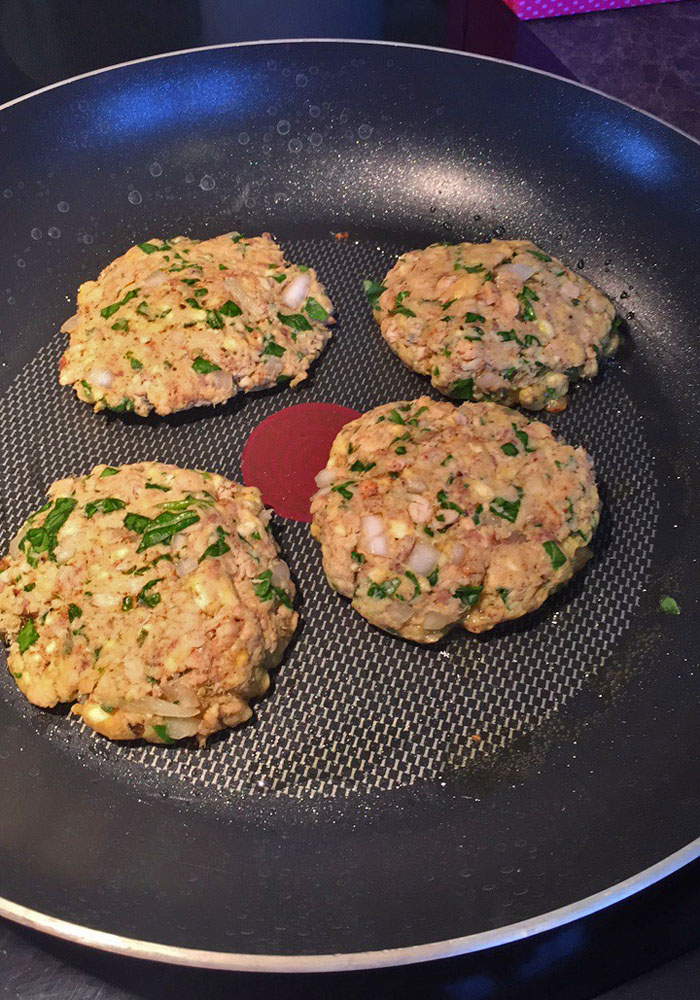 Fry them up on a skillet with oil. It only takes about 3 minutes on each side. I love serving these patties with vegetables.

Salmon Patties
Ingredients
1 can salmon, deboned (but leave in the tiny bones) and flaked
15 Saltine crackers, crushed
¼ cup yellow onion, chopped
1 cup spinach, chopped (or put it in a food processor)
2 cloves garlic, minced
1 egg
juice of ½ a lemon
¼ tsp Old Bay seasoning
¼ tsp pepper
¼ tsp salt
2 Tbs olive oil
Instructions
Mix all the ingredients together in a large bowl
Using a spoon and your hands, create balls and flatten them in your palms to create patties
Heat oil in skillet on medium heat
Place patties in skillet and cook for 3 minutes
Flip and cook on other side for 3 minutes
For more great recipes, check out this
page
and follow my
Pinterest board My Recipes
.