I sat there scrolling through Pinterest after searching "miscarriage." I wanted to see all the quotes, read the stories of others', and get any tips and advice I could. I had no idea how to get through and heal from such a painful time, such a deep loss, so I was grasping for anything and everything that could help. I came across a book on Pinterest, and I ordered it.
I read that book during my first weeks of having a natural miscarriage. But you know what, it didn't really help. I didn't find it all that comforting or healing. It was a decent book, but I wouldn't recommend it to a friend.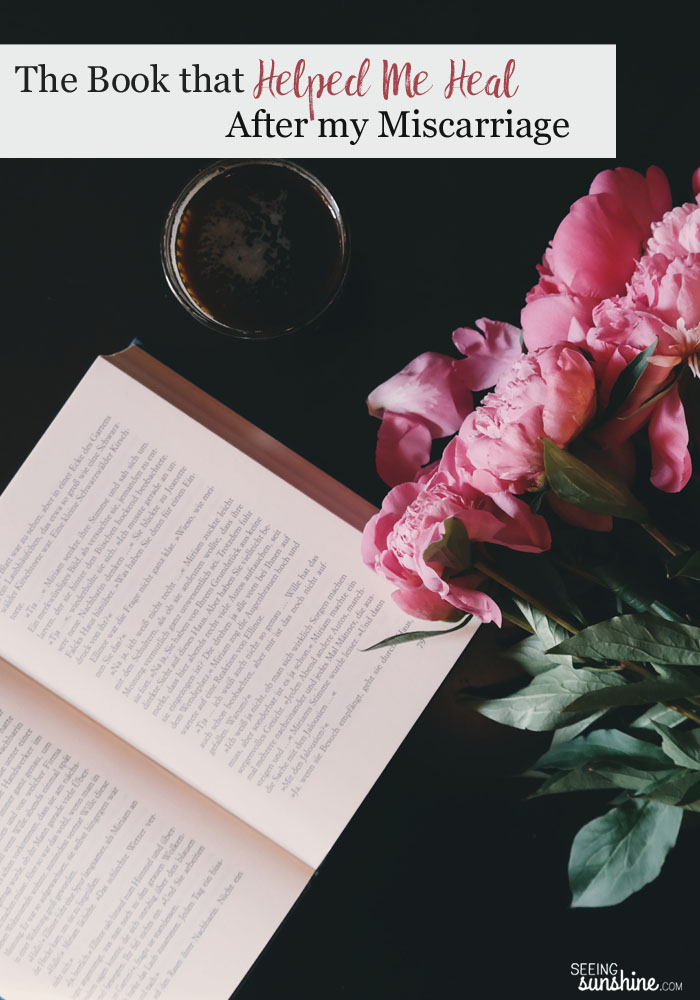 It wasn't until about a month after my miscarriage that I found the book that truly helped me heal. I realize part of it is timing. While reading that first book, I was right in the midst of it and wasn't ready to heal. This new book, though, the one I started reading at just the right time — it was exactly what I needed.
The Book that Helped me Heal
When God Doesn't Fix It: Lessons You Never Wanted to Learn, Truths You Can't Live Without by Laura Story is the book. You may have heard of Laura Story. She's the Christian singer who wrote the song "Blessings." The back of the book asks, "Is it possible that good things can come out of our broken dreams?"
Laura's book is all about her husband's struggle with a brain tumor, the surgeries, the complications, and all of the broken dreams that came with such a twisted turn of life events.
I picked up this book and began reading it because it was exactly what I was going through. God didn't fix it. I had pleaded with Him to save my baby, and yet I kept bleeding. I had begged Him for a miracle as I laid on that hospital bed, and yet I still heard the words nonviable and miscarriage repeated to me. God didn't fix it. And I didn't know how to handle that.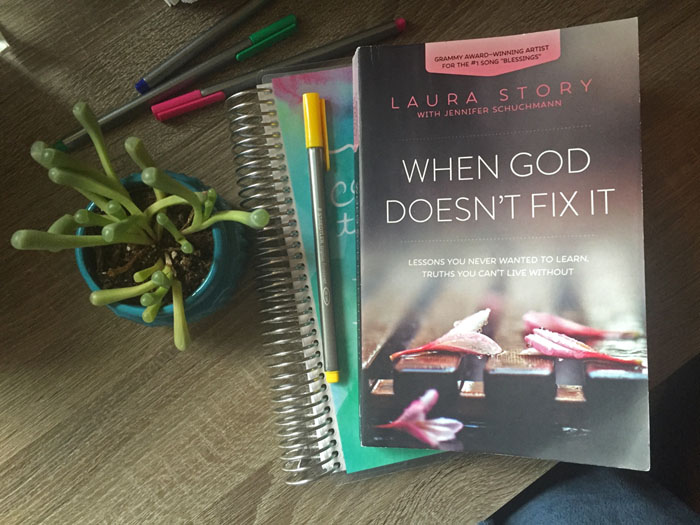 It's funny that this is the book that helped me heal considering nowhere does it ever mention miscarriage. I had searched for books specifically about miscarriage to read, and yet God spoke to me and healed my heart through a book about brain tumors. The fact is, it doesn't matter what it is in your life that God didn't or isn't fixing — it still means broken hearts and dreams. It still leaves us questioning and doubting and maybe even angry. As I read through Laura's story, I found pieces of my own.
"I believed that if I did all the right things for God, then He would do the right thing by me. When He didn't, I felt as if God hadn't kept up His end of the bargain. I was disappointed in Him. I even felt betrayed." – Laura Story
Yes, that was so me. And this one too.
"Questions and doubts plague my mind more than I care to admit. The single word why haunts me the most. Like a stuck needle on a vinyl record, there are days when it replays over and over again." – Laura Story
When we don't get what we want, when God doesn't answer the prayer the way we asked, when things don't get fixed or healed or redeemed — whether it be through a brain tumor, a miscarriage, or some other terrible life event — Laura shares the truths we need to hear. Through her story and the stories of those from the Bible, you will see your own story. And you will see that God can bring good from brokenness.
What have been your favorite books to read during a time of loss or disappointment?
Since I had a hard time finding a book or other resources specifically on miscarriage, I decided to create my own. You can order my eBook on Amazon or here on my website.

You may also want to read:
You may also want to follow me on Facebook or Pinterest. I have a Miscarriage board and a Good Reads board.