I'm officially past the first trimester and all its nausea. It felt like it went pretty slow, until of course I actually got through it and then it was like, "Wow, I'm really here!" By the end of that first trimester, I was just ready for a really long nap.
My first trimester wasn't terrible, but it wasn't wonderful either. There was nausea and fatigue and a lot of worry and fear. There was a ton of bloating and just feeling sick most of the time. But I got through it, mainly from the help of some very important essentials. And that's what I want to share with you today.
There are a ton of posts out there with first trimester essentials. And I probably read most of them. I love getting tips from others who've gone through this. Pregnancy is so new and different and sometimes weird! But every person is different, so I feel I have the right to share my own personal essentials for getting through the first trimester.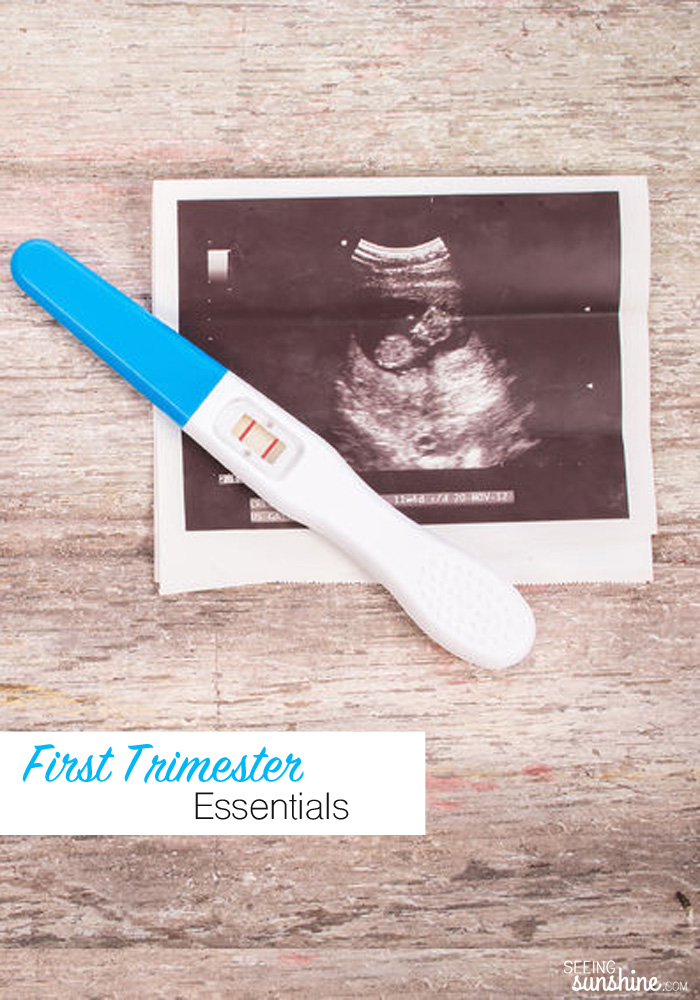 The First Trimester Essentials that Got Me Through
1. Crackers. I ate a lot of crackers in those days where my tummy just felt like a roller coaster. Crackers settle your stomach. I have a bag of goldfish crackers I keep at my desk. I have a huge bag of animal crackers I keep in the car too. This is a big tip from me — keep a snack like crackers in the car. I tended to get more nasueas in the car.
2. Water Bottle. I kept a water bottle with me at all times. I either had my Yetti or my Contigo water bottle next to me whether I was driving, walking, sitting around, laying in bed, etc. Drinking lots of water is really important for your growing and developing baby, and it's important for your own health to stay well hydrated. Always having water with you is the perfect way to do just that.
3. Preggie Pops. These things are life-savers! I was told at the beginning of my pregnancy, before any symptoms had occurred, to use ginger candy to ward off nausea. We found some at an Asian market, and I ate them for a couple days. But YUCK. I hated them. It made me feel like my mouth was on fire. Then, I discovered Preggie Pop Drops. These are like candy. They taste so good! Even my husband thought so! And they really did help me feel less nauseas. I kept them in my purse with me everywhere I went.
4. Maternity/Nursing Bra. During that first trimester, one of my symptoms was sore/tender breasts. Your chest is growing as it prepares to produce milk and that usually leaves your breasts very sore. I wore a lot of sports bras at first, but soon they became too tight. I found a few really comfortable maternity bras that double as nursing bras, so I can still wear them once the baby is born. I love that this one from Medela closes in the back like a normal bra, and these other bras from the same brand are so perfect for sleeping.
5. My Husband. Sorry, you can't go out and buy this one. This one particularly is not for sale! I do want to mention my husband in this post because I don't think he gets enough credit for how amazing he's been during this pregnancy. When we first found out, it was pretty obvious how excited he was. It worked out perfectly that he was off work for awhile, so he took over cooking and all sorts of things for me. When I started becoming really sick, he was great about finding the right foods that wouldn't upset my stomach. He took care of me in such a sweet way, even if it was just getting up off the couch to get me more water because I didn't want to get up. Heart of a servant — that's what he has. He's made sure I have everything I could possibly need, and I already am in love with the way he loves our baby.
6. Pregnancy Journal. I got this pregnancy journal from DaySpring, and I absolutely love it. It is filled with scriptures and fun questions for each stage of the pregnancy. I love recording and documenting the things I'm feeling. It was especially important to me at those beginning stages because I couldn't share on social media yet. I loved being able to write in there. And I love having a place to put our sonogram pictures and cards we've received in the mail.
7. Soup. French Fries. Lucky Charms. I didn't seem like I had a ton of weird cravings during those first couple months, but I did really enjoy soups a lot. They were easy to make and tasted so good. Maybe it's just the comfort of them or something, but soup made me feel better on those days I felt yuck. I also tended to crave French fries, specifically Zaxby's fries with Zax sauce. One day, Travis called and said he would pick me up lunch at Zaxby's. I asked for a salad and a side of fries … I ended up only eating the fries! Lastly, I eat cereal for breakfast every day and I always go with a healthy cereal. But there were a few weeks where all I wanted was Lucky Charms for breakfast, which is a cereal I pretty much never eat. It was so good though!
8. Body Pillow. Sleep Mask. Getting a lot of sleep is important. Your body is working overtime to make a human being and since you feel sick all the time, sleep is essential. I sleep pretty good at our house, but when we would travel to visit family (so we could tell them the news!) or for that week where we lived in a hotel in the middle of our move, I needed some things to make sure I slept well. I used just a regular old body pillow to hold between my legs. I also find complete darkness to be a requirement for sleep, so a good quality sleep mask is a must! I love this sleep mask from Alaska Bear because it is so soft!
What were your first trimester essentials? What would you add to this list? Be sure to follow my Pinterest board Pregnancy!