You've never had a miscarriage before and you just find out that someone you know — a friend or family member — is miscarrying their precious unborn baby. What do you say? More importantly, what do you NOT say?
When anyone experiences loss, it can be difficult to know how to handle it and how to help. We want to offer comfort and support, but sometimes — and especially in situations where we have not been where they are — we may do the opposite. Our intentions are good, but our words fall short.
When I was miscarrying our first pregnancy, many people reached out and gave sweet words of encouragement. But, sadly, there were a few people who said things that hurt or, in all honesty, made me mad. I knew they only wanted to help. I knew they didn't have bad intentions, and I knew they didn't know what to say. I usually only smiled and nodded. But I feel like you need to know what not to say in those instances. For anyone who has never had a miscarriage, this can be a tricky path to navigate.
Today, I'm sharing the three main things that I heard while miscarrying that I wish no one had ever said. The three things I encourage you not to say to someone who is miscarrying.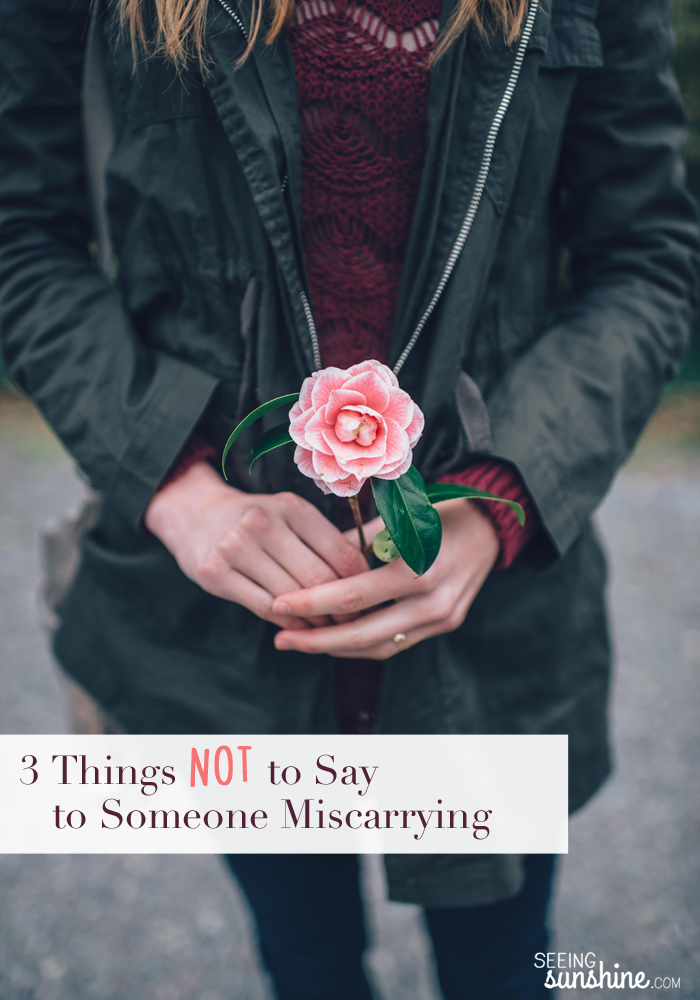 Don't Say This to Someone Miscarrying
Everything happens for a reason.
You know, I used to say this very phrase. I meant it too. But during my miscarriage, this was not something I wanted to hear. I wanted to bark back, "What's the reason then? What possible reason could somehow make me feel any better?" It doesn't matter if there is a reason and it doesn't matter if we know the reason — a reason is not going to take away the pain.
Honestly, I don't believe this statement anymore. I think bad things just happen. We live in a fallen world with sickness and death. I don't believe there is some special reason why my baby didn't get to live. I do believe, however, that God does bring good from every bad situation. I don't believe He said, "This baby can't live in that world because XYZ…" But I believe He said, "Because that baby didn't get to live in that world, I'm going to bring good from that by XYZ…"
I believe the good that came from my miscarriage was that I wrote about it on this blog and have helped many other women feel less alone. I believe I have a better understanding and more empathy for women who are miscarrying or have experienced miscarriage because of my own. I can better be there for them.
Something was probably (going to be wrong) with the baby.
For some people this may be comforting, but to me it was/is not. I always wanted to reply, "Do you think that if there was something wrong with my baby that I would no longer want it? Do you think I would love that baby any less if it was born with a deformity or brain damage or some type of disease?" Because I wouldn't. I wanted that baby and I loved that baby from the moment I knew of its existence. And nothing could change that.
At least you weren't farther along.
OK, I get this a little bit. I get that this could seem really comforting. "At least you weren't X amount of weeks." To some, this makes sense. Yes, I hadn't come to know the baby as much as I would have if I had been farther along. But again, I say — I wanted and loved that baby from the moment I knew it existed.
For all three of these phrases, I think, "Would someone say that to someone who had lost their 4-year-old? Would you say, "At least he hadn't lived till 5 because you would have been more attached then?" Uh no. You would never say that. Would you say, "Something was probably going to be wrong with your child next year, perhaps a disease or illness." No, you know that wouldn't be comforting to a grieving parent. Would you say "Everything happens for a reason" to someone who just lost their mom or friend? No, I really don't think you would. Those aren't comforting words to someone who is grieving from loss. And a miscarriage is a loss. Treat it like one. Treat it the same way you would with someone who just lost a toddler. Yes, it's different. But pain and grief are so very similar in any type of loss.
So now that you know what not to say, what do you say? To answer that, check out these two posts I wrote: 3 Things to Say to Someone Having a Miscarriage and How to Help a Grieving Friend. You may also want to read Ways to Bless a Woman Who Lost a Baby.
You may completely disagree with me on this topic, and that's OK. This is just my opinion. And I'd be happy to hear in the comments what statements hurt or made you mad. Or if any of these comments above actually did comfort you. We are all different and react to things differently. Sound off in the comments so our friends who haven't been through it can get a better understanding of what not to say when their loved ones are miscarrying.
Do you know someone who has miscarried recently? My eBook Miscarriage & Mourning includes several chapters on how to help friends through such a loss.