One of the biggest questions we've gotten at every single doctor's appointment is whether we want to have genetic screening done. I have had to sign several times to confirm my decision.
Genetic screening includes several different tests throughout your pregnancy. The first trimester screen is a non-invasive evaluation that includes a blood sample and an ultrasound. The doctors are trying to identify the risk for chromosomal abnormalities such as Down Syndrome and Trisomy-21.
These tests do not diagnose the baby, but rather evaluate the risk and determine if further testing should be done. From what I understand, for some women these tests are important because they may be high risk. But they are always optional.
My husband and I chose not to have any genetic screening done during my pregnancy.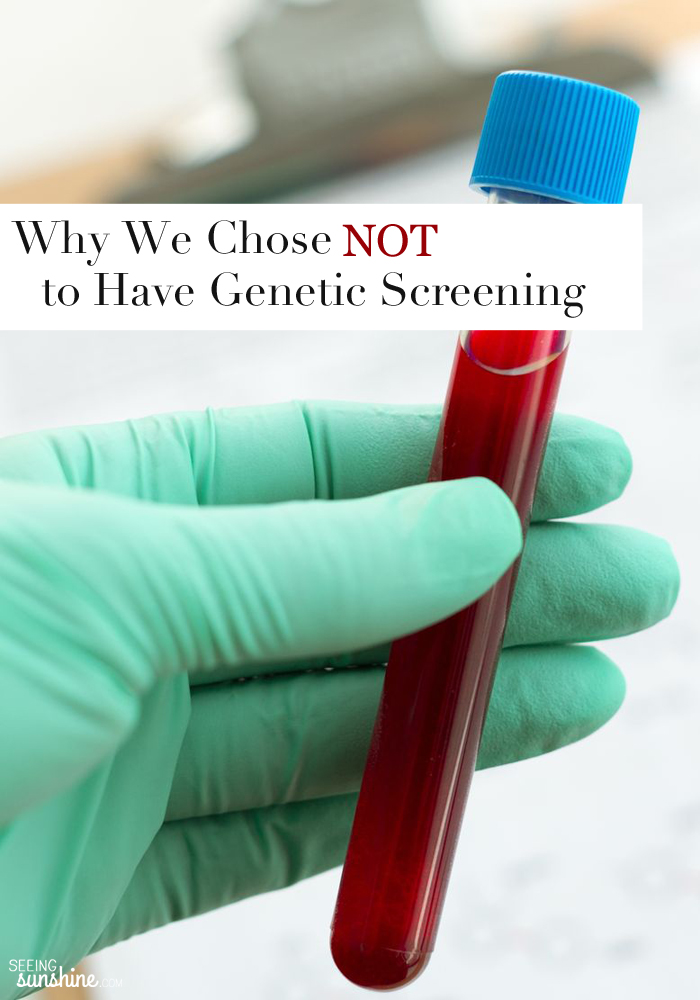 Why We Chose Not to Have Genetic Screening
According to AmericanPregnancy.org, the combined accuracy rate for the screen to detect these problems is around 85%. The false positive rate is 5%. Those numbers aren't very good in my opinion.
After the screening, you are not given a diagnosis or a positive or negative result. Instead, you are told if your results are "normal or abnormal" and are given a risk level. Those levels could be 1/250 or 1/1000. If you receive abnormal test results, you can receive further testing called CVS or amniocentesis. I'll talk about those tests in a minute.
Here are the reasons I could see why you would want to get the screening:
To begin planning for a child with some type of special needs
To find support groups early and research more on the condition
However, we did not find those reasons outweighed the reasons not to do the genetic screening. For one, I didn't like the fact that you don't know for certain if your child will have any of these abnormalities. You could test fine and still have a baby with some type of health problem. You could also test abnormal and have a perfectly healthy baby. Why would I want to take the chance of receiving a high risk result and make myself worried and stressed when it's not even certain?
For us, terminating the pregnancy is not an option. Some choose to terminate after receiving abnormal results. We could never terminate our pregnancy no matter what the test results told us. We believe life begins at conception, and we believe whether wanted or not, we do not have the right to end a life. And by the way, we very much want this life.
Now, real quick — let's talk about amniocentesis. You can look up what it's for and how it's done, but let me tell you why I chose not to have it done. This is an invasive diagnostic test that does have risks. Miscarriage is the primary risk ranging from 1 in 400 to 1 in 200. Miscarriages can occur because of infection in the uterus, water breaking, or labor induced prematurely, according to AmericanPregnancy.org. This procedure has side effects such as cramping, leakage of fluid, and irritation around the puncture site. This was a huge factor to me. Anything that can cause a risk of miscarriage, especially what I consider to be a high risk, I will not do. I've experienced miscarriage, and I hope I never have to experience it again.
Every woman is different, and every pregnancy is different. You must choose for yourself what is the best option for you — whether that means doing the genetic screening or not. I hope you will do your own research as I did and take my thoughts and reasons into consideration.
Did you choose to get the screening? Why or why not?
Be sure to read my other posts about pregnancy and follow my Pinterest boards!