I've talked about Elite Blog Academy before — like when I gave you a list of my top blogging resources or when I told you about how my page views increased by 150%. But maybe you never read those posts, or you did but you still don't quite get it. Today, I'm sharing some frequently asked questions about Elite Blog Academy (EBA) for those of you who may be interested in growing your blog.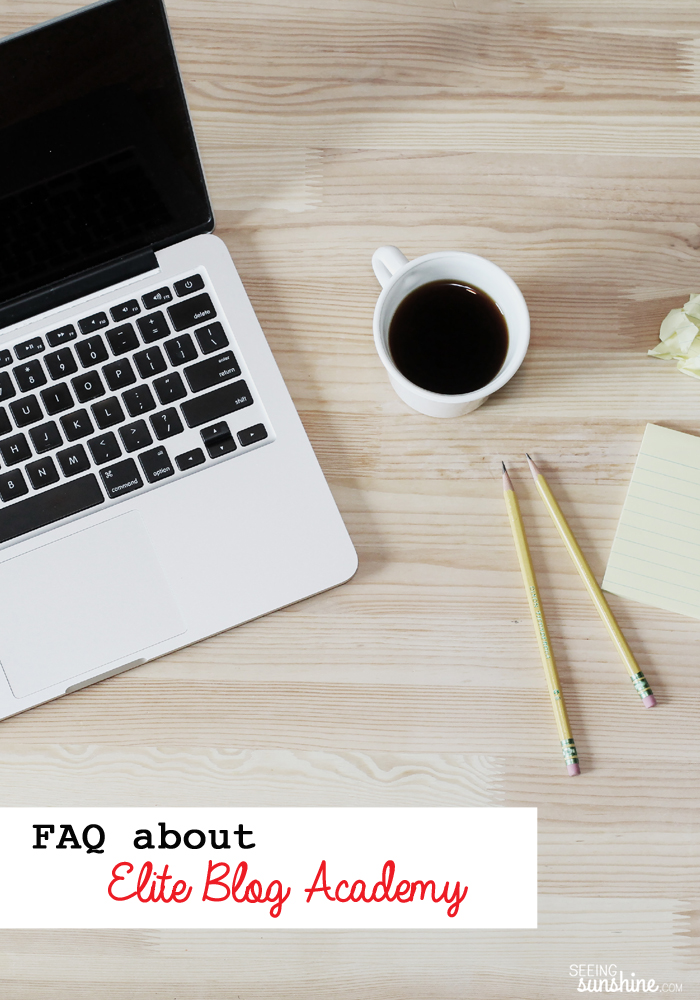 FAQ on Elite Blog Academy
What is Elite Blog Academy?
First of all, it's my favorite blogging resource to date. Elite Blog Academy is an online class for bloggers at all different levels. It's a training program with a step-by-step framework for bloggers who want to turn their blog into a business. The goal is to increase your traffic and then increase your income. I've been working through it for a long time now, and I have learned so much and seen my blog grow a lot. Like I said at the beginning of the post, my page views grew by 150% after beginning with EBA. I've just gotten into the lessons about increasing your income, and I'm slowly beginning to see those numbers go up.
How many lessons are there?
There are 12 unites broken down into four different modules. The lessons consist of videos, outlines, handouts, and assignments. All of the resources and information are all online, so as long as you have Internet you can access them anytime, anywhere. There are also live Q&As with Ruth, the creator of EBA, bonus materials, and a community forum. I also receive a newsletter from Ruth with more information and resources every month!
What are the lessons about?
Module #1 is called Refine Your Message and includes three units that are very helpful for bloggers who are just getting started.
Module #2 is called Grow Your Traffic, and includes two very important units. This has been where I have gained the most from this course (so far).
Module #3 is called Monetize Your Platform and includes five units about growing your income. This is where I'm at in the course, and I can't wait to see where my income is at after finishing this module and applying the lessons I've learned.
Module #4 is called Build Your Business and it contains the last two units of the course.
How long does it take to get through the course?
Here is my favorite part about this course. You get a lifetime membership, which means you can come back to these lessons again and again. You can go through the course as many times as you want. It also means you can set your own pace. I don't think there are very many people out there who are taking as long as I am to get through this course. But those people probably haven't moved three times either! I love that I can take my time and really go through each unit thoroughly. I want to be adamant about doing the assignments properly and applying these lessons to my blog.
Is there homework?
Doesn't every class have homework? Yes, each unit includes assignments and bonus handouts. I love this part of each unit because it's where I can actually apply these things I'm learning. It gives you step-by-step instructions. For example, in one of the units the assignment was to come up with a monetization strategy specific to your blog and audience. The homework gave you specific questions to answer and research to do including a survey of your readers.
Does it really make a difference?
If you look at their website, you will see lots of testimonials from bloggers who have taken the course and seen the results. You can also read my posts about how this course has made a difference to my blog. I can tell you how great this course is and how I recommend it, and I do. But overall, it's up to you. If you want this course to make a difference, if you want to make your blog better, gain readership, and increase your income, and you're willing to put in the work — then this course will definitely make a difference. It's what this course was designed to do, but it's not an overnight process. You truly have to apply the lessons and put in the work.
How much is it?
The tuition for this online course can be broken into 12 monthly payments of $49. Or you can pay the total upfront of $499. Believe me, I get that that is expensive. Normally, I would look at that price and move on. But friends, this is an investment toward your business. This course has paid for itself in the income increase I've seen so far.
Update: Elite Blog Academy has been upgraded to 3.0 and includes tons of new bonuses and information. It's been reorganized and is even better than before. But that also means the price has increased. EBA is now more expensive, but they still have a payment plan.
When and where can I sign up?
The Elite Blog Academy course only opens enrollment ONCE A YEAR. That's a very limited amount of time, and right now it's closed. It won't open again this year, but next year you can be ready by getting on the wait list. This way you will know exactly when the course enrollment is opening so you don't miss it. When you join the waiting list, you also get a free copy of the eBook, "7 Surefire Ways to Boost Your Blog Income Overnight."
What other questions do you have about this course?
Check out my other blogging posts and be sure to follow me on Pinterest for other great articles!