Travis and I have been seeing all sorts of commercials and ads for food subscription services. We both thought it would be fun to try, so when a friend of mine offered us some free meals to try out Blue Apron, we jumped on it! Blue Apron is a subscription service where they send you recipes and ingredients for meals you choose. You follow the recipes to cook the meals and then bon appetite!
This is not a sponsored post. I just want to make sure you know that my opinions are completely honest (as always whether a sponsored post or not!)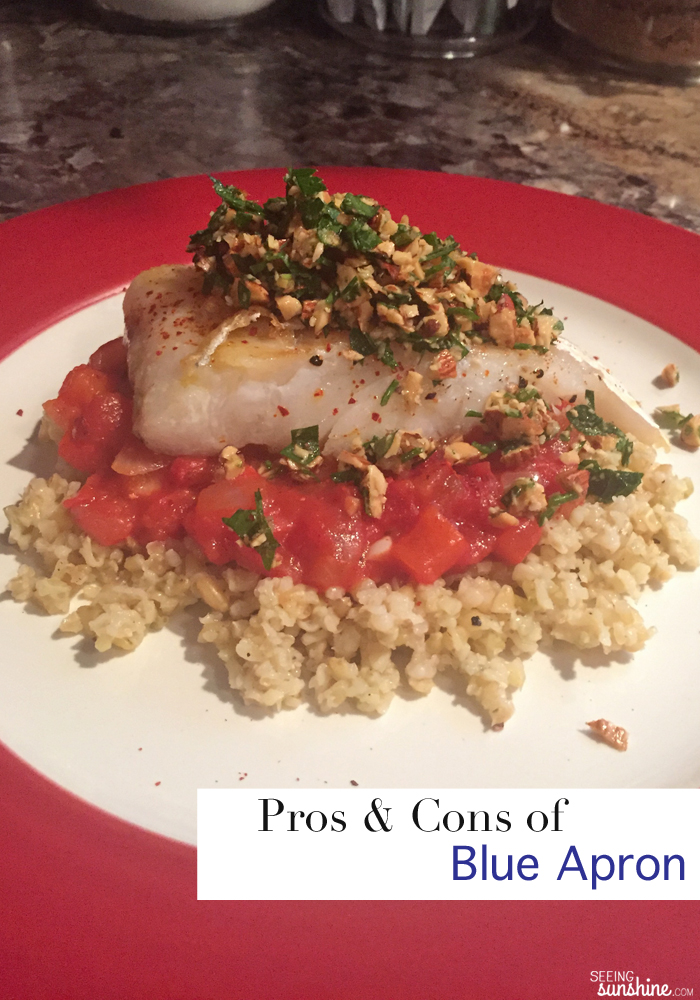 Travis and I tried three meals a week for three weeks. We got one week free thanks to my friend, and then we bought two more weeks of meals on our own. We use the 2-person plan, which feeds two people and you get three meals per week. They also have a family plan available, which serves four people and you get two meals per week.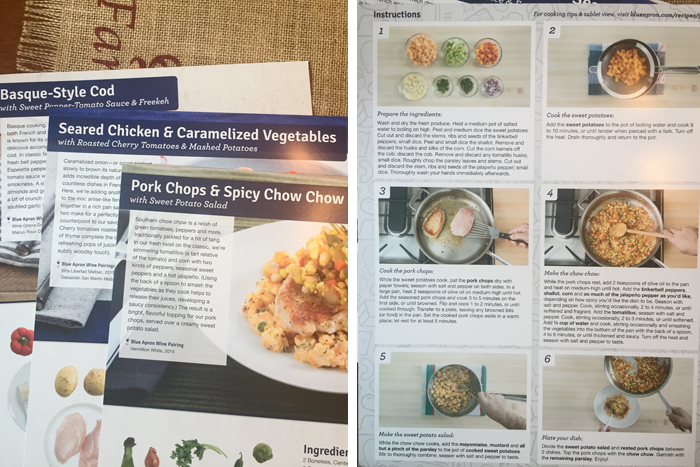 Pros of Blue Apron
The ingredients are fresh and good quality. I don't have to worry about going to the grocery store and not finding the right ingredient for the recipe.
Everything is measured out exactly. If you need only 1 tsp of a liquid, that is exactly what you'll get in the box. That means there is no waste. One of the things I hate about grocery shopping, cooking, life in general is that food often goes to waste. I might buy something at the store, not use it all, and then it goes bad — waste. I hate throwing things out. I keep thinking once we have a family and it's not just two of us that this won't happen so often, but who knows.
Blue Apron doesn't serve meatloaf and mashed potatoes. These are meals and recipes that you probably have never made before if you're the average person. We love trying new foods (for me, that's to an extent) and this gives us the opportunity. For instance, we had never had fennel before. Or turnips. And we've gotten to try both, as well as learn how to cook with them, thanks to Blue Apron.
The recipes are easy to follow. I love that the recipe cards come with photos and step-by-step instructions. They make a complicated meal so easy to make. Another bonus is that if you really loved that meal, you can save the recipe card and use it anytime with your own groceries.
The food all comes in a refrigerated box, so if we aren't home to get the package immediately, the food is not going to go bad.
I loved that this subscription service meant I didn't have to do as much grocery shopping or meal planning for the week.
I like that they have different meals to choose from each week. I like options! Because there are some foods I don't like, or I can't have because of the pregnancy, and this gives us choices.
Shipping is free!
Travis and I usually work on these recipes together in the kitchen. We enjoy cooking together, and it almost feels like a date night. Then we can sit down and eat together while talking about our day. Plus, making these beautiful dishes made us both feel like pros! We were definitely proud after the meals were complete. Just look at some of these dishes!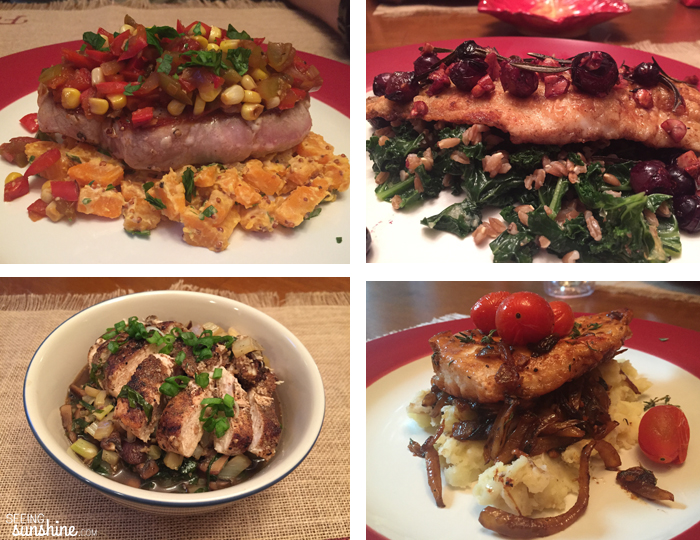 Cons of Blue Apron
I personally don't like that you are automatically signed up for a subscription. That means every week they will charge you and send you meals unless you remember to skip the week. I would rather be able to just go on and purchase a week of meals whenever I want.
It's about $60 a week for the 2-person plan, which comes out to about $10 per serving. This is probably what you would pay at most restaurants, so it's not super expensive. However, grocery shopping and making your own meals could be a lot cheaper. It's $70 for the family plan, by the way.
We both have liked all the meals we've gotten, but personally I didn't LOVE any of them. I know Travis really loved one of the meals, but so far I haven't ate anything that made me want to keep making that meal again and again.
All of the recipes take at least 40 minutes to make. Most of them have a lot of prep time. Since we aren't chefs with amazing knife skills, it takes us a little longer to chop and slice everything.
This was also a pro, but it can be a con too. The recipes are very different. It's not your average meal, at least not for us. We like trying new foods so it's a pro. But sometimes none of the options sound good to me, so that's a con. Plus, I don't always want to be trying some exotic or new-t0-me food. Sometimes, I just want comfort food or something easy to make.
All-in-all, I think this is definitely worth a try. It will really depend on your family and food preferences on whether you think this food subscription service is worth the price.
Have you tried Blue Apron? What are some other pros and cons?