Pink and blue — that's what most people do for a gender reveal party. But we aren't most people. We've had the idea for a baseball gender reveal party for almost a year now. Travis loves baseball. He still has all his baseball memorabilia from when he was a kid. He took me to my first MLB game, and we had so much fun. So we loved the idea of finding out the gender using a baseball and bat.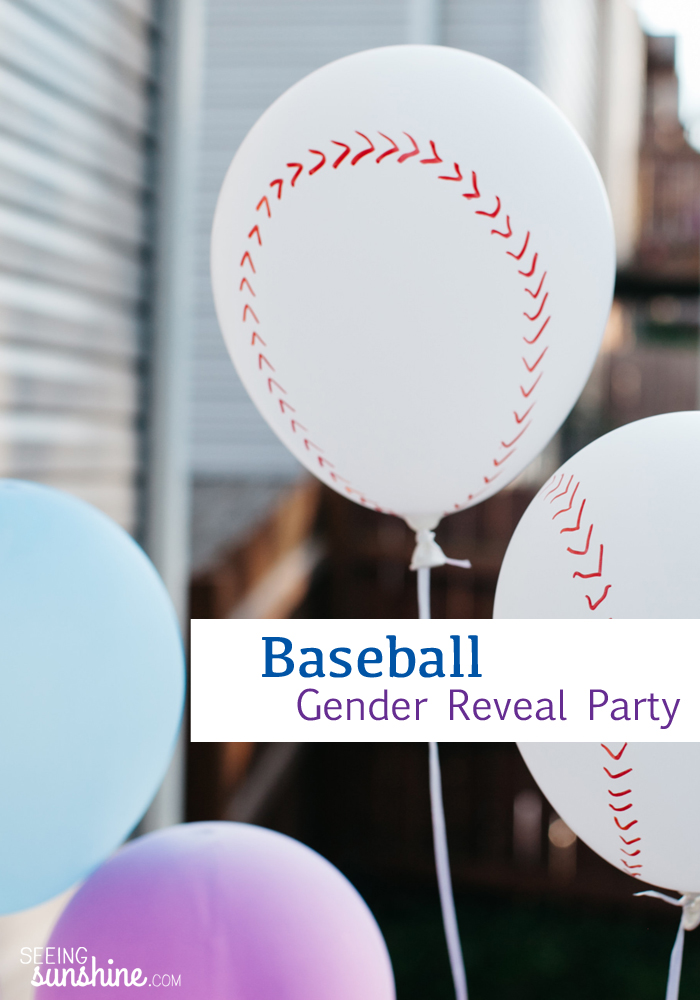 I'm so excited to share all the details of our party. But first I want to say a big thank you to our family that came. I started to thank them all at the party, but I got choked up so I kept it really short.
You all have absolutely no idea how much it meant to us, and especially me, that you drove all the way to Tennessee to celebrate with us. Most of you had several hours in the car — here and back. Plus, a lot of you spent money on hotel rooms. I know you all have busy schedules, and yet you took off work, cleared your plans, and came. You were willing to spend the time and money to come to this party.
I honestly thought we'd have maybe 10 people come. Instead, we had over 30! It was exactly what I had imagined, seeing you all out in our backyard chatting. I felt so incredibly loved as more and more people let us know they were coming. I even cried at times. I guess I'm just so very thankful that this baby is coming into a world surrounded by an incredibly loving and supportive family. That's not common these days, and our baby girl is so very blessed already.
OK, enough of that. *wipes tear*
Baseball Gender Reveal Party Details
Here was our invitation. I blurred out the address so we don't get any creeps showing up! 🙂 The invitation was  designed by Aubree, who was also our photographer. All the photos in this post are from Aubree Nicole Photography.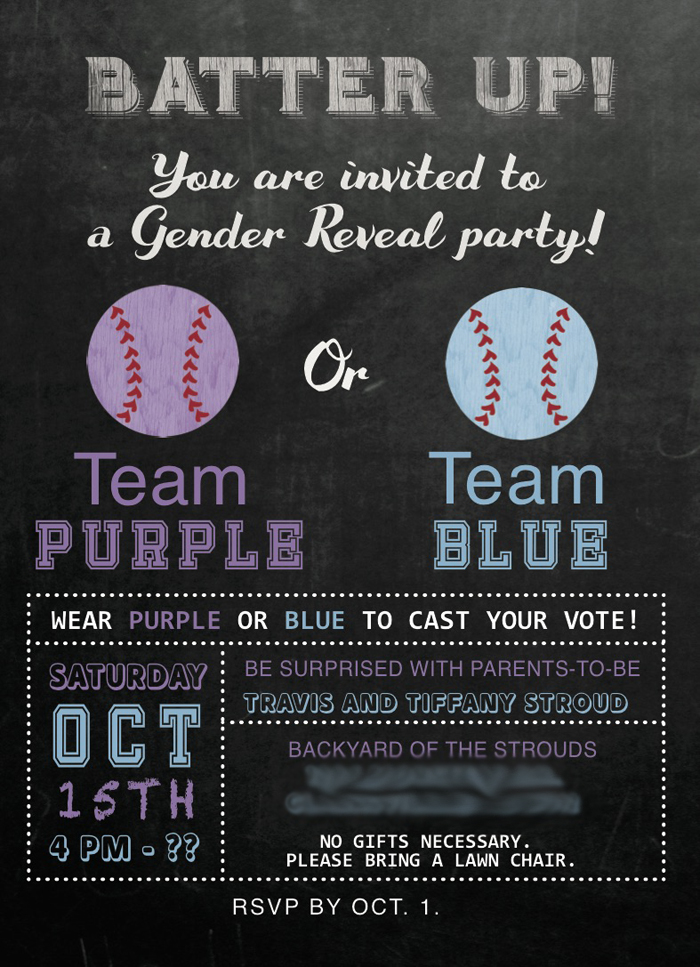 Party Food
For the menu, I made a couple crock pots of soup — regular chili and white chicken chili. We had a fire in the backyard for roasting hot dogs and brats. We also had:
a meat and cheese tray,
a veggie tray,
tons of chips,
lots of chocolate chip cookies,
chocolate dipped pretzels,
cake balls decorated as baseballs,
peanuts,
Baby Ruth candy bars,
Cracker Jacks, and
smores for roasting over the fire.
For drinks, we had a cooler full of water bottles, cans of pop, and juice boxes. I also made a crock pot of hot wassel — check out the recipe here — for when the temps cooled down.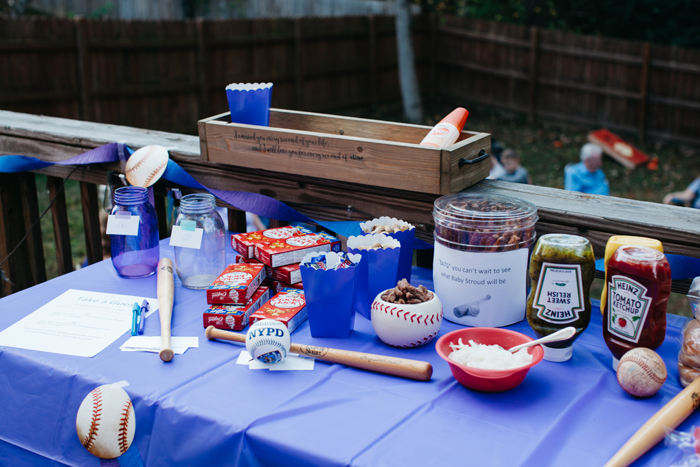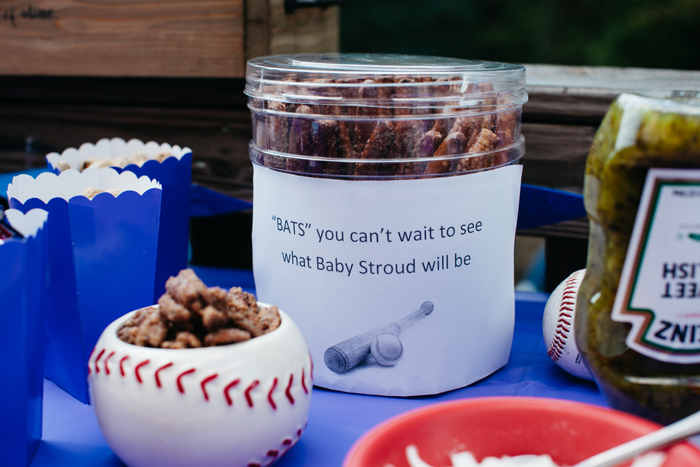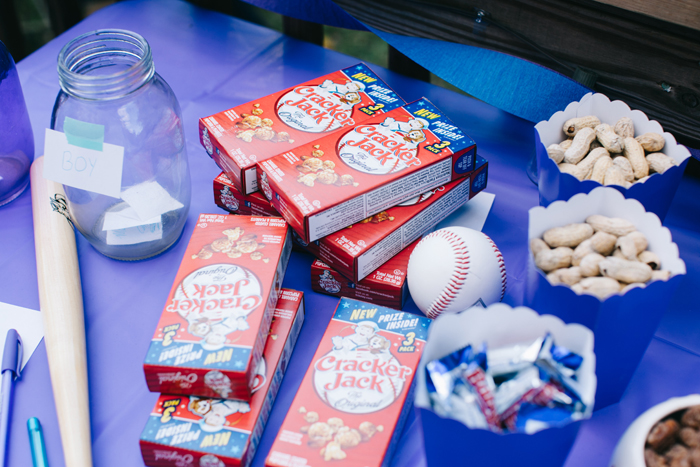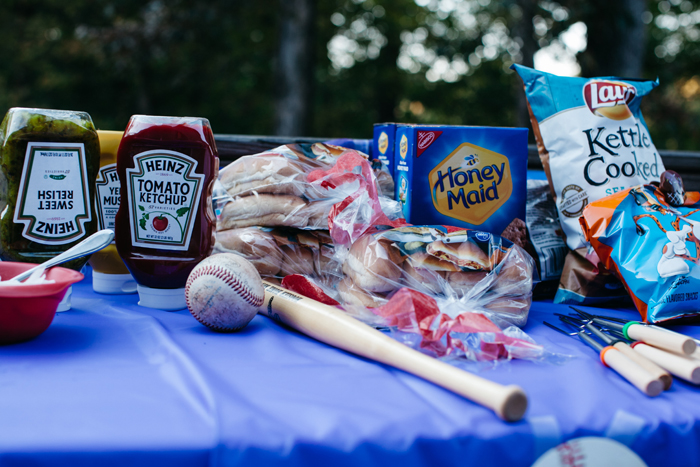 Party Decorations
I'm not a fan of pink, so we did blue and purple instead. We had blue and purple streamers up. I also found some baseball party invitations that we were able to use as decorations. I decorated the tables with blue and purple table clothes. I used Travis' baseballs and small bats from when he was a kid to decorate the tables.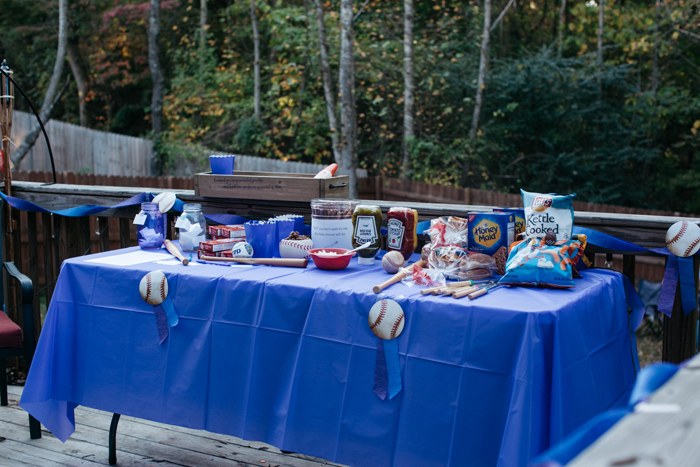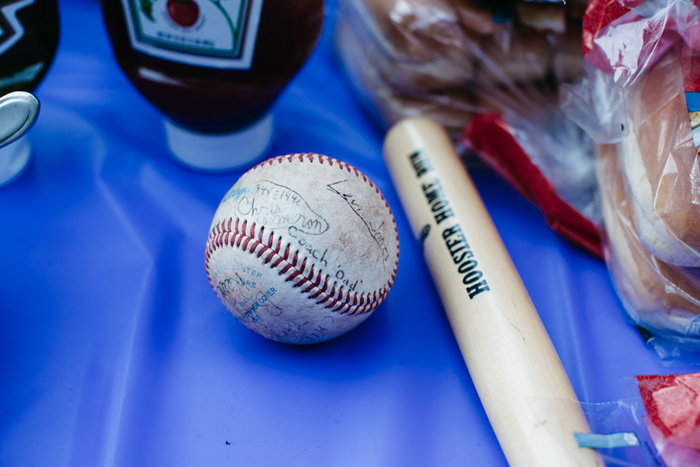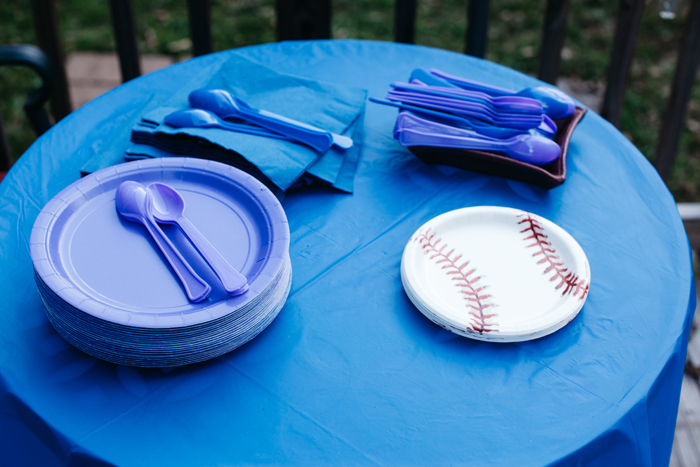 I really wanted lots of balloons. I found a party store that had baseball balloons, but when I went to pick them up they only had one left. I was so disappointed. If you know me, you know I tend to get an idea in my head and if my expectations aren't met — well, I get grumpy or sometimes even completely lose it. My parents went with me, driving around to every possible store that might have balloons. No one had baseball ones. So my mom came up with the idea to make our own. She, along with some other helpers, did an awesome job making these white balloons look like baseballs. I was so impressed!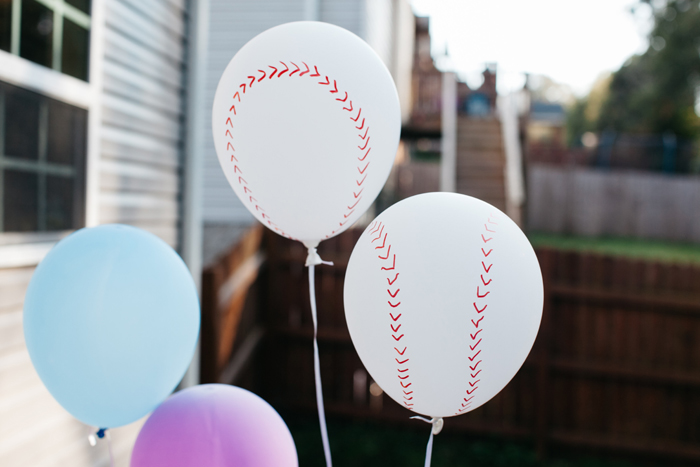 My aunt drew this awesome cartoon of Travis and I with our baseball and bat. We blew it up and turned it into a poster. How cute is this?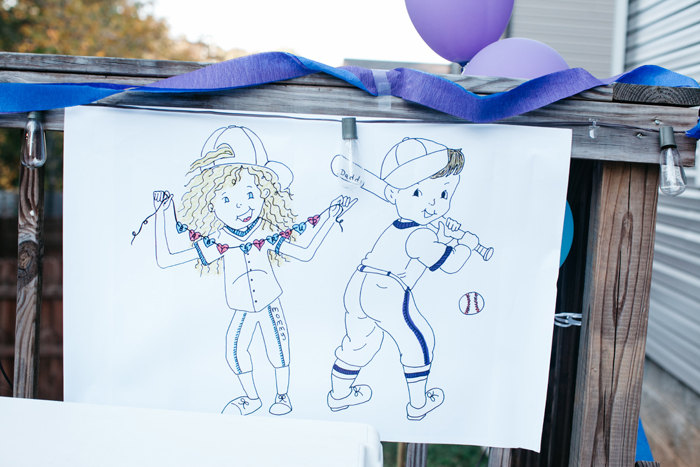 The Reveal
First of all, we asked everyone to wear either purple or blue to show which they thought the baby was going to be. I couldn't believe how many people thought it was going to be a boy!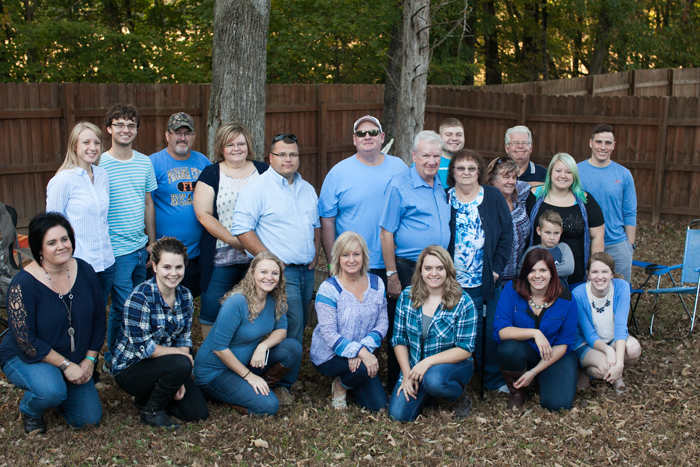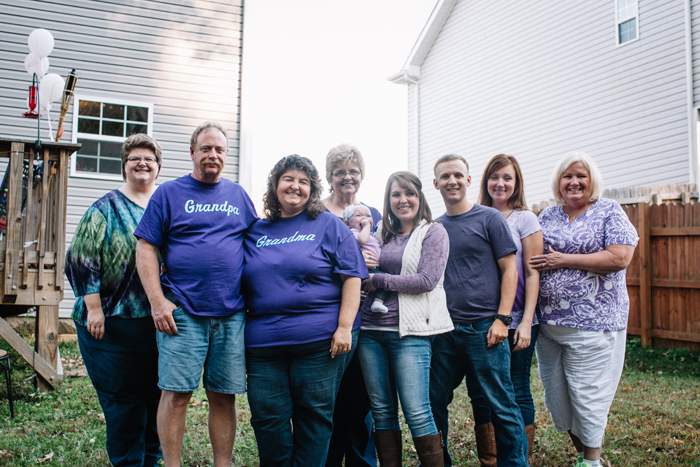 We had to do some silly photos after the reveal!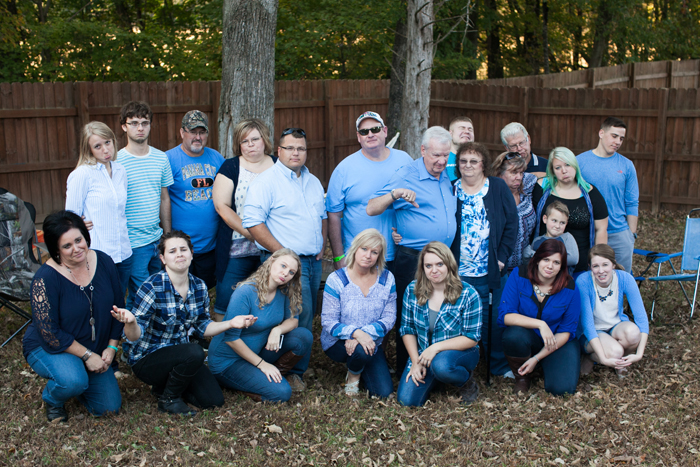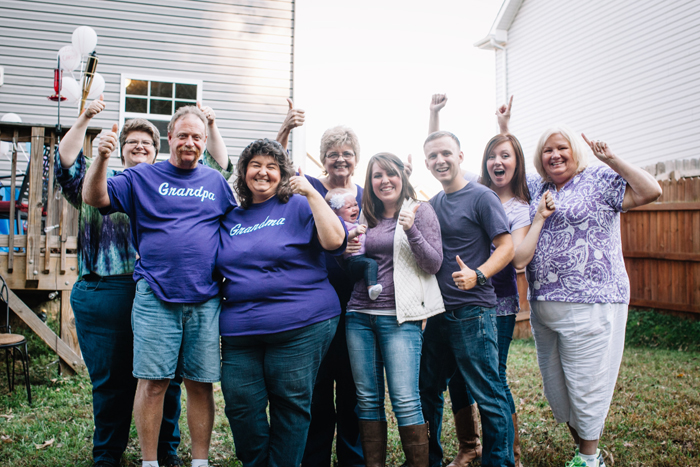 For the actual reveal, we bought balls that looked like baseballs online. Each was filled with powdered chalk — one blue and one purple. We had a friend open the envelope right before the reveal and get the right ball to give to us. I pitched the ball to Travis and he hit it with his bat. It exploded purple! Watch the slow motion video here!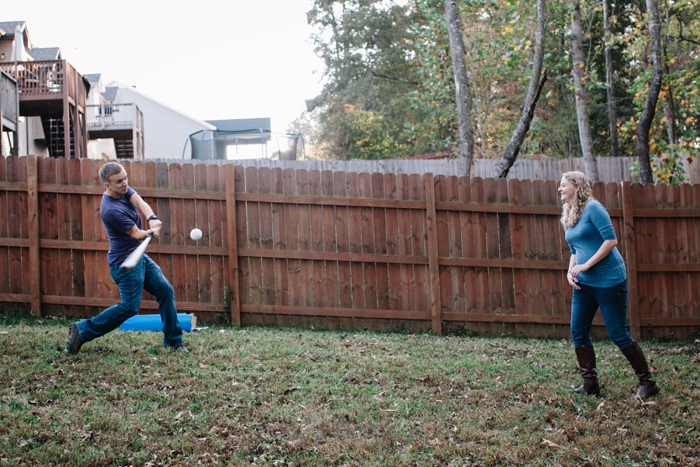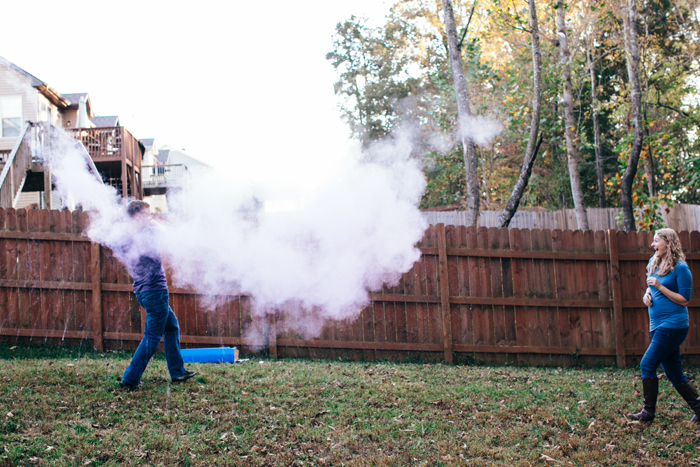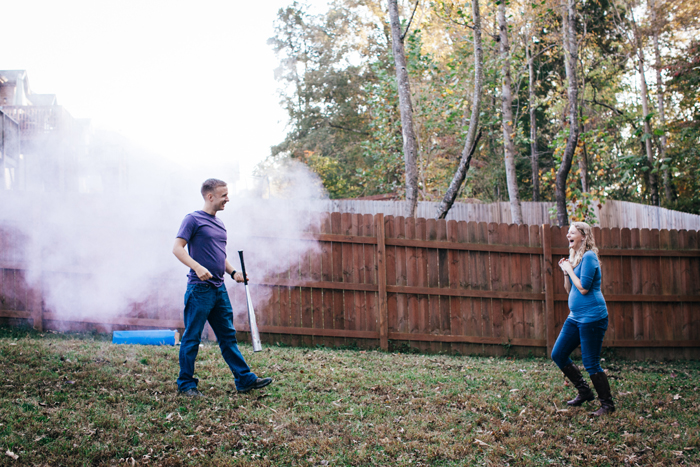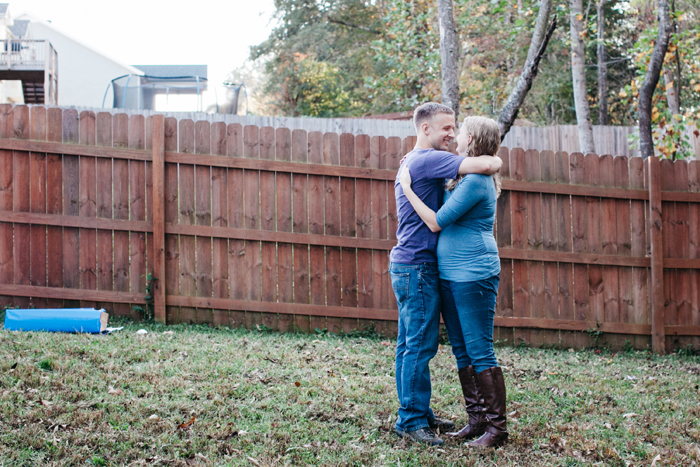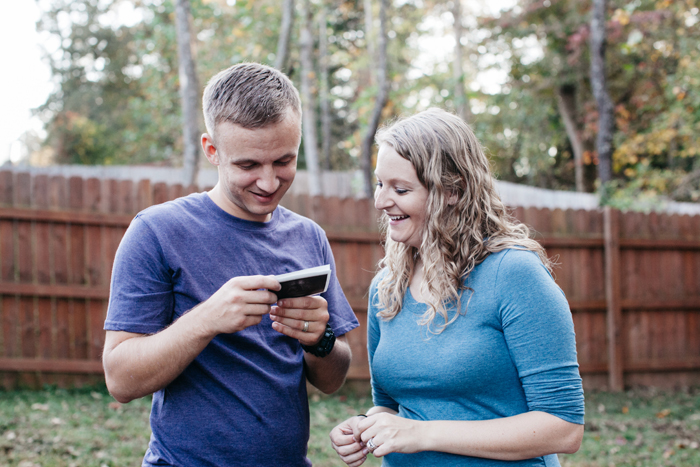 Right before the reveal, I surprised Travis with a gift from the baby and me. I had bought him a personalized wooden baseball bat. It said "Dad" on it.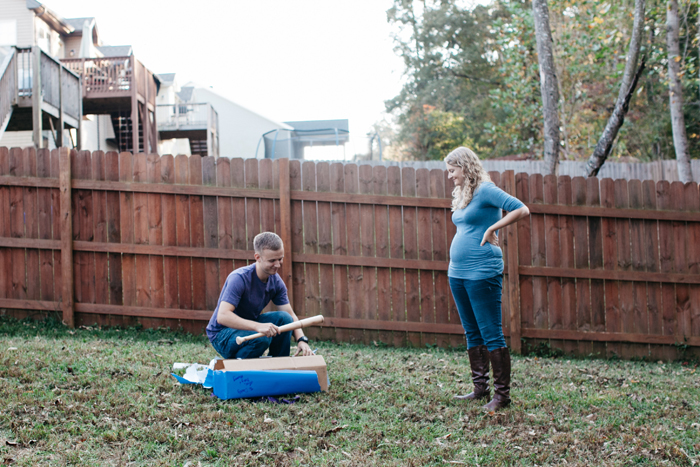 Party Games
We didn't have a lot of games at our party. I really wanted people to just eat and chat and enjoy themselves. I wanted our two families to get to know one another better. We did have corn hole set up. I also had everyone vote before the reveal by putting their name in either the boy or girl jar. Once the gender was revealed, I drew a name from the correct jar. My grandma, and our baby's great grandma, won a Starbucks gift card.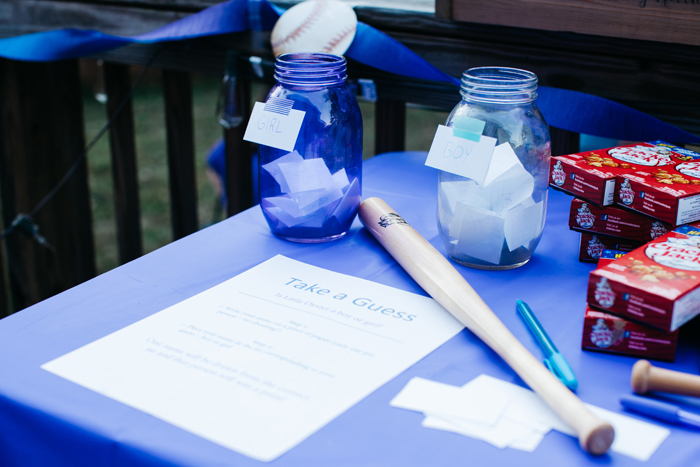 Thank you so much to everyone who helped out by bringing food, to my parents who kept paying for our groceries when we had to buy last minute supplies, to my mom for coming up with the baseball balloon idea and saving the day, to dad for fixing our fireplace and baking cakes, to Traci for drawing that cartoon, to Aubree for being our photographer, to Julie for being the gender keeper, and to everyone who showed up early and helped with cooking and decorating. I seriously LOVED having you all at our house and seeing the two families come together as one.
Have you had a baseball gender reveal party? Or some other type? If you loved these photos, be sure to check out the Aubree Nicole Photography Facebook page!
Be sure to follow me on Pinterest — Gender Reveal and Pregnancy.