When I think of October, I think pumpkin. But alas, October is over. That's OK, though, because we are still in the middle of fall and that means pumpkin is still allowed. Last month, I shared the recipe for pumpkin chocolate chip cookies. This month, I'm sharing a recipe for another fun pumpkin dessert. Pumpkin chocolate chip dip! It's like cookie dough, but better because you are supposed to eat it! No guilt. No salmonella. Yay!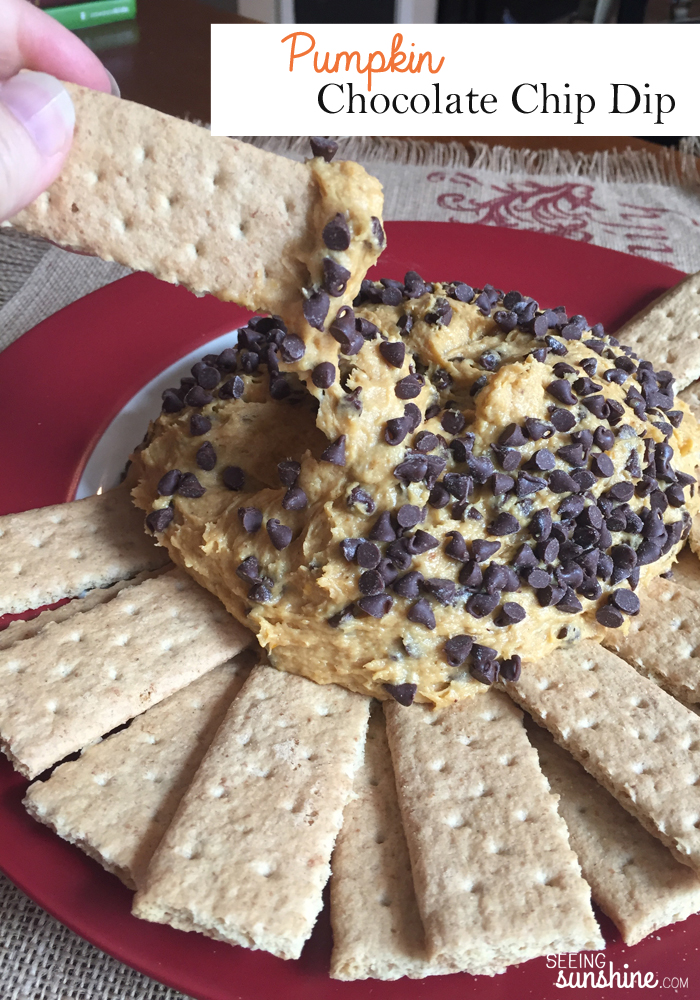 Here's what you'll need:
Butter
Brown sugar
Cinnamon
Nutmeg
Vanilla
Pumpkin puree
Flour
Chocolate chips
Considering it's fall, I'm guessing you already have most of that (if not all of it) in your pantry! So that makes it a super easy recipe.
How to Make Pumpkin Chocolate Chip Dip
You start by creaming together the softened butter and the brown sugar. Then add each ingredient separately, stirring them in thoroughly before adding the next.
For the flour, I added in a 1/2 cup at a time. Once, you have the consistency you want, throw the chocolate chips in!
It's so easy! I placed mine in the center of a bowl and used a spatula to form it into a ball. I sprinkled extra chocolate chips on top of the ball of dough. Graham crackers are great for dipping, so I placed a bunch of those around the plate. It looks so pretty, and it tastes even better!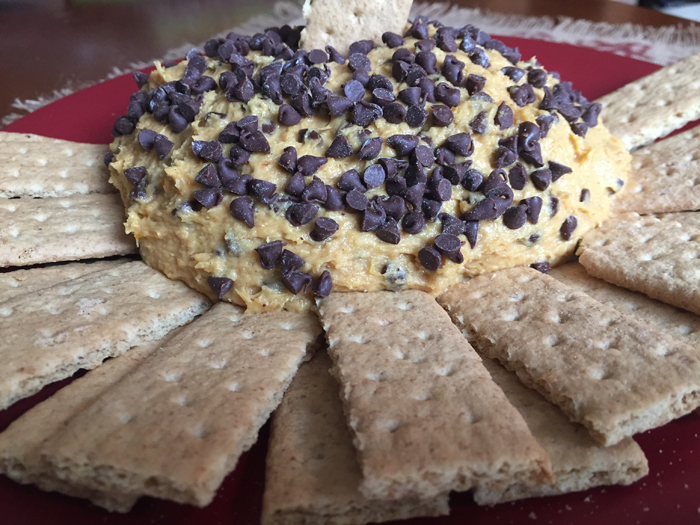 Pumpkin Chocolate Chip Dip
Ingredients
½ cup butter, softened
¾ cup brown sugar
1 tsp cinnamon
½ tsp nutmeg
2 tsp vanilla extract
1 cup pumpkin puree
2 cups flour
¾ cup mini chocolate chips
Instructions
Cream the butter and sugar together
Add in each remaining ingredient one at a time, stirring in between
Add the flour ½ cup at a time until you reach the consistency you prefer
Add in the chocolate chips
Place dip on the center of a plate or serving dish
Use spatula to form it into a ball
Sprinkle chocolate chips on top
Serve with graham crackers
Who's hungry now? Check out these other
recipes
!