Travis and I recently returned from our baby moon vacation. We flew into San Diego, rented a car, and drove all the way up the coast to Seattle. It was beautiful, and we got to visit several big cities along the way. Our baby moon included flights, long car rides, and lots of walking and exploring. We had a great time, but being pregnant did make this vacation a little different than other times we've traveled. That's why today I'm sharing a few pregnancy travel tips for those of you planning your own baby moon.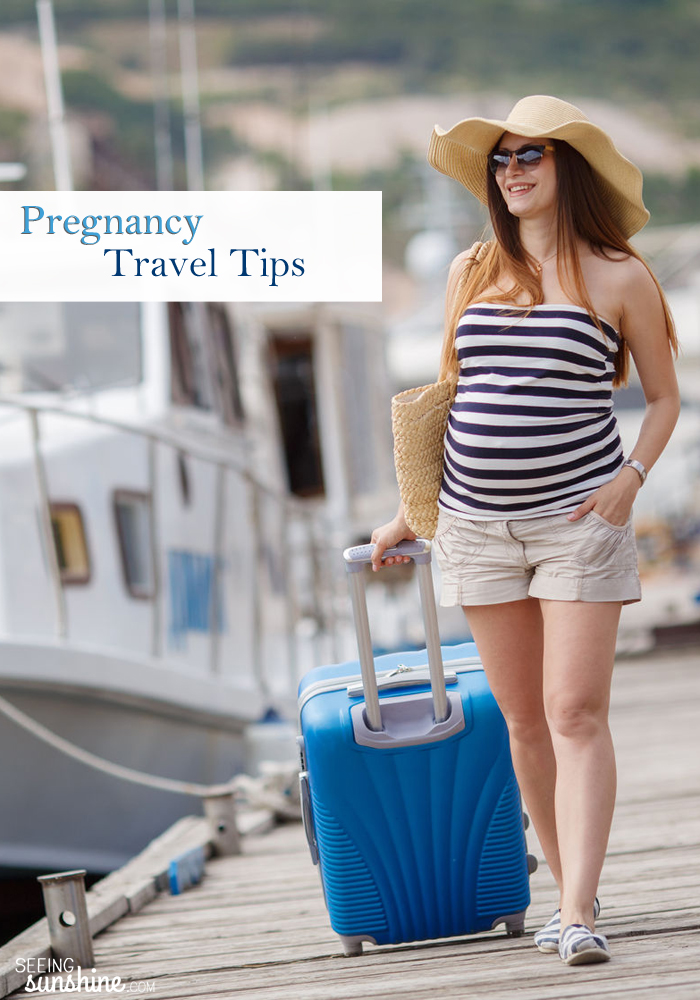 Tips for Pregnancy Travel
When To Go
I've found that most people suggest traveling or taking your baby moon during the second trimester, and I would second that advice. The first trimester can be the hardest for some because of the morning sickness or just feeling nauseas all the time. During the third trimester, I've heard we just feel big. Many say it's not as safe to travel during the third trimester.
Things to Take
Here's a list of a few things you should consider taking on your trip:
Portable chargers (So you can always check your pregnancy apps!)
Sunglasses or a hat (I tend to get headaches easily and bright lights cause them.)
Water bottle (It's always smart to carry water with you everywhere you go. You and baby need to stay hydrated!)
Comfortable shoes (If you will be doing a lot of standing or walking during your travels.)
Circulation socks (These socks can help keep your blood circulating, which is good for long flights or long drives.)
Back brace/maternity support belt (I got one from Babies R Us to help with back pain and it was great for days with lots of walking. This one from Amazon looks like the exact one I have except cheaper!)
Back pillows (I brought a couple different back pillows to use on the airplane and while driving to help support my back during long periods of sitting.)
Keep in Mind
You have to remember that you are growing a baby, which means you may not be able to handle as much physical activity as you used to. Plan activities accordingly. For instance, in San Fransisco we had planned to visit Alcatraz Island, but we heard it can be a lot of hiking and may be too much for someone who is pregnant (especially considering I have back problems.) So we decided to do other things instead. Be sure you take breaks — this goes for walking a lot and driving a lot.
This is also a great time to take advantage of transportation options if you are in big cities. For instance, when we visited the zoo in San Diego, they had a sky tram and a bus that were included in the ticket. You can cut down on walking by using the bus or taxis. We got an Uber while we visited San Fransisco, which helped cut down on a lot of walking — thus saving me a lot of back and foot pain!
Another idea is to book a prenatal massage during your vacation. I've had one, and they are amazing. A lot of hotels have spas or you can find a specific massage place. It's a great way to relax in the middle of traveling.
Save Money
With a baby on the way, we all want to be smart financially. As fun as it is to splurge on a baby moon, it's also a great idea to save money where you can. You'll need it later for diapers! Here are a couple ways we saved money on our trip:
Use Priceline Express Deals when booking hotels. We were able to get good hotels for way less money by booking through Priceline. You can compare prices and hotels, but by using the express deals you can really save money. Express deals is when you choose a 2.5 or 3 star hotel for one night. You can see the price, but not the name of the hotel. It seems a little risky, but we haven't had a bad deal yet. We were able to get a good deal on a hotel in downtown San Fransisco. Using the Express Deals, you are only booking for one night. When we went to extend our stay for one more night, they were going to charge us $100 more. Instead, we went on Priceline and got the exact same express deal. We booked it and checked in again, and they even let us keep the same room. I'm so glad we took the risk and did the express deal rather than booking through the hotel and spending about $200 more!
For our rental car, we went through USAA's travel page (this tip is for military families). Often times you can find great rates for rental cars through USAA rather than through the rental company.
During the first leg of our journey, we were able to stay with Travis' cousin in San Diego. Staying with friends or family is a great way to save money on hotels. You could even plan a whole trip based on where you know people!
We saved money on flights by using points we've saved up through our Chase Sapphire credit card. We got this credit card before Travis left for Korea because we knew we'd be traveling a lot. We use it for all travel expenses and rack up the points. We were able to use them for our flights for this trip, and we still have a ton leftover for another trip.
Eat Healthy
You've got to be careful about what you eat during your pregnancy and that includes while traveling. We went to several seafood restaurants since we were on the coast, so I checked my Ovia app for the food safety lookup feature. I was able to see which types of fish and seafood I'm allowed to have and which I'm not. It can be tempting or even easier to eat junk food or fast food, especially on road trips. But it's important to keep eating proteins and vegetables for you and baby.
I suggest getting some healthy snacks to keep with you. Rather than pick up snacks at gas stations, stop by grocery stores or local markets. We stopped during our trip and bought some fresh fruit to have in the car. Delicious and healthy snacks!
What other pregnancy travel tips would you add to this list?
Check out these other pregnancy posts:
Follow my Pinterest board Pregnancy too!