Travis and I just got back from our west coast road trip, also known as our baby moon vacation. We flew into San Diego, rented a car, and drove all the way up the coast to Seattle. The trip was fantastic. We started in San Diego and spent two days visiting the sunny southern California area. Perhaps you are heading that way? Check out what we did during our short visit. I can't believe how much we fit in!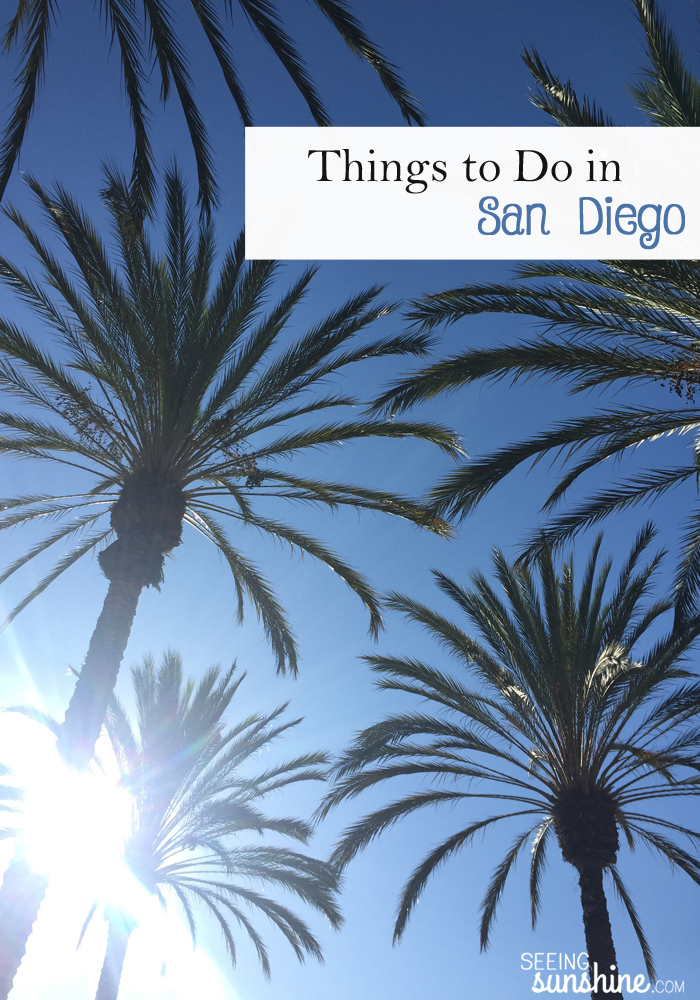 Must Sees in San Diego
Mt. Soledad National Veterans Memorial
This historic landmark honors the veterans who have served our country. The giant redwood cross was erected in 1913 and it stands tall and proud overlooking the ocean. The walls around the steps up the cross are made of black granite and are engraved with photos and names of men and women who have served. The view up here is amazing. It's 360 degrees of "wow." I love that the ocean is on one side while the city is on the other. You can see so much from up here!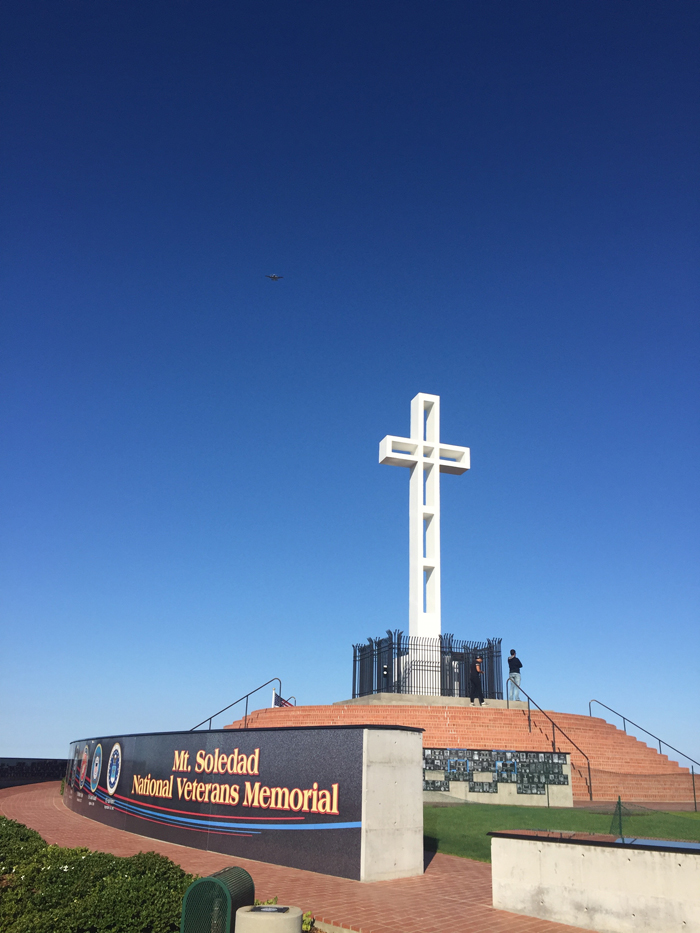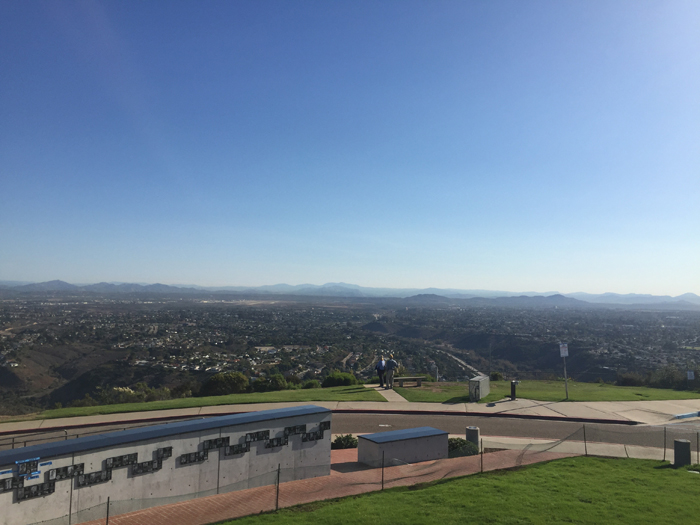 Sunset Cliffs
These natural cliffs overlook the water where you may spot some surfers. This spot is just so pretty, and I can't imagine what it looks like at sunset. It's really fun driving around and seeing the big, beautiful homes along the coast too.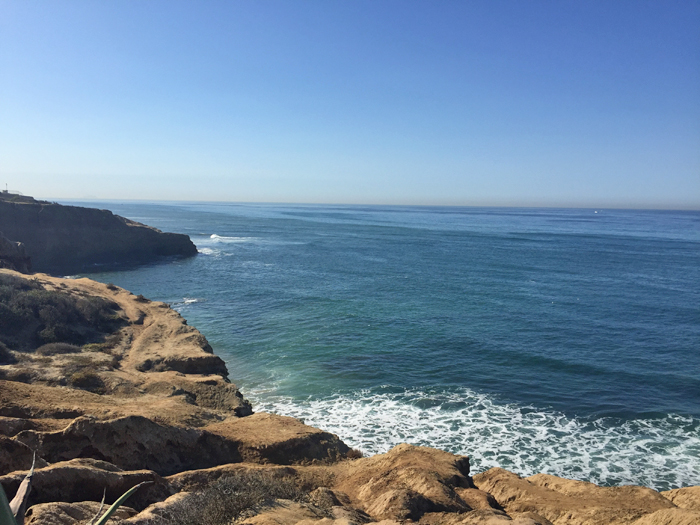 Old Point Loma Lighthouse
This historic lighthouse, which is no longer active, is located on the Point Loma peninsula at the mouth of San Diego Bay. You can go up into the lighthouse to see how the keeper lived back then. There is a lot to learn and a lot to see here. But the view is just spectacular. Are you catching a theme here? San Diego is so pretty!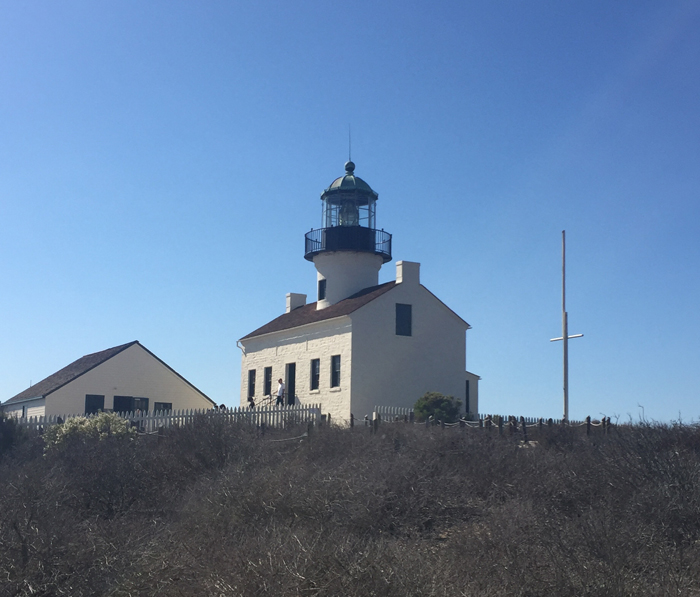 Of course, I love me some shopping! Seaport Village was such a cute area, and way bigger than I realized. It is full of little shops for you to browse and eateries for when you get hungry. On your way there, be sure to stop by the well-known statue of the seaman kissing his sweetheart. Did you know it's called the Unconditional Surrender Statue? Maybe you'll want to do your own reenactment like we did?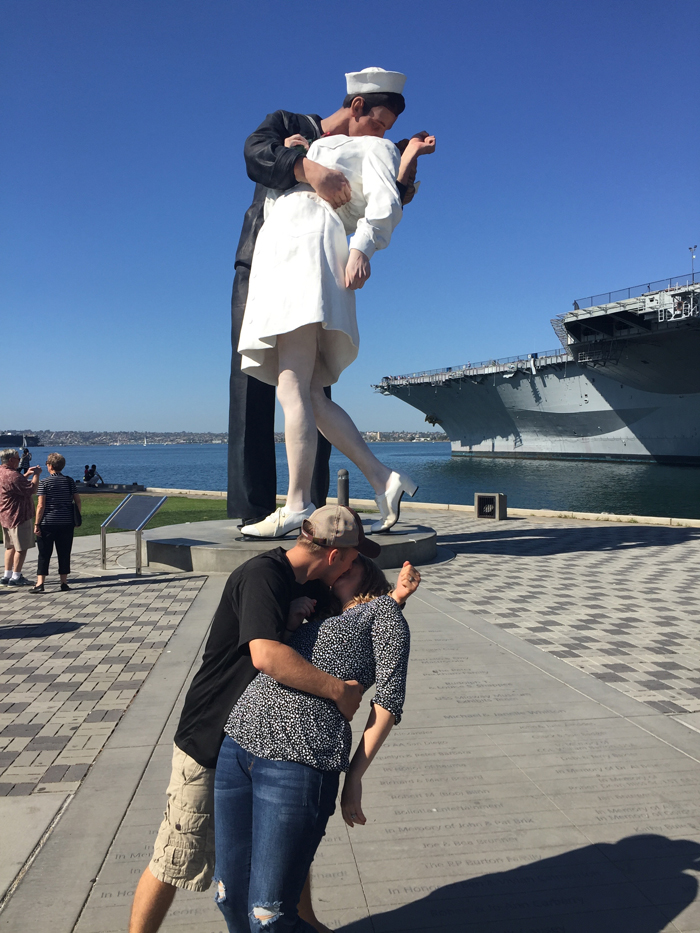 Dessert at the Hyatt
After walking through Seaport Village, I was tired and hungry and thirsty. We stopped by the Hyatt hotel, which was just across the street. It doesn't open until 3 pm, but you can go to the very top floor where they have a restaurant. The view — can I say it again? Amazing! You can see everything from up there. Plus, they serve drinks, coffee, dessert, and appetizers. It's a great little spot to watch the boats come in while resting your feet.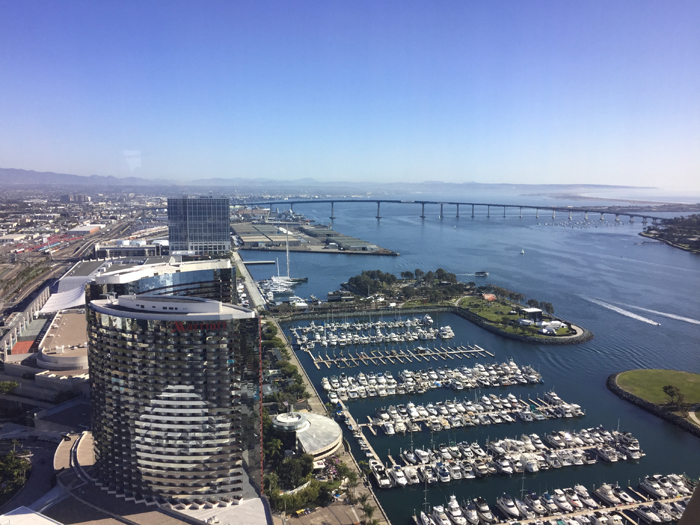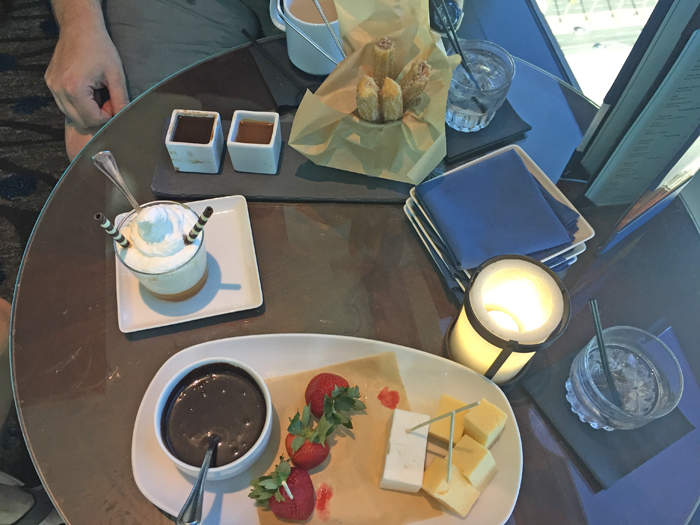 Coronado Bridge & Hotel Del Coronado
We drove over the Coronado Bridge and visited the Hotel Del Coronado. This hotel is grand and upscale and pretty neat to walk around and see. The elevator inside was really cool. We went outside and walked down to the beach here too. There were sand sculptors out there, planes and helicopters flying over head, and the water was gorgeous of course. It was also cold too! Oh, and a tip — don't bother paying the ridiculous prices to pay at the hotel. Find parking on the street and walk over to it. (You can see a photo of the Coronado Bridge above — we got a great view of it at the top of the Hyatt!)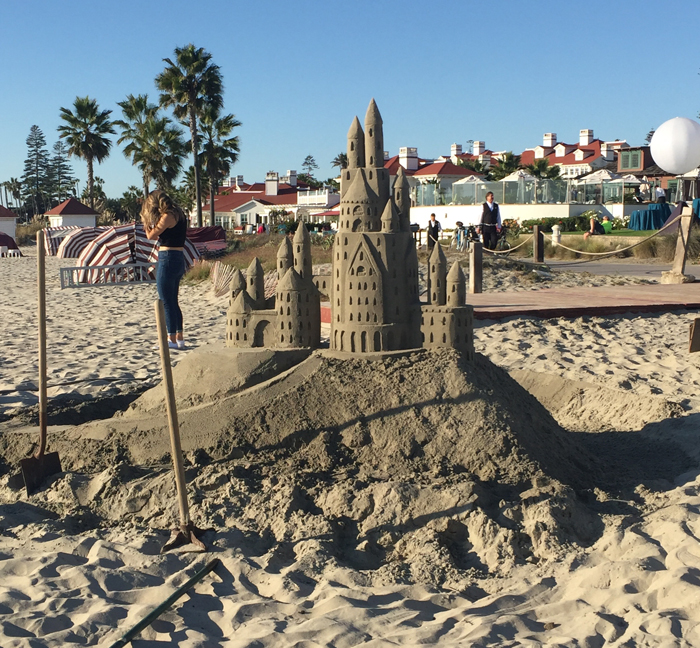 Mexico Border
San Diego is super close to the Mexico border. I didn't realize how close it was. We drove over and saw the border, even walking around toward Border Field State Park. It was really interesting to see the fences and all the border patrol vehicles everywhere. In fact, it was a little creepy to be honest. If you have your passport, you might as well cross the border just so you can say you did! (Keep in mind, military personnel are not allowed in that part of Mexico — so we didn't cross.)
Las Americas Premium Outlet Mall
While you are over there by the border, there is a great shopping center full of outlet stores. Check out the store directory, but I'm going to warn you — it's almost never ending!
San Diego Zoo
On our second day in San Diego, we visited the zoo. I remember watching a kid's game show when I was younger that took place at the San Diego zoo, and ever since then I've wanted to visit. To me, the San Diego zoo was the best in all the world! I think this was our favorite part of visiting San Diego. The zoo had tons of animals to see, but I really loved getting to see two animals I've never seen in person before — pandas and koala bears! My favorite part was seeing a baby gorilla with it's mama. It was right up against the window breastfeeding, and it was just so neat to see. Maybe because I'm about to be doing that with my own baby, I don't know! The polar bear was also a big hit for us because we got to see him swim and eat a fish. It's always so fun when the animals are visible and active. Military family tip — active duty members get in free with their military IDs!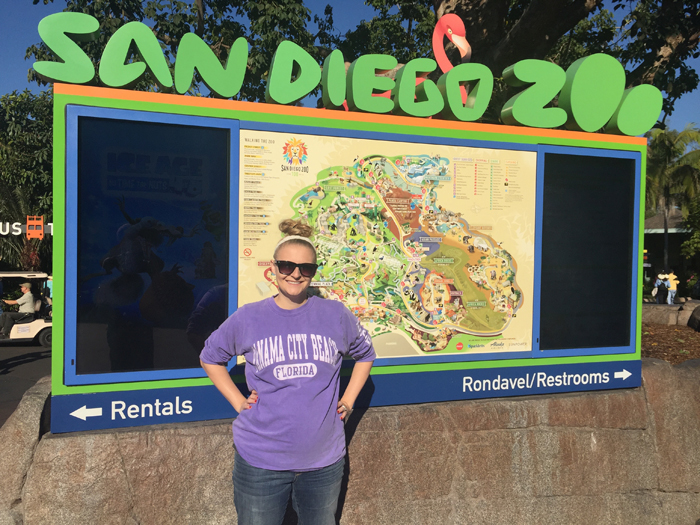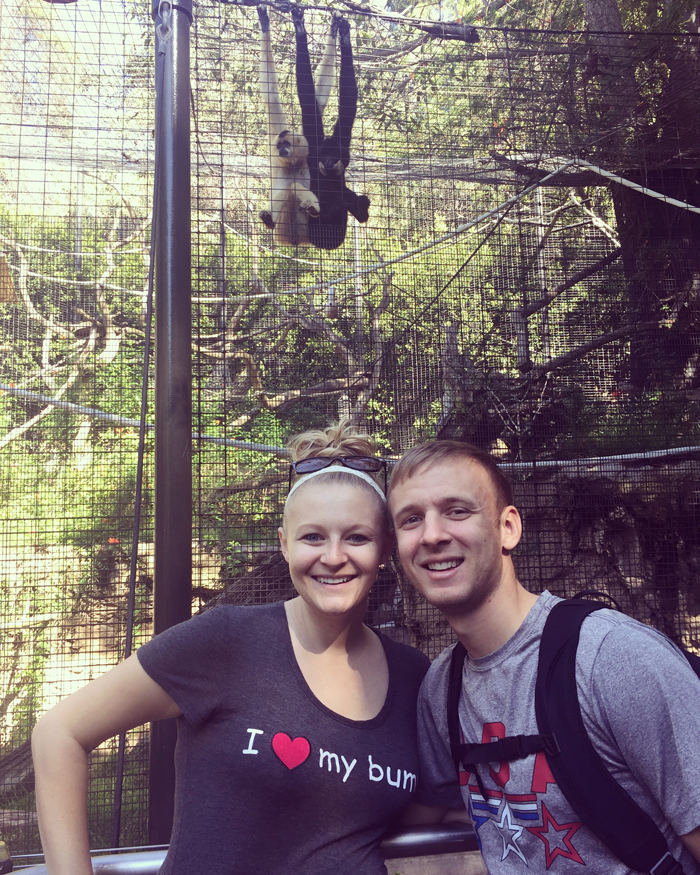 After the zoo, we walked over to Balboa Park because it's right next door. To get there, you walk through an art area that's really neat to see. Lots of the artists are out creating there crafts. This park houses a gazillion museums — everything from art to history, model railroads to veterans. There's tons to see here, as well as some beautiful gardens and fountains. Plus, street entertainers! I loved walking through the Botanical building to see all the flowers and plants.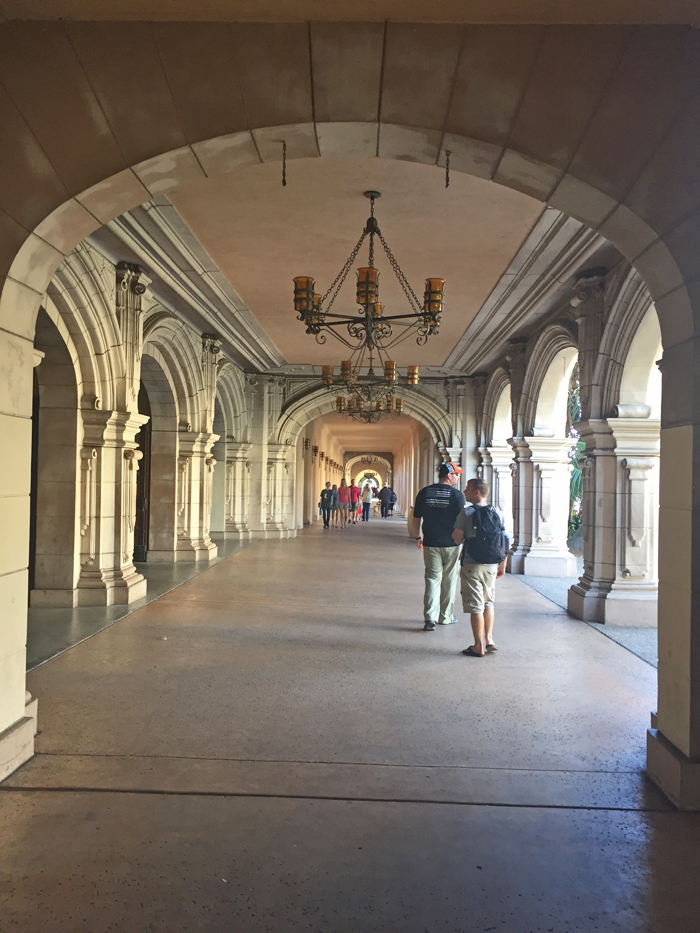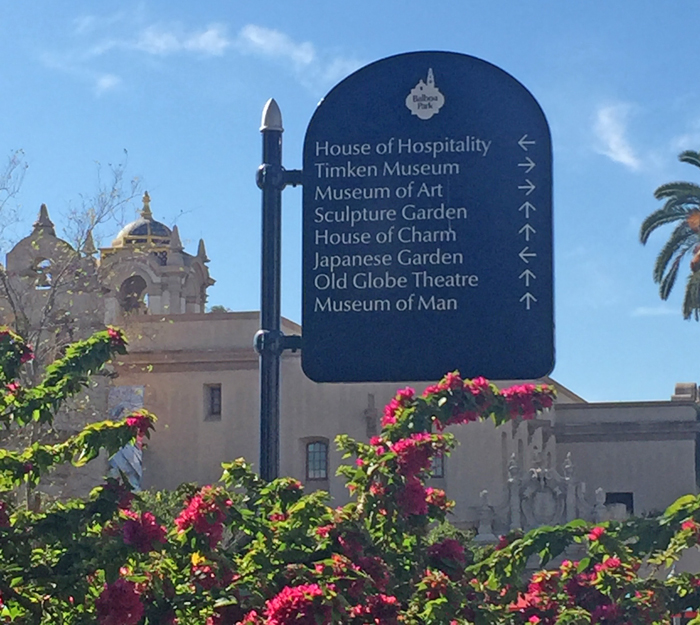 What else do you recommend seeing in San Diego? We were lucky enough to have Travis' cousin show us all around and even drive us everywhere. It made the visit so much more enjoyable because we didn't have to worry about traffic or directions or where to go next. Thanks Ryan!
Stay tuned because I'm going to be sharing lots of travel posts soon. We had quite the adventure last week!
Be sure to check out all my travel posts and follow my Travel Pinterest board!