I told you all about our first few days on our baby moon vacation when we visited San Diego. Our next stop up the coast was Los Angeles. Today, I'm sharing what we did and a few tips for you in case you take a trip to L.A.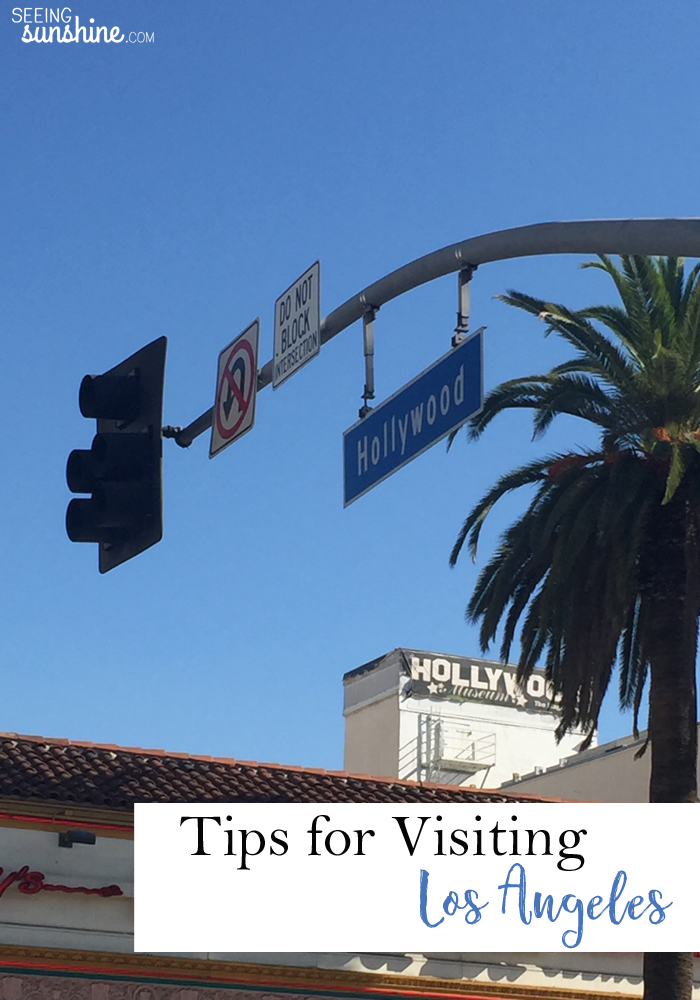 We stayed at the Four Points by Sheraton next to the airport. We were able to get a good deal for the hotel on Priceline. The hotel was really nice, but the best part was it's location. It was close to Hollywood and Santa Monica, which meant less time driving in heavy traffic to get to any specific destination.
Hollywood Blvd
When we drove into Los Angeles, our first stop was Hollywood Blvd. We parked at the Hollywood and Highland Center — a mall, which is close for walking and not too expensive. You can do some shopping at the mall — we bought a Christmas ornament to represent our trip at the Christmas store. From the mall, you can see the famous Hollywood sign.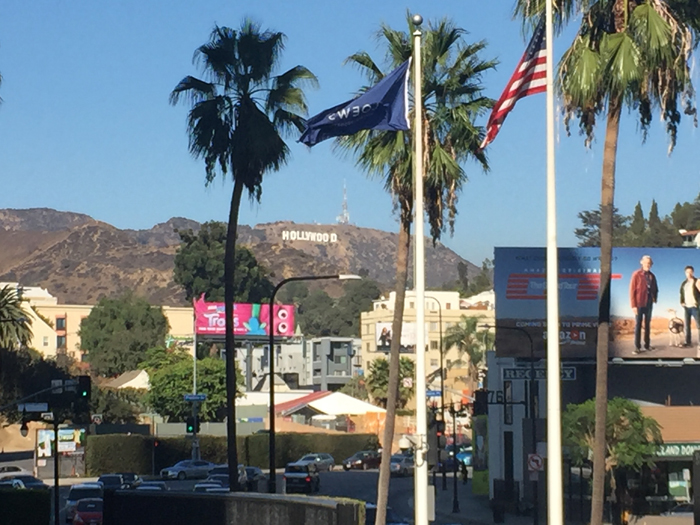 It's really interesting walking this main strip. There are tons of street performers out and lots of folks dressed up as characters from movies. If you pay them, you can get your picture taken with them. We saw Mickey and Minnie Mouse, Cat Woman, Michael Jackson, a transformer, and tons and tons of other characters.
You'll also see a lot of interesting people. If you enjoy people watching, this is a great place to just stop and be entertained. We decided to stop at the Ghirardelli store for dessert. We sat at a bar up against the window so we could watch people while indulging in a seriously amazing dessert!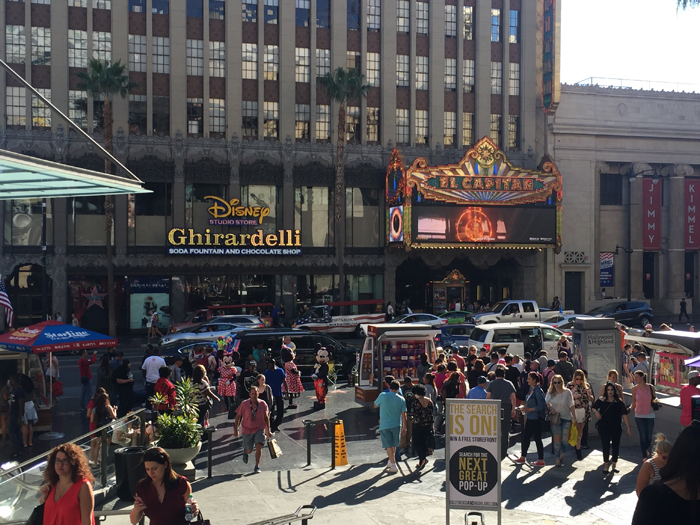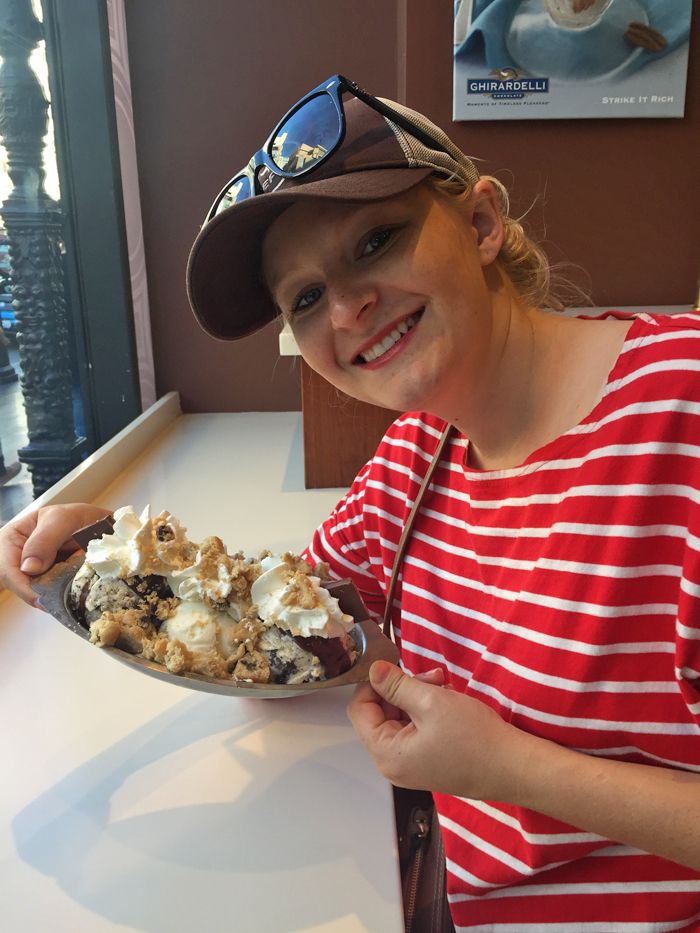 Of course, you can see all the stars along the sidewalk. In one area, you'll see celebrity handprints and footprints in the cement. It's neat to walk around and find your favorite stars.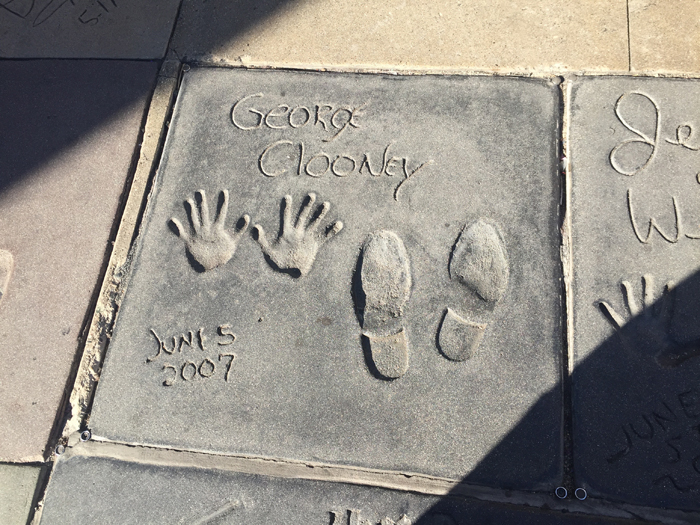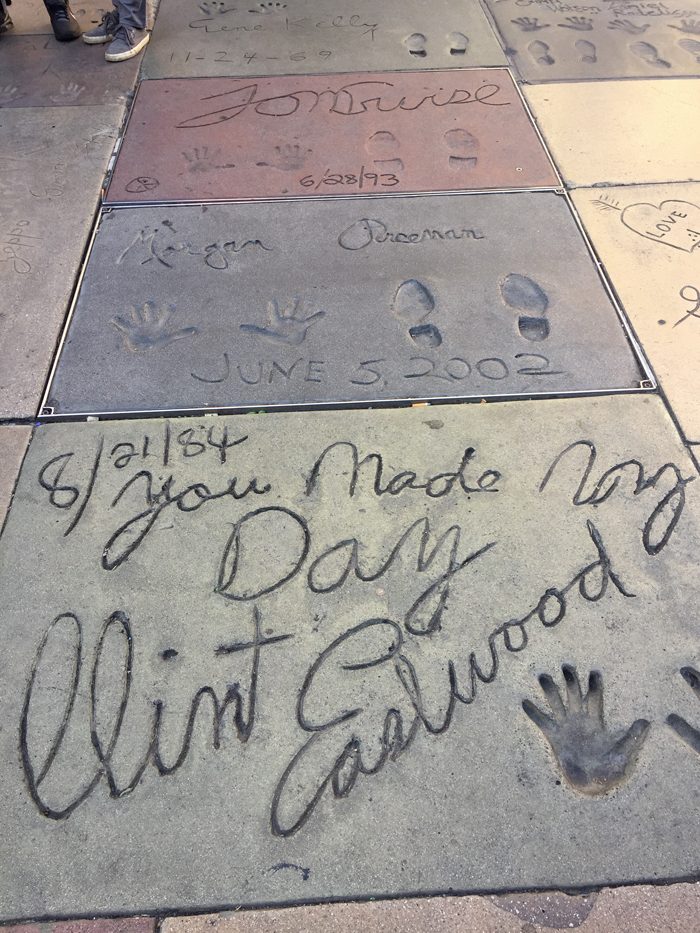 Santa Monica Pier
We loved visiting the Santa Monica Pier that evening. It was so pretty with the ferris wheel lights. We walked down to the end of the pier and had dinner at Mariasol. It was delicious. Then we rode the ferris wheel together, even though we were both scared. The pier was another great place for people watching. Plus, they have carnival rides and games.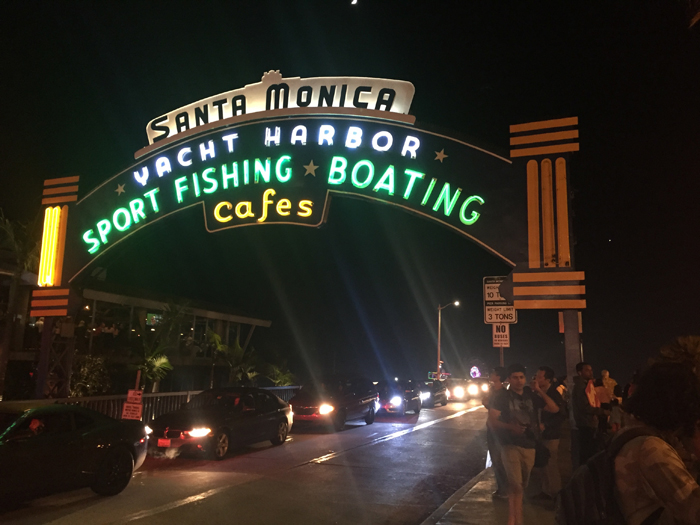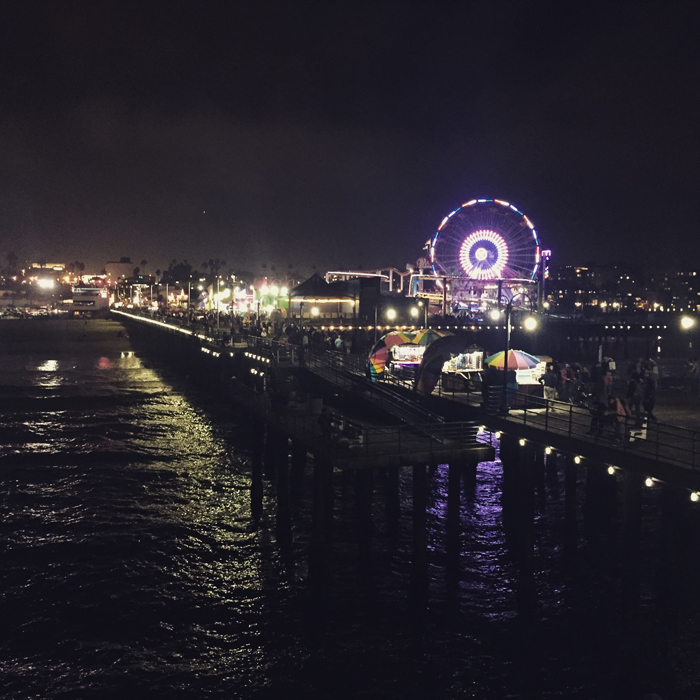 Venice Beach
The next day we headed to Venice Beach. We walked along, taking it all in. There are lots of shops and vendors set up. We enjoyed watching people at the skate park. Some of those kids were really good! They also have Muscle Beach here, but it was closed the day we were visiting.
Rodeo Drive/Beverly Hills
Next, we drove over to Rodeo Drive. What a difference from Venice Beach. The beach scene seemed dirty with lots of homeless people, whereas Rodeo Drive smelled good and was very clean. The opposite of homeless people were driving that strip. Travis loved seeing the cars go by — ferraris, porsches, lamborghinis. We stopped into a couple stores just for the fun of it.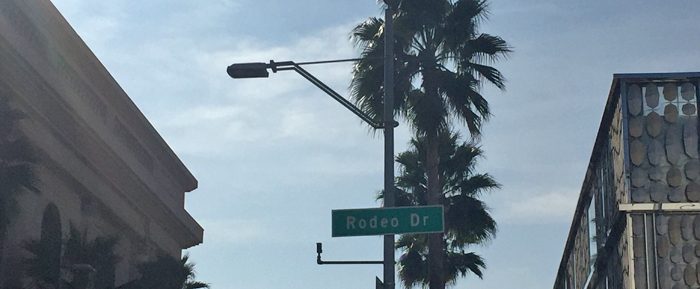 Did you know you can eat breakfast at Tiffany's? The Tiffany & Co. jewelry store has a little eatery outside where you can eat breakfast or lunch. How cute, right? But it is expensive — of course, would you expect anything less from Tiffany & Co.?
After walking along Rodeo Drive. We drove around the Beverly Hills area to see some of the gorgeous homes. Of course, the really big ones had fences or large hedges to keep their privacy, so you couldn't see much. But it was fun!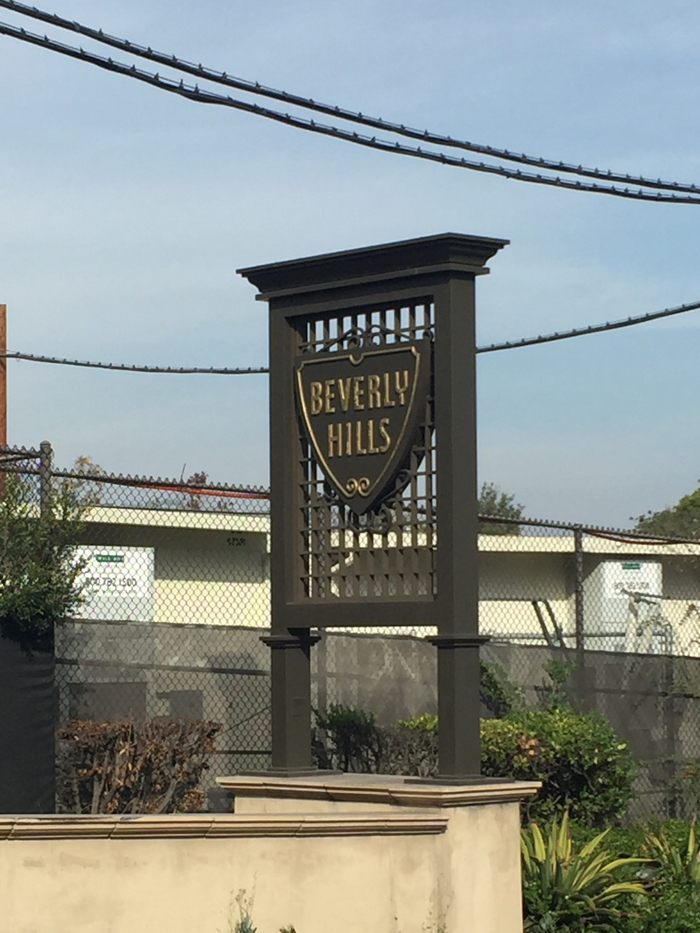 Long Beach
You can check out the Queen Mary Seaport where you can take a tour of the ship and walk along the water. I believe they have a submarine you can see too. We decided to skip the Queen Mary, and instead, we headed to Shoreline Village at Rainbow Harbor to walk around the shops and have a nice dinner. Of course, we grabbed dessert too! They had huge, fresh-baked cookies that they turned into ice cream sandwiches there. We were in love! The view at sunset wasn't too bad either.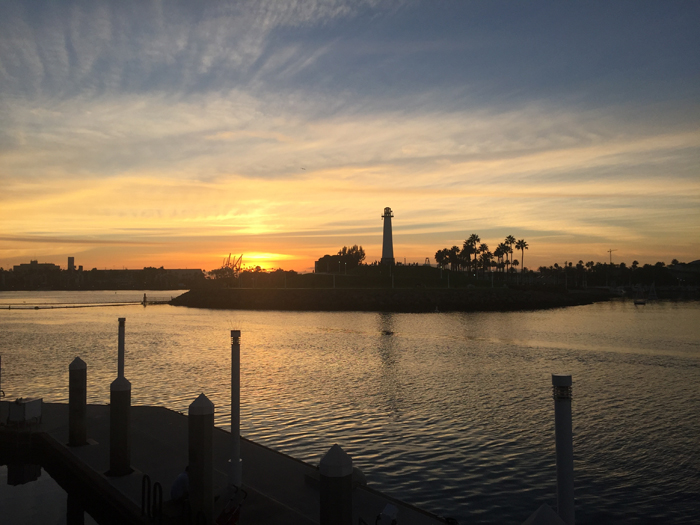 My last tip for visiting Los Angeles is to eat breakfast at Dinah's Family Restaurant. This place was super close to our hotel, which was perfect because I was starving! The food was so good! I definitely recommend it.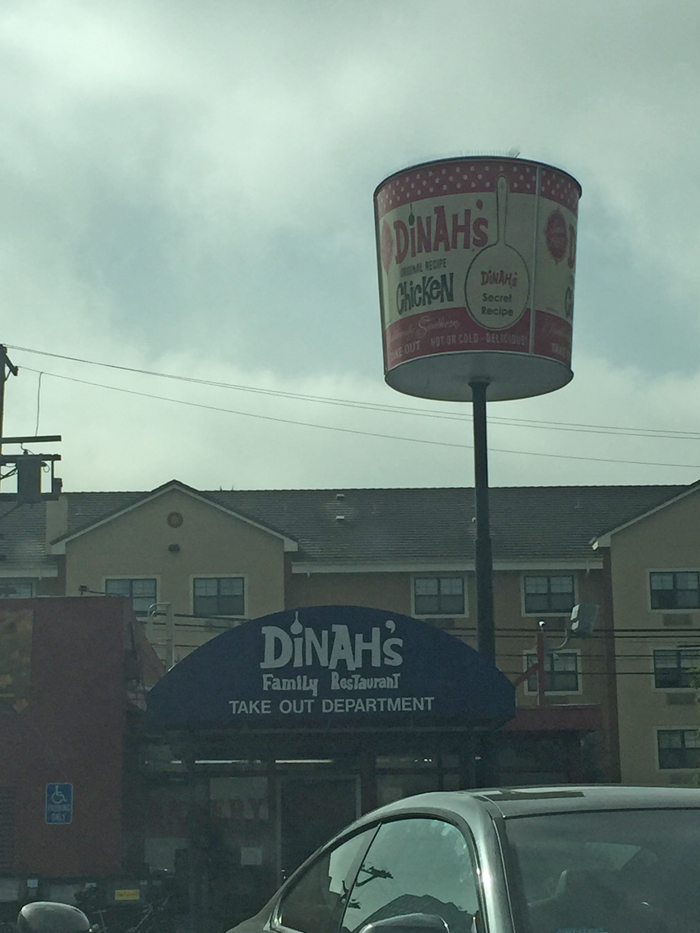 What tips do you have for those visiting Los Angeles? Stay tuned for details and photos from our trip!