I remember when Travis and I registered for our wedding about four years ago. It was so exciting and so fun. Now, we've finished registering for our new baby. This time it was also exciting and fun, but it was also overwhelming. There are so many places to choose from that the first question is where to register for baby. Then comes deciding what to actually register for!
Are you struggling on where to register for baby? Travis and I chose two places for registering for our daughter. Here are the things we considered when deciding:
What's in our area so we can look at items in person
What's located near family and friends so they can easily shop
What place has the best and most baby products
What place has other things we'll need that might not be considered "baby"
What place has the most benefits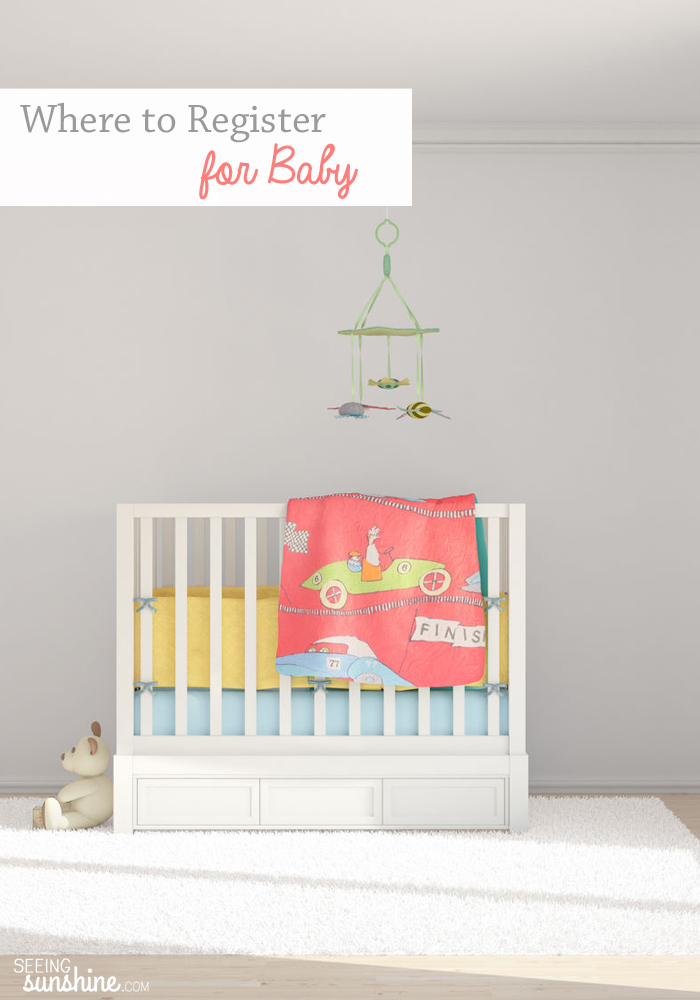 Where to Register for Baby: The Two Places We Chose
First of all, we chose Babies "R" Us to do most of our baby registry. We have one in our town, so we could easily go visit the store and see all the items in person when deciding what to get. I also know that there is one near my family, so they can do their shopping in person if they like. Unfortunately (and surprisingly!) there isn't one near Travis' family, but hopefully they like online shopping.
It seemed to us that Babies "R" Us has a ton of baby items — everything we could possibly want. When visiting other stores like Target or Walmart, I honestly just didn't see as much of a selection. I'm sure they have tons of things online, but I wanted to see my items in person.
The number one reason we chose Babies "R" Us for doing most of our baby registry was the benefits they offer.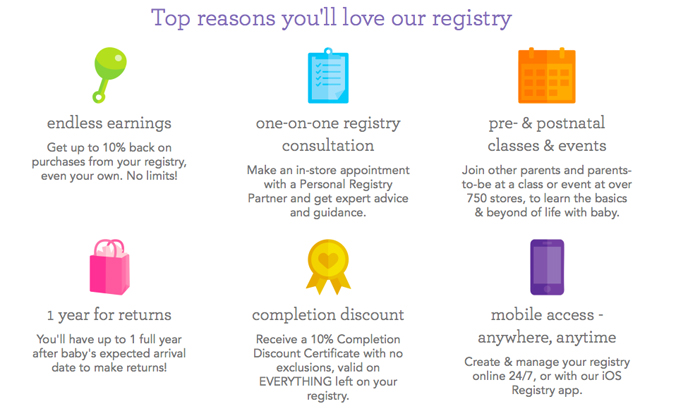 Here are the benefits of Babies "R" Us:
1. We get 10% back on all purchases made from our registry — even if we are the ones buying those items! There is no limit to this. That means if someone buys something from our registry for $100, we get $10 of store credit to use on whatever we want. Since we are about to have a baby, I'd say we'll definitely be doing a lot of baby shopping so we will definitely use that store credit. Hello, diapers!
2. You have a full year to make returns. That means if we receive something and end up never using it, even 10 months down the road (from the baby's due date) we can return it.
3. If there are things on our registry that we don't receive but we still need, we can purchase them ourselves and receive a 10% discount. That discount applies to everything left on our registry.
4. They have an app. I love the Babies "R" Us app because it made changing items on our registry super easy. It also means I can check the registry anytime I want, which is tempting for sure!
5. When you go in to registry, you will have a short consultation with an employee who will answer any of your questions and help you get your registry all set up. They will even add the diapers and wipes to your registry so you don't have to. They helped us when we weren't sure how to make sure we got the right color on the glider we registered for. Plus, they give you a gift bag full of samples and information. Ours came with two bottles, diaper cream, coupons, and more.
6. Lastly, they have a price match guarantee. A lot of people say that Babies "R" Us is expensive, and that may very well be true. But with price match, it doesn't matter because you can get those items for whatever discounted price you find somewhere else. You just show them the competitor's printed ad or online price (even on their own website), and they will match that price.
You can check out our baby registry on Babies "R" Us here.
The second place we decided to register was Amazon. Because most of our items were found at Babies "R" Us, there were really only a few things I wanted and several of them weren't even "baby" items. For instance, I wanted some things for the nursery — decor type items — but I didn't like any of the themes at the baby stores. We are just doing a color scheme, so I want purple curtains and a purple rug. Amazon, of course, has items like that! It seemed like the perfect fit. Plus, they have a neat benefit too!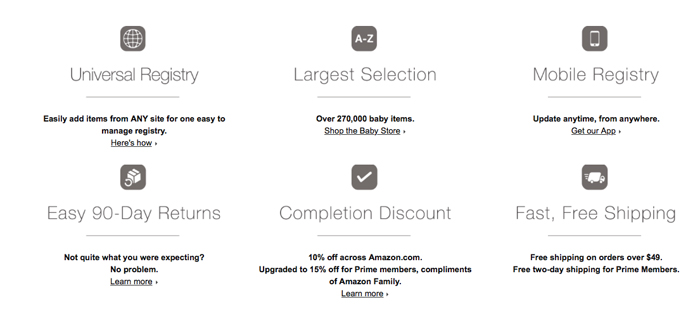 Here are Amazon's Baby Registry benefits:
1. They have a completion discount of 15%! That means when all is said and done, we can purchase the remaining items on our registry for 15% off.
2. For Prime members, which I am … By completing a registry and making or receiving a $10 purchase from the registry, you can claim a free welcome box. This box is full of baby goodies! I was so excited to open mine up and see what was inside. I received a swaddle blanket, a baby toy, nursing pads, a bottle, a full pack of baby wipes, and more. Sign up for Amazon Prime here.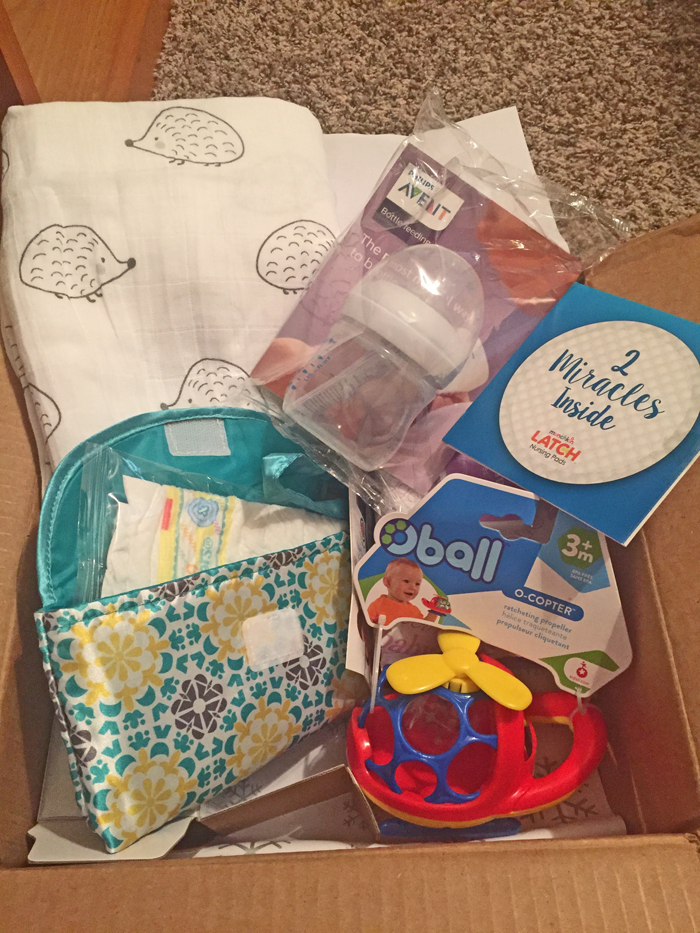 3. If you have a Prime membership and you create a baby registry, you can select an ebook for free. They have tons of options for pregnancy and becoming new parents.
4. They give you a checklist with each possible category so it's easy for you to find what you are looking for, or to make sure you don't forget anything. I was only planning to register for a few items until I began scrolling through their checklist and found several things I like/love/want.
5. Amazon is easy. Everyone already has an account. Everyone knows how to use it. Lots of folks have Amazon Prime these days so they can even get free two-day shipping. If they don't have Prime, they can get free shipping on orders over $49. Plus, Amazon has a ton of selection.
Side Note: I always go by the motto "You can't register for too much." The fact is the more options you give your family and friends, the better. Of course you won't receive everything and that's probably a good thing, but you are guaranteed to get lots of items you like. If you only register for a couple items, people will be left to get you something else and it may end up completely clashing with your nursery decor or be an item you just don't like or don't want to use. Believe me, people want to see what it is you want.
Check out our baby registry on Amazon here.
Are you wondering where to register for baby? What do you think of these two options? If you have registered before, where did you register for baby?
Check out my other pregnancy posts:
Check out other great pregnancy information on my Pinterest boards!