Earlier this month I attended a women's conference in Nashville called the Influence Conference. We had worship time together, heard from several speakers, and did a break-out session. During the whole day, I had two favorite speakers — Jess Connolly and Rebekah Lyons. It was during their talks that I heard God speak to me about something He's been calling me to do. Today, I'm sharing more about what they said, what I got from it, and how I'm answering God's calling.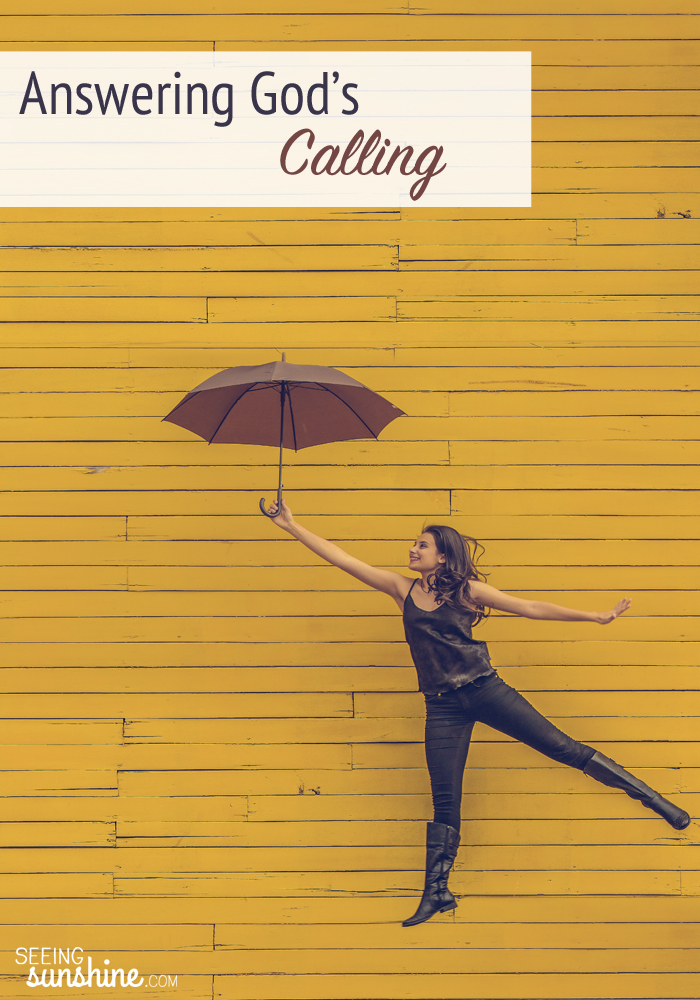 Inspiration from Influencers
During Jess Connolly's talk, she reminded me that there is no fear when you've let go of your ideal self and you place your identity in Christ instead. There is no fear that you aren't good enough or that what you have to offer isn't enough. Because we realize that no, we aren't good enough — but Jesus is. And if He is the one calling us to something, then it will be enough.
That is, of course, as long as we don't get in the way. Rebekah Lyons talked about how Paul's calling was to birth the Church. If he had got in the way with his fleshly self, the Church never would have been birthed. I had never thought about that!
"He commands our destiny, but He also fulfills it." – Rebekah Lyons
The fact is we can't fulfill our destiny, our calling, on our own — at least not in a way that's going to be any good or produce any of the juicy, delicious fruit that it could if we step out of the way and let God work through us and in us.
We aren't the only ones who get in the way though.
When God calls us to something, Satan often tries to derail it. He will say to us, " Did God really say to do that?" Just as he said to Eve in the Garden of Eden — "Did God really say you must not eat from any tree in the garden?" We may fight back as Eve first did, reminding Satan what God said. But all the while, doubt still enters our minds.
Soon Satan begins his attack, flaming arrows come straight for us. "Do you really think God would call you to do that?" "There's no way you are good enough to do that." "There is someone better for that calling, that job, that ministry." "God never really called you to that in the first place. You heard wrong."
Rebekah said that often we begin to think that we are the ones who have to fulfill the calling — as in, we without the help of our Almighty. Suddenly, God is no longer a part of what He called you to do in the first place. If we receive a little recognition for whatever it is we've done, we begin to think of ourselves as influencers. Our goal becomes influencing others. But all along, our main goal should be intimacy with God.
She warned us not to trade our intimacy for influence. She told us that we cannot put our focus on our ministries over our focus on Jesus.
"Satan will do all he can to get you to take your eyes off of Jesus." – Rebekah Lyons
As I listened to these speakers, all these words struck my heart. You see, I've been working on something. And although God has been working things out in the background and making it clear that this is something I should do, I've still been doubting. Like every day. Mostly, I keep hearing that I'm not good enough. My words aren't good enough.
God's Calling For Me
I'm publishing an eBook this year. There, I said it. I've written a short eBook about miscarriage in hopes of encouraging women who are going through it and/or helping those who have never experienced it better understand such a loss. The book is written and I'm currently in the editing process.
At one point this month, though, I got to the point where I just wasn't sure what to do next. I've never written a book before, definitely never published one or designed one. I was lost and in over my head. Then, I found a designer who specifically works with helping people like me get their eBooks finished and ready to be sold. At the time, I just wasn't sure if it was worth the money to hire someone to help. I knew if I wanted to get this book out there to the public, I would need her. But what if no one wanted this book anyway? What if no one ever buys it? And worst of all, what if it doesn't help anyone?
That same week, as all these questions and doubts were attacking me, a friend reached out. She had found out that she would soon begin miscarrying her first pregnancy after more than a year of TTC. She wasn't telling many people about the heartbreak she was experiencing, but she felt comfortable enough to reach out to me because she knew I had been through such a loss. She had so many questions, and we talked for a long time.
And in the middle of that conversation with that heartbroken friend, I knew … people need this book. There aren't enough resources out there for women experiencing miscarriage. What about all the women who don't know me personally, all the ones who don't find my blog and don't know anyone they can talk to? They need this book. It was confirmation from God that I had to keep going. I hired the designer and she's going to start on my book in February.
But you know what … even after that confirmation and other things God has worked out for me — I still doubt. I am still questioning, literally every day, whether my words are enough. I've thought about completely rewriting it. Should I add more chapters? What if it's not as encouraging as I want it to be? What if it's not enough Jesus? I've been wrestling with this for over a month now. And at the conference, during Rebekah's talk, the Holy Spirit spoke to me.
The call on your life is REAL. Stop questioning it. Stop denying it. Don't run from it. Don't let anyone rob you of this. Because it is a Holy calling — just for YOU.
I realized I need to stop getting in the way. I need to stop listening to Satan whispering in my ear. And I need to let God handle this and work through me. It's time I start answering my calling.
So, God and I — we're publishing an eBook this year.
How Can You Help?
I'm looking to start a launch team. This is a group of people who believe a book of encouragement for those facing pregnancy loss is needed. This a group of people who want to help support me in this endeavor. If you want to join the launch team, you will be added to a private Facebook group.
Launch Team Tasks:
Be in prayer for this book. Pray for me, for my designer, my editors. Pray for God's timing. Pray for God's words. Most importantly, pray for the women who will read this book. That the women who need to read it will find it and God can encourage and comfort and heal them through each page. (You can do this without joining the team, by the way!)
You will receive a PDF version of the book — for FREE — and I'll ask that you read it. If you like it, (fingers crossed) you will leave a review on Amazon. I would love to have some testimonials to include on my blog page where I will be selling it.
Lastly, I'll ask my launch team to share the book with others. If you know of someone experiencing miscarriage, tell them about my book. Recommend the book. Share the link on your Facebook page — any way that you can help get the word out about my book.
If you'd like to join the launch team, please comment on this post and let me know. Be sure you leave your email when you comment — that's how I'll add you to the group. I can't wait to share with you more details about what God is doing. My launch team will be in on all the fun details, including when the book will be available to purchase!
What is God's calling on your life? Have you been putting it on hold due to doubts and questions?
You may also like these posts: