Over the past weekend, my mom, sister-in-law, and aunt threw me a baby shower — a purple and grey, elephant baby shower! They chose this theme because it's what we are using to decorate our daughter's nursery. The great part about having the same theme for the shower and the nursery is we can use some of the same items for decorations!
During the shower, we had a craft activity, games, food, and the opening of gifts. We had around 30 guests come to the shower, and I had a fantastic time.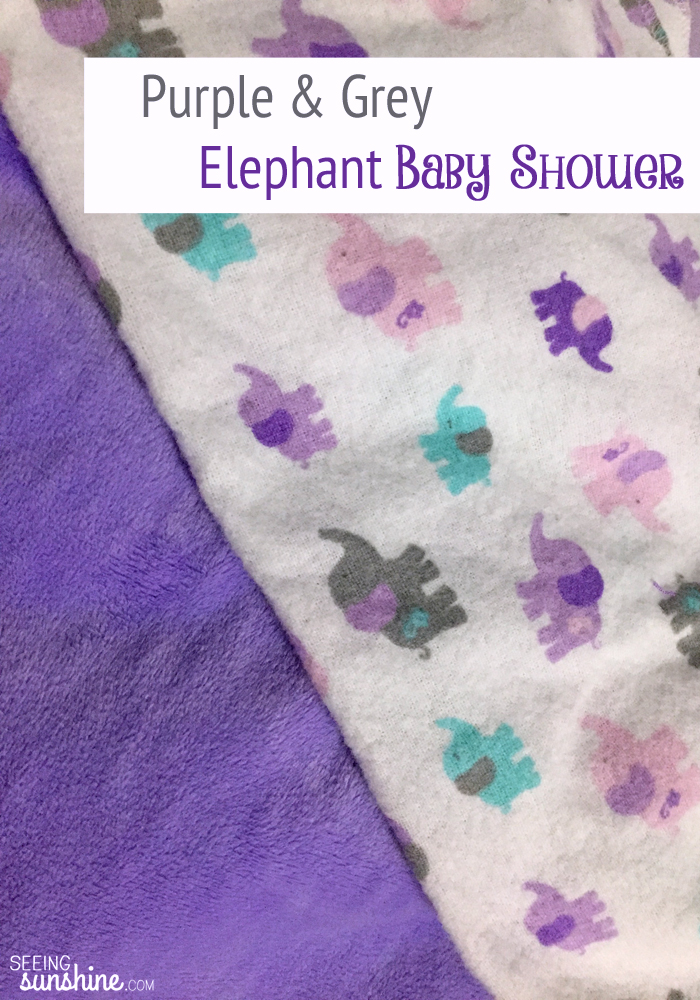 Elephant Baby Shower Details
Decorations
Let's start with decorations! I loved all the little details. Just check out the photos for inspiration for your own showers.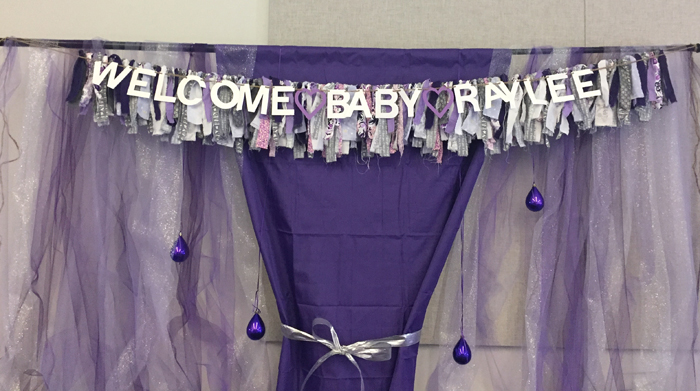 I absolutely loved this fabric garland that Kendall, my sister-in-law, put together with the help of my mom and me. I plan to use it in our daughter's room as decorations!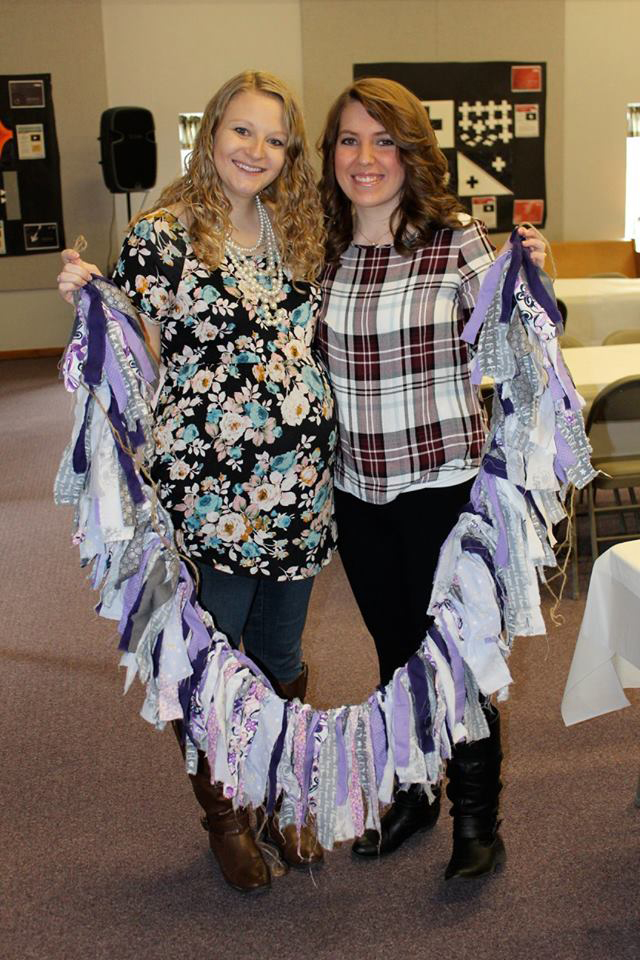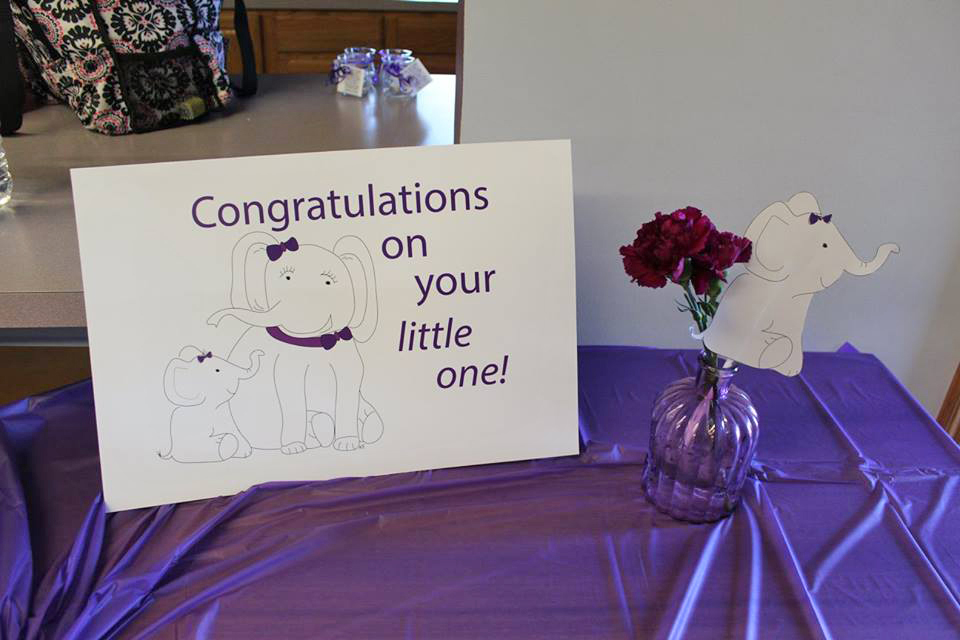 On the gift table, we had a banner that said "Bundle of Joy."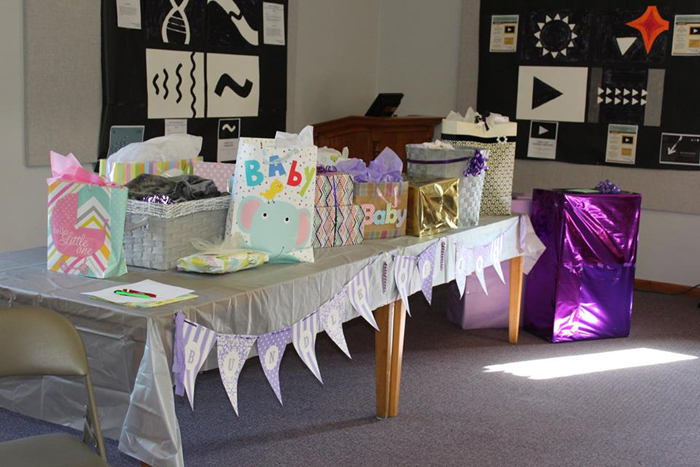 The guest tables were decorated with white table clothes and purple vases in the center. Scattered on the tables were small paper hearts and elephants, which they used for a bingo game.
Food
For food, we kept it really simple with light refreshments. We had fruit and veggie trays, peanuts, dinner mints, and of course cake! We had water, tea, and lemonade for drinks.
My aunt made this cake for us, and I can't believe how great it turned out. It was exactly what we were wanting. I can't believe she was able to create such a cute little elephant for the top!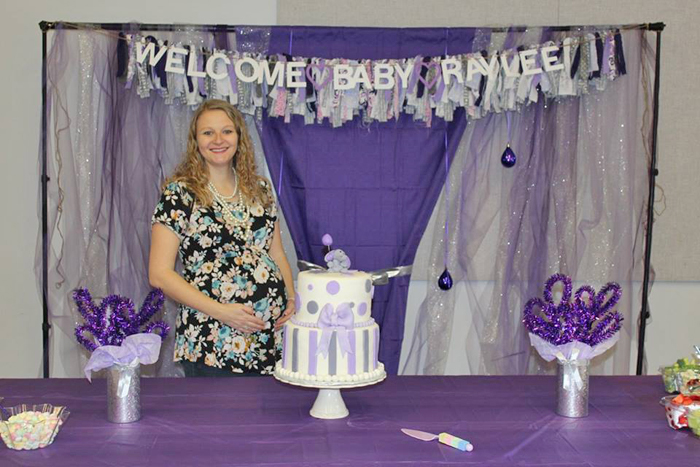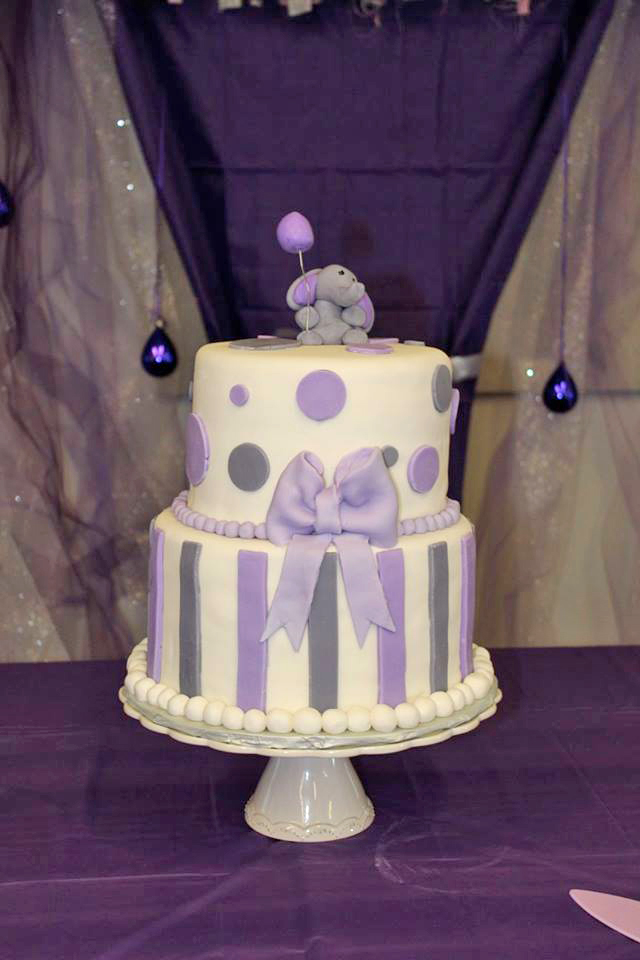 Entrance
As the ladies entered, we had a table set up with a guest book (my pregnancy journal had a place for them to sign in!), a couple guessing games, and some baby pictures — one of me, one of Travis, and an ultrasound photo of our baby girl. Unfortunately, we never did get a full photo of this table all set up! We were too busy welcoming our guests!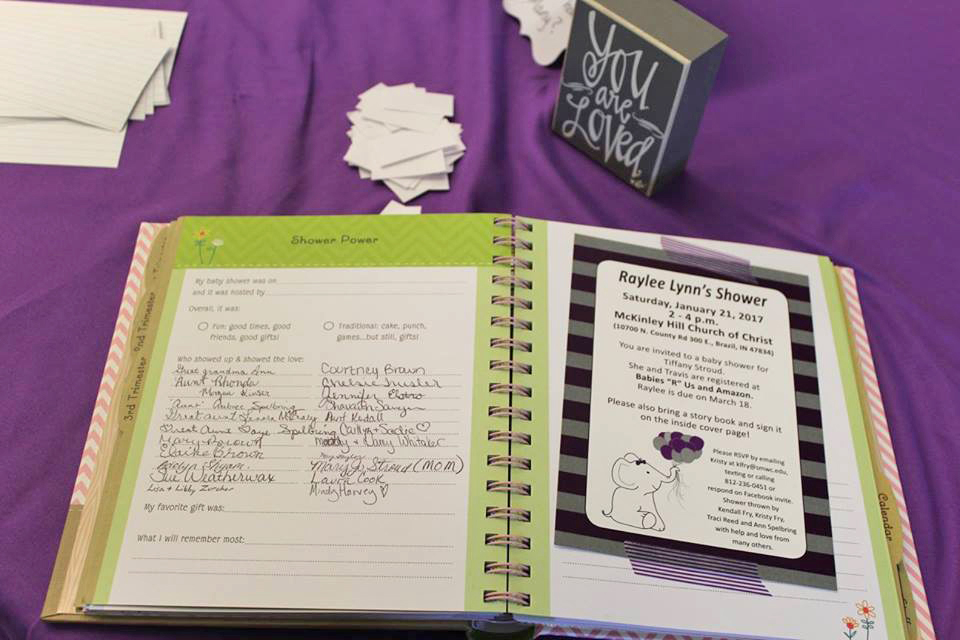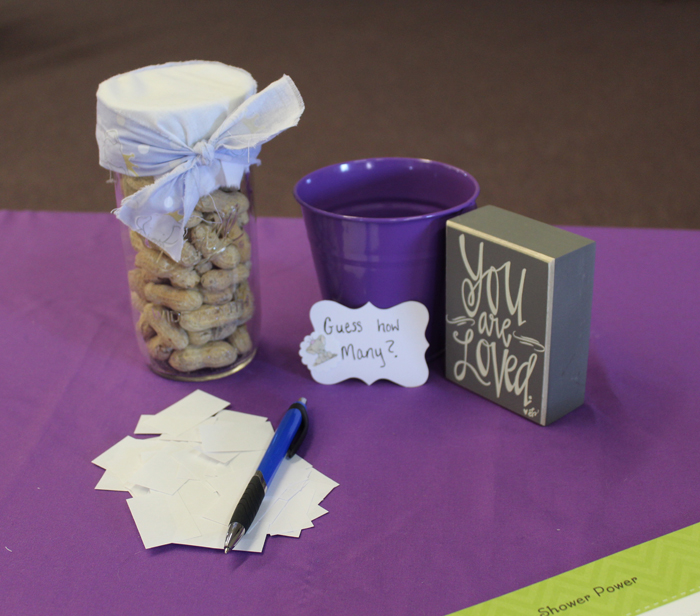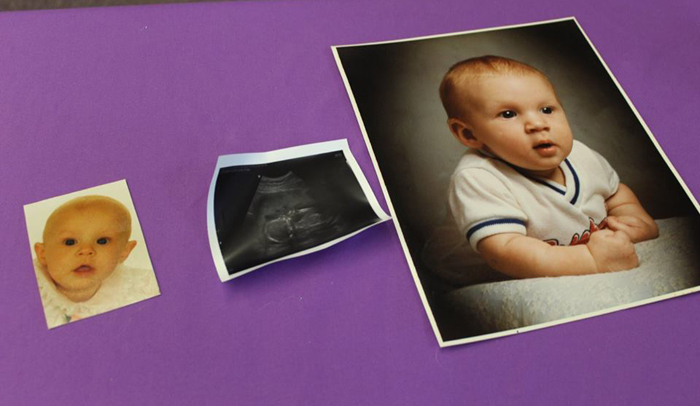 Craft
To start the shower, we did a craft. We had everyone glue pieces of fabric to wooden blocks and sign one side. These blocks will be toys for our baby. I love how they turned out!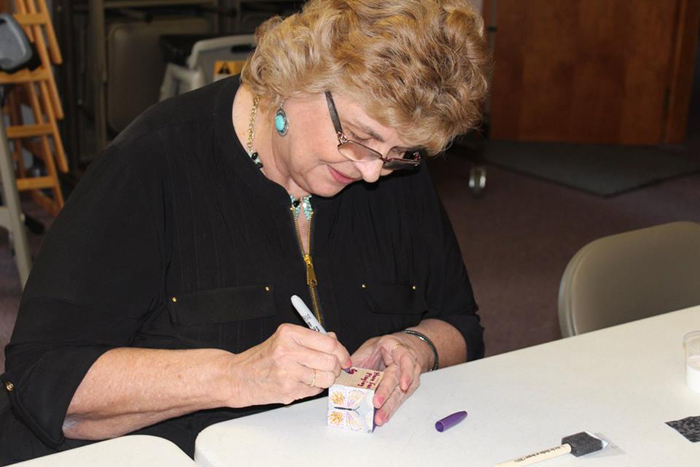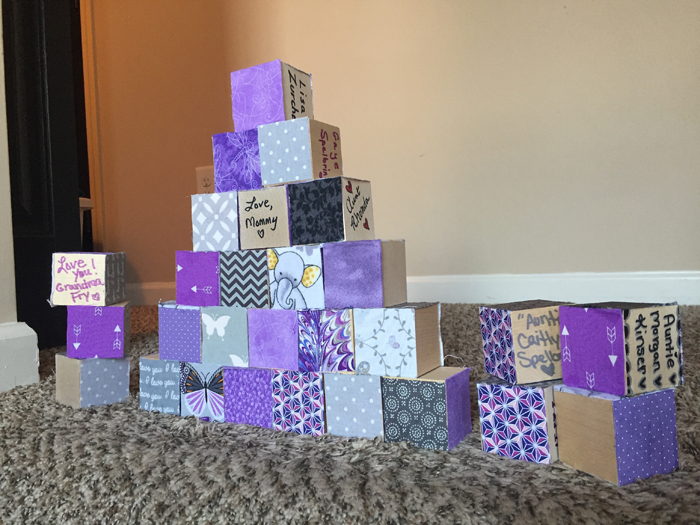 Games
We played several fun games. The first was a memory game, where everyone gathered around a table for a few minutes. The table was full of random baby items like baby shampoo or diapers. Then, the table was covered up and everyone had to write down as many items as they could remember. It was fun walking around to see how many items people could remember. There were 13 total, and some people could only remember 3!
We did a Price is Right game, where I had to guess prices for baby items. The guests then guessed whether the actual price was higher or lower than my guess. At the end of the game, I got to keep all the baby items!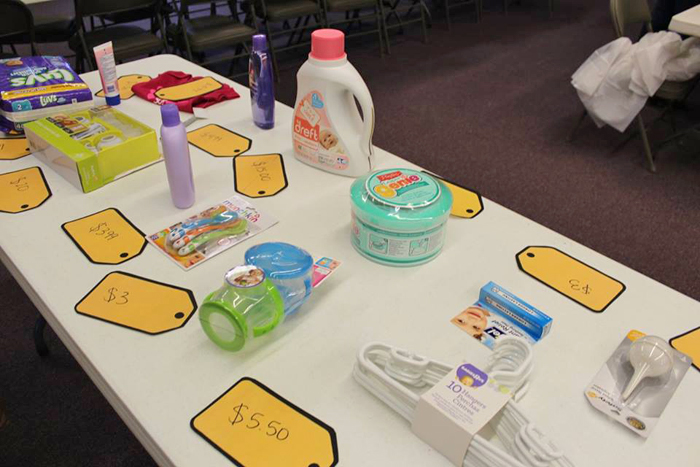 My favorite game that we played was called "Pass the Basket." My aunt had put together a basket full of small goodies like candy, chapstick, lotions, etc. She began by reading some facts about Travis and I. It went something like this:
"Travis and Tiffany are decorating Raylee's nursery in purple and grey. You get the basket if you are wearing the most purple and grey." I got to choose who I thought had the most purple and grey on, and that person got to choose a prize out of the basket. Then, my aunt would say something like, "Travis and Tiffany live in Tennessee, approximately 250 miles from here. If you drove the farthest to get to the shower, you get the basket." This game was really fun because it all had to do with Travis and I, but it got everyone involved. Lots of people got to get something out of the basket.
The last game we played was Baby Bingo. Kendall had made blank bingo cards and each guest filled in the squares with items they thought I might receive as gifts. While I opened gifts, they watched their cards. We had several bingos happen at once!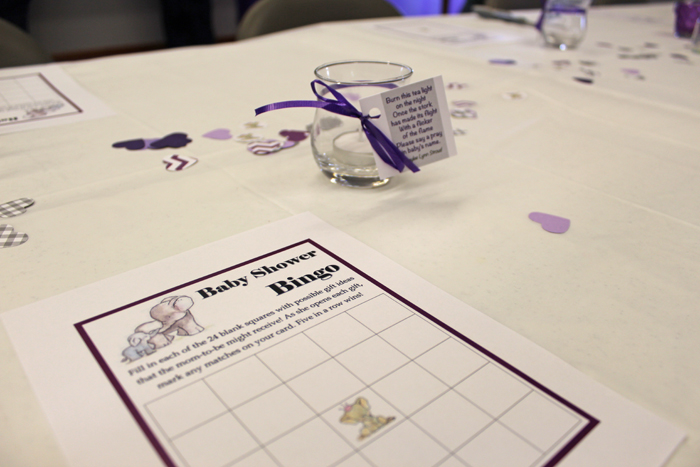 For all the games, we had several prizes that winners could choose from — random items like wall art, scarves, chocolate, and more.
Party Favors
Each guest took home a baby food jar with a tea light candle inside. The jars were tied with purple ribbon and a poem. The poem asked the guests to light the candle when they hear that Raylee has or is about to be born and to say a prayer for her.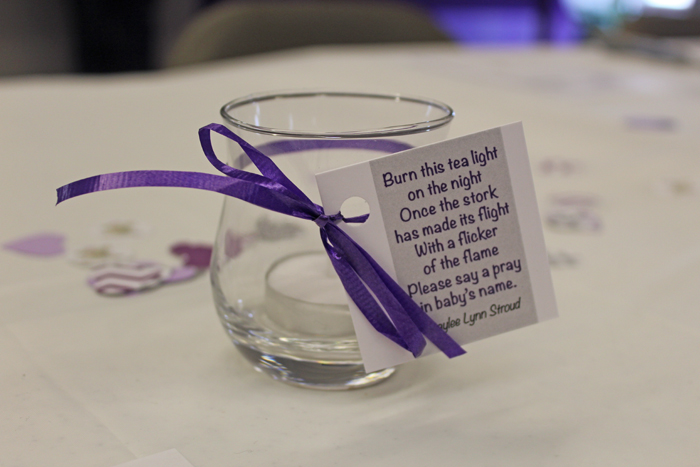 Gifts
We got tons and tons of great gifts. As I was opening them all, it felt like it was never-ending — not that I'm complaining! We are so happy with all the items we received. I couldn't possibly list it all or share pictures of everything, but I will share this one. This gift was the biggest surprise to me. My sister-in-law made this elephant rug for Raylee's room. I was shocked. She is so talented!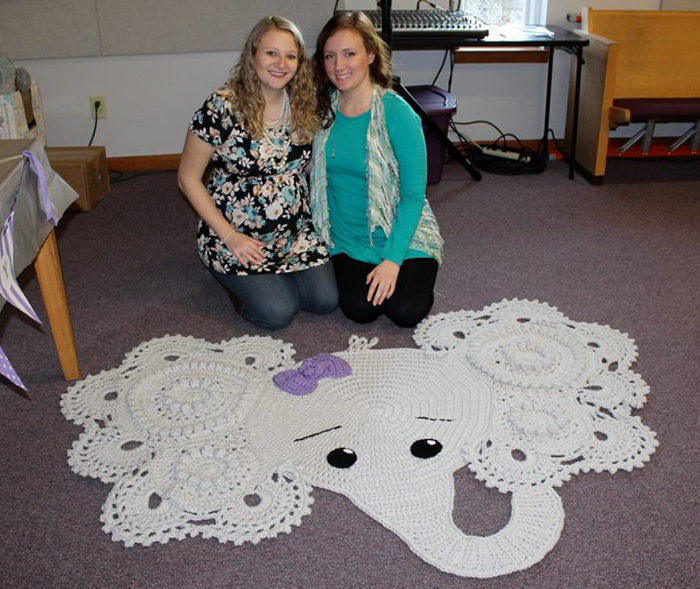 What do you think of my elephant baby shower? If you've had a baby shower, what was the theme or color scheme for it? 
Check out these other ideas from my post about a purple and grey bridal shower! Be sure to follow my Pinterest boards too!