I had just hit 32 weeks in my pregnancy. It was time to document this big, beautiful belly of mine! Travis and I recently had a maternity photo shoot with our favorite photographer, Aubree. Before the big day, I asked Aubree if she'd be willing to share some tips for, not only me, but for all of my readers. I don't know about you but paying a photographer to come take pictures of you can be nerve-racking. What if you spend all this money and you hate the photos? What if you feel ugly? What should you wear? How should you stand? And what in the world do you do with your hands?
We've all seen bad maternity photos, and none of us want ours to turn up on BuzzFeed's list. Thankfully, Aubree agreed to share some tips with us all. They helped me a lot during our maternity photo shoot! Not to mention, our pictures turned out awesome! I'm so excited to share some of them in this post!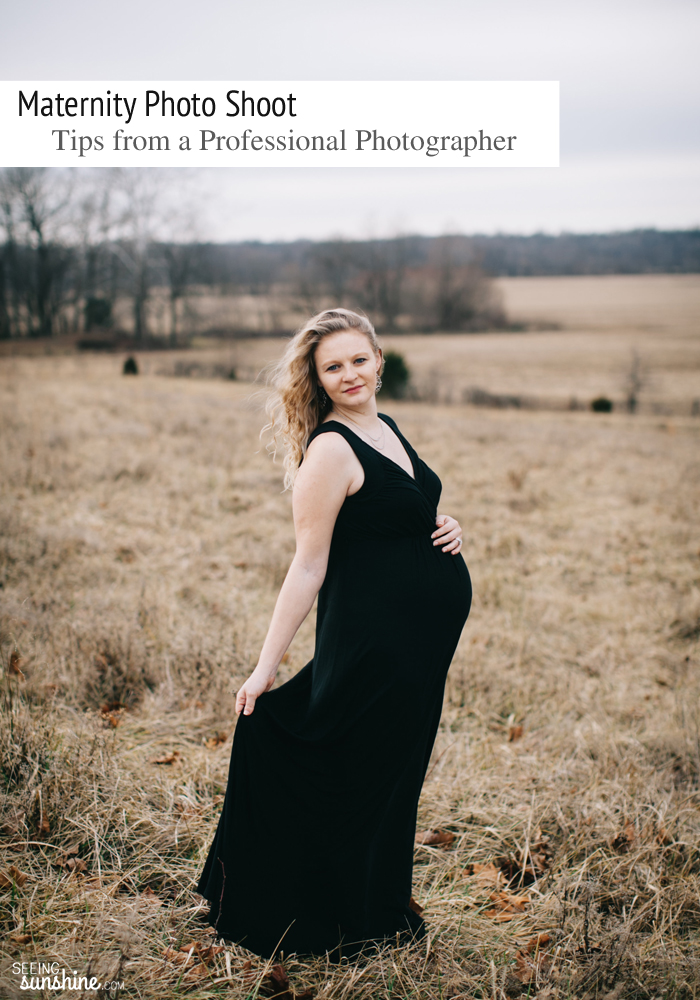 All photos were taken by Aubree Nicole Photography. Go check out her website, and be sure to like her Facebook page too.
Tips For Your Maternity Photo Shoot
Choose a Photographer
Choose a photographer that makes you comfortable. If you're not comfortable with the person behind the camera, you'll be nervous and it will show in your photos. Meet or call your photographer and get to know them before the shoot. A simple phone call can better prepare you and help you decide if they're the person you want taking the photos, as well as someone you can trust.
Find a professional. As your spouse will probably remind you, Aunt Sally can take them for free. But that's not always the best decision. Find a professional that knows what they're doing. Look at their portfolios. They'll be able to help you pose, find your best angles, keep you relaxed, and also create an image that you'll love.
Remember that you'll only be pregnant with this child once, and each image is precious. Don't let the opportunity pass and regret it later. Find a photographer you love that you can trust and they will give you images you will treasure for a lifetime.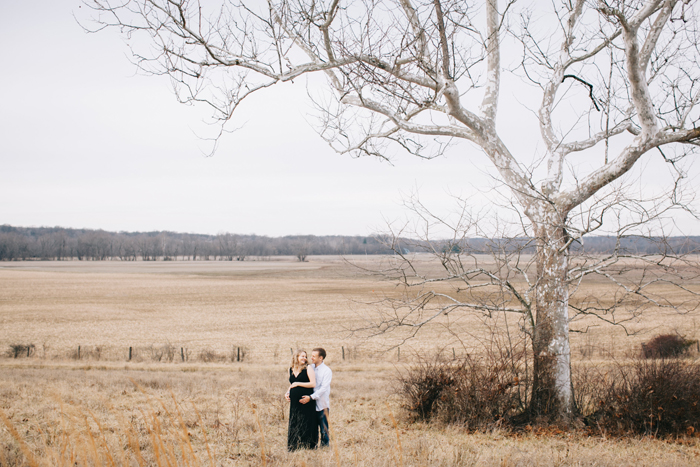 Work with the Photographer
This tip plays off the last one, but it is important that you trust your photographer. When it comes to working with them on the day of the shoot, remember that they're a professional and they know what they're doing. They may ask you to move into poses that don't feel natural. That doesn't mean it looks that way on camera.
They might also politely suggest a different pose when you show them one on Pinterest you've been dying to have. Trust them. If you love their work, then trust them. They know what will make you look best and what will make you look worse. A photographer deals with a lot more than simply working the camera. They're working with light, angles, you, and their camera. Don't be afraid to simply let them work.
At the same time, don't be afraid to share. A photographer loves to know what you want and what your goal for the shoot is. Share your ideas with them. Let them know what you want and hope to achieve. Be aware not every shot is going to be as glamorous as the one on Pinterest, but share it with them anyways so they have an idea of what you want.
If you have props you want to include in the shoot, bring them along and get them in there! Don't be afraid to express yourself and your desires.
Lastly, don't be pushy. During the shoot your photographer might need time to work with what they've been given. Don't be impatient, don't be bossy, and don't tell them how you feel about every pose. Remember that you're in good hands and let them work!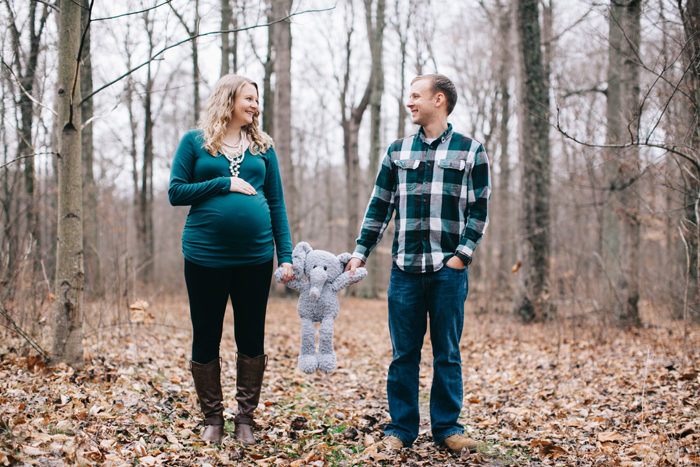 What to Wear
When choosing an outfit to wear during your maternity photo shoot, you should choose something your comfortable in. If you're not comfortable, you'll spend the entirety of the shoot fixing your clothes, tense and stressed out. It might be a good time to pamper yourself and buy new clothes, anything that makes you feel like a superstar! Don't be afraid to add a scarf or jewelry.
Find something snug that accentuates your belly and gives it form. Skip the thick sweaters or baggy shirts and use things that give your stomach shape. Sometimes a small belt over the stomach helps define it.
When trying to decide what to wear with your spouse, remember to mesh — but not match. Skip the idea of both of you wearing plaid and matching. If you're wearing a shirt with patterns, put your spouse in a solid color shirt that matches one of the colors on your own shirt. Neutrals are good, but splashes of color are nice depending on your photo shoot location and what season it is.
Dress according to what you want the mood of the shoot to be. If you're wanting a soft and serious mood, buy a long dress. If you're on the beach, find something light and airy. You can also ask your photographer for tips or search Pinterest for ideas on outfits that look good together.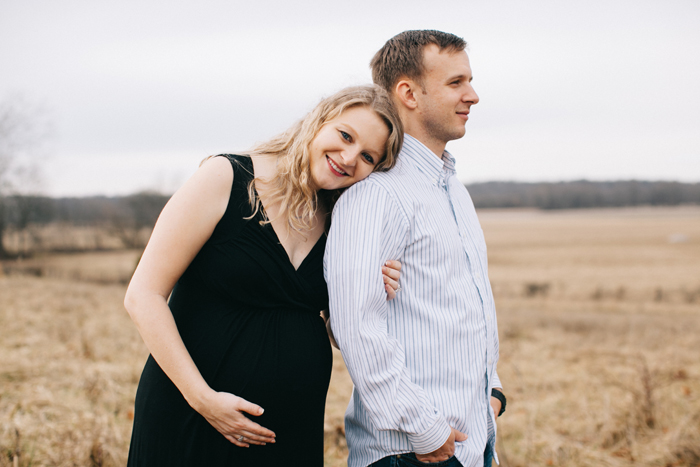 How to Pose
Your stomach is probably going to be large. It will probably look awkward when it's just sticking out and you aren't touching it. Always have a hand above or below the belly. Even if it doesn't feel comfortable, keep it there. It gives your stomach shape and it connects you. The same goes for your spouse's hand. Remind your spouse to always remain in contact with you by touching your arm, hand, or your belly.
If it bends, bend it. Any limb that bends always looks more natural in a photo if its bent. So instead of standing there holding your belly with legs locked, pop your leg. If one arm is on your belly and the other is hanging by your side, move it. Touch your hair, touch your spouse, touch your arm — just bend anything and it'll make the photo more natural. When limbs bend, they flow and it creates lines throughout the photo that makes it more visually interesting and natural.
Be aware of the double chin. A lot of mommas gain extra goodness in their chins. Remember that and do your best to prevent it. A professional photographer should be able to help you if they see the photo is going to look bad, but you can help yourself with a trick. If you push your forehead out and tilt your chin down slightly, kind of like a turtle, it extends your jawline and eliminates a double chin. It feels weird, but it works. Try it out in front of the mirror until you're confident. Then rock it during your session!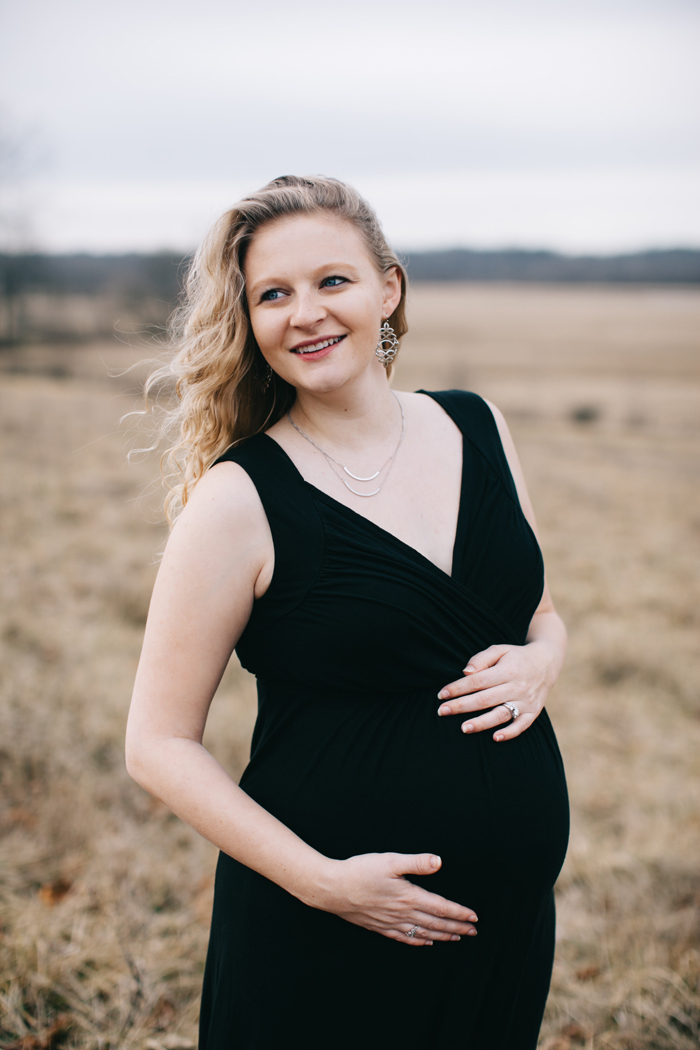 Thank Your Photographer
After the shoot is over and your images are delivered, take time to thank your photographer. They're probably sitting at home nervous and stressed while wondering if you liked the images. Maybe you love them, you've updated your profile picture and you're moving on, but don't forget that they are human and they need your assurance.
Send them an email telling them how much you appreciate and loved the photos from your maternity photo shoot. Share your photos with others, and always give your photographer recognition. Reign praise down on your photographer. Leave a review on their Facebook page or Google page. Their sole job is to take photos you love that bring you happiness, so make sure you let them know if they've fulfilled that job!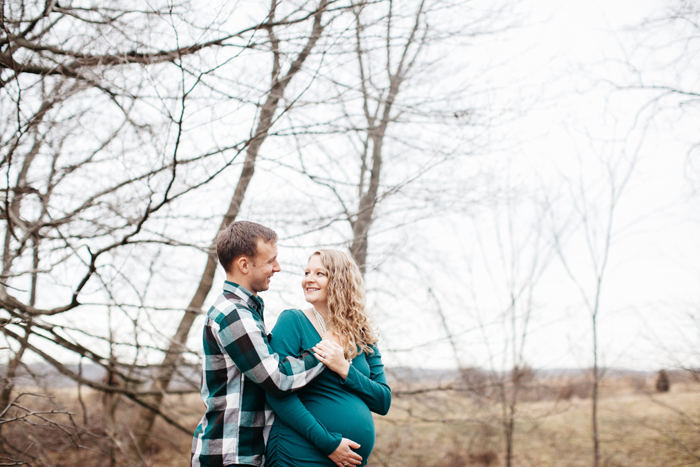 Have you ever done a maternity photo shoot? Did you like your photos? What other tips do you have?
Be sure to thank Aubree Nicole Photography for all these great maternity photo shoot tips by visiting her Facebook page.
Don't forget to check out these other posts:
Follow me on Pinterest too! I have boards for Pregnancy, Baby, Nursery, Shower Ideas, Gender Reveal Ideas, and more!