If there's one thing I know about life, it's that it is full of change. And if there is one thing to know about Army life, it's that it's full of even more change! Just remember last year when we thought we were moving to New York, then we thought we were staying in Missouri, and finally we found out we were actually moving to Tennessee (all in a matter of five months) — that was a lot of change! Well, some other things have changed too, and I'm here to update ya'll.
Remember in 2015 when we became land owners? Check out this post with the big announcement. In that post, I talked about how we bought acreage in Indiana, next door to my parents house. I talked about how it was all in God's timing, and He was taking care of us. I also showed you the house I'd be living in that year while Travis lived in Korea.
At the time, our plan was to eventually move back into that house when Travis got out of the Army. We would live there until our forever home was built up on the hill. But wouldn't you know it, those plans have changed.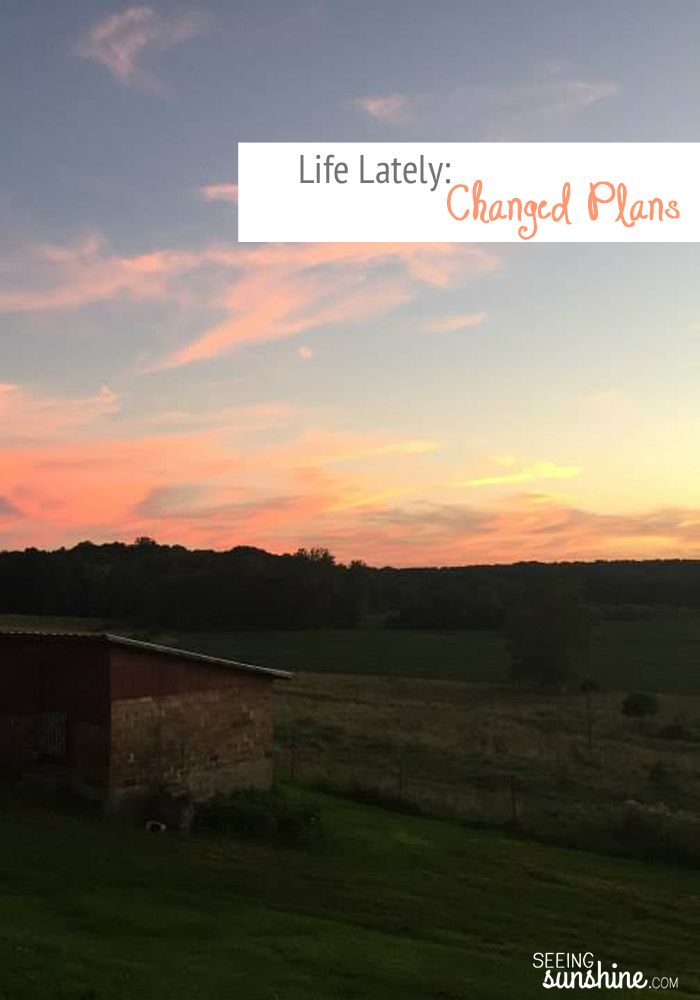 First of all, after I moved out of that house we rented it out to a couple. (Ya'll, that was stressful. I hope we never rent to anyone again!) At the time, we thought Travis had about a year and half left in the Army and we'd be moving back to Indiana come this June. As it turns out, Travis still has another year to serve our country. Our plans got pushed back by around 10 months.
That was a little stressful when we found out — mostly for Travis. But I truly believe that everything is in God's timing. I think the perfect job for Travis is going to be opening up at just the time when he's getting out — it's all going to work out because if I learned anything in 2015, it's that God takes care of us.
When our renters' lease was up, one thing was for sure — we didn't want to renew it. I really didn't want to rent at all. But we also didn't want the house to sit empty. Knowing it isn't the house we want to live in for the rest of our lives, it only seemed appropriate to sell it.
The thing is, though, this house is special to me. A very sweet family lived there for my entire life. When I lived there, it was my home — and God and I had some pretty awesome times together there. Not to mention, knowing we would be building next door meant whoever bought this house would be our neighbors.
It just so happened that my youngest cousin had gotten married and the two were really hoping to buy a house. They weren't having any luck in finding a place, though. They ended up renting, and we ended up offering them the opportunity to buy our house.
At the beginning of February, everything became official. We are splitting our land. My cousin and her husband, along with Travis and I, signed all the paperwork. They now own the house and barns and a little bit of pasture.
Although, it was a little emotional to say goodbye to that house, I know it is in good hands. I believe my cousin loves that property as much as I do. They are both more farm-oriented than Travis and I ever will be, so they will get much better use out of those barns. The two have already began fixing the place up — starting projects I wished I had had the time to do while I lived there. They have moved in, and I think it's going to be the perfect place for them. Plus, I'm pretty excited to have them as neighbors someday!
Which brings me to my next point — what are we doing? For now, we are still living in Tennessee. Travis is still in the Army. He recently started graduate school to get his MBA. The plan, for now (remember — things change!), is for him to leave the Army next year. We don't know what job he'll get afterward. And we don't know where we will live. Perhaps we will stay in this area. Perhaps we will move to Indiana. Or maybe we will go someplace totally new. We are putting it all in God's hands, praying for His will and that He will guide us as we get closer to making those decisions.
The long-term goal is to eventually (hopefully before Raylee starts school) move back to Indiana and build a home on our property. Until then, we are so thankful that we live where we do. I love it here. I have made so many friends, and I feel like we are slowly building/finding community. The best part, though, is how close we are to family. This is the closest we've ever lived since getting married, and it is so nice to be able to go home any weekend we want/need to — especially considering we have a new addition to the family coming soon.
That's our news! We'll see what happens this year and where we end up next year!
When was a time when your big life plans changed?
Be sure to read these posts to catch up on our life in order of how things happened: