It's finally the month my baby is due! Although, I really can't complain, the 3rd trimester has definitely been uncomfortable. I feel big. It's hard to move around or put my shoes on. I have to pee all the time. Every time the baby moves, which is a lot, it feels uncomfortable. Oh, and sleep is harder to come by. I can totally see why 3rd trimester mamas are ready for the baby to just get here already!
Although there's not a lot you can do to fix these 3rd trimester woes, you can use some of these things to ease them a little. Today, I'm sharing my 3rd trimester essentials — the things that are helping me get through these last few months of pregnancy.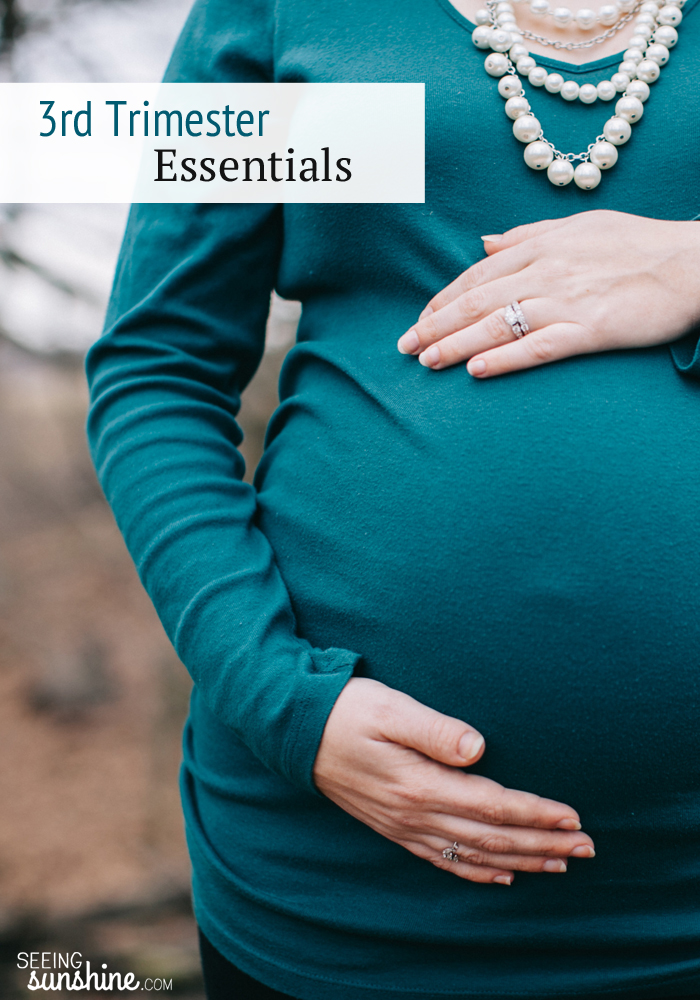 Essentials for the 3rd Trimester
Leggings
At this point in my pregnancy, even my maternity jeans feel tight. You are already uncomfortable, the last thing you need is to wear uncomfortable clothing as well! I've basically been living in my maternity leggings. They fit me great, they are super comfortable, and they go with just about anything. Honestly, I wish I had several pairs because when the one pair I do have needs washed — well, I can't go out in public in just my undies!
Prenatal Massages
I've been getting prenatal massages for several months now. I usually go twice a month. These massages have helped my back pain tremendously. Now that I've been in the third trimester, it's so nice to get a massage because honestly, my whole body has just felt achy. The best thing about prenatal massages (if you can find a place like mine) is that the massage table actually has a cut-out for your belly. It's so nice to be able to lay face-down for once! Prenatal massages can be great to help with swelling too!
Thank You Cards
I bought a 50-pack of thank you cards on Amazon when we started receiving gifts in the mail. I thought there was no way I would use all 50, so I bought some general ones rather than baby specific cards. I figured I would use them at some point. Turns out, I actually needed all 50! After receiving gifts in the mail, and having several showers, we had lots of thank-yous to send out.
Epsom Salt
Remember how I said I've felt really achy since being in my 3rd trimester? It's especially bad in the evenings after doing things all day. Sometimes, it makes it hard to sleep. I've found that a warm bath with epsom salt (I use a lavender kind from Dr. Teal's) before bed really helps. It relaxes my muscles and my mind, and it helps me sleep. Plus, the magnesium in epsom salts is supposed to help keep you from getting cramps.
Chocolate Chip Cookies
You probably won't find this one on other lists! But since this is my personal list of essentials, I had to include it. I have been all about chocolate chip cookies these last couple months. I could eat 20 per day! Of course, I don't but it doesn't hurt to indulge every once in awhile.
What things helped you through the 3rd trimester?
Check out these other posts:
Be sure to follow my Pregnancy Pinterest boards too!