At 16 weeks of pregnancy, Travis and I went to a place called Love My Baby Bump to get a gender-reveal ultrasound. We didn't want to wait until 22 weeks, which was when the hospital planned to do our anatomy scan of the baby. While we were at the ultrasound place, we found out they also do prenatal massage sessions for mamas. I don't know about you, but I love me a good massage!
I was having a lot of back pain in my first months of pregnancy, so I tried out the prenatal massage. It was amazing! After that first experience and seeing how much it helped my lower back pain, we bought a package deal so that I could go every month!
Many studies have been done and the results show that prenatal massages are great for both mom and baby.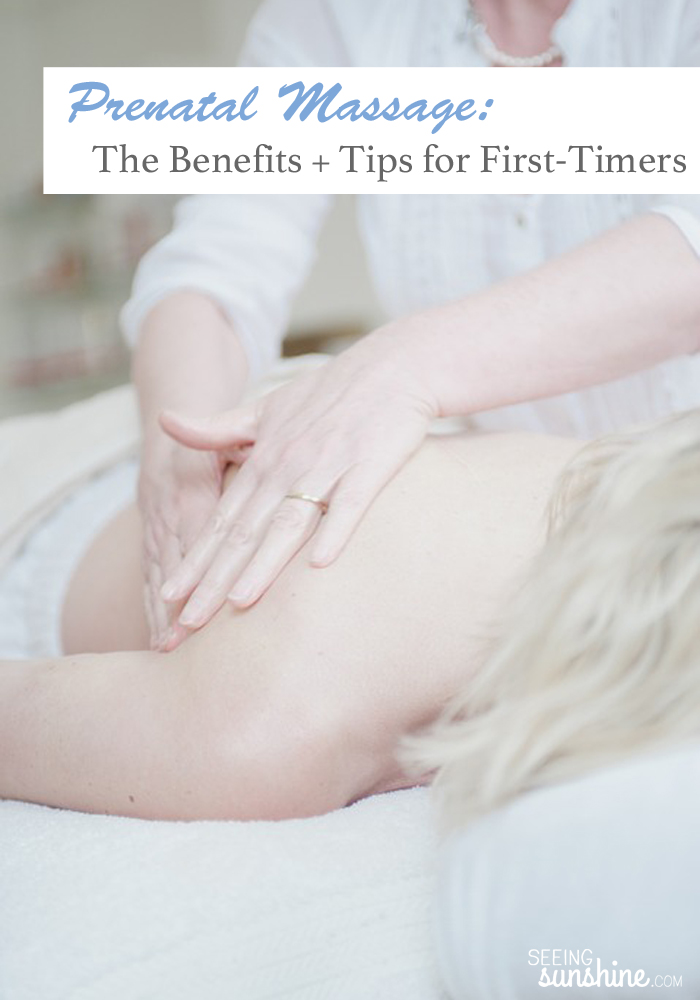 Benefits of Prenatal Massage
According to the American Pregnancy Association, there are a ton of benefits to getting regular massages while pregnant. Here are some of those benefits:
Reduced back pain.
Reduced joint pain.
Improved circulation.
Reduced swelling.
Reduced muscle tension and headaches.
Reduced stress and anxiety.
Improved oxygenation of soft tissues and muscles.
Better sleep.
Reduced anxiety and decreased symptoms of depression.
Improved labor outcomes and newborn health.
If you've never gotten a massage before, it can be intimidating to go in for one. You don't know what to expect exactly and you may have a lot of questions. Any time I get a massage at some place new or with a new massage therapist, I am nervous. I thought it would be helpful for me to give you a better idea of what to expect and pass along a few tips in case it's your first time.
Tips for First-Timers
Licensed
For prenatal massage, it is best to make sure your massage therapist is licensed and certified for prenatal massage specifically. I love that my massage therapist understands the aches and pains of pregnancy. She often gives me tips on ways to relieve certain pains at home. She's really great about letting me know which areas need more work, and always asks me if there are any areas I'd like her to focus on before each session. Someone who is certified in prenatal massage is going to understand the specific needs for pregnancy and massage.
Positioning
We all know we can't lay on our tummies anymore. Prenatal massages are done when the mama-to-be either 1) lays on her side or 2) lays on her stomach using a special table. Some places have massage tables that have a cut out for the belly. This hole can be adjusted to fit the size of your stomach. You don't want there to be pressure on your baby/abdomen, but you also don't want it to be hanging loosely with no support.
Undressing
If you've never had a massage before, you may be wondering if you are supposed to get naked. I know for my first-ever massage, I was so nervous about whether I was undressed too much or not enough. The massage therapist should tell you to undress as much as you feel comfortable. Personally, I take everything off except my underwear. I also throw my hair into a messy bun on the top of my head. This keeps my hair out of the way while she's working on my back. I also suggest taking off jewelry — specifically necklaces — as they can get in the way when she's trying to massage your neck.
Beginning
When you first meet with the massage therapist, be sure to tell them of any issues you've been having — specific areas of pain or swelling. Let them know if there are areas you don't want them to work on. For instance, sometimes I ask them not to do my feet because they are sensitive. They should have you fill out paperwork about your health and pregnancy. Be open and honest with them so you can get the best massage for you. Don't be afraid to tell them that it's your first time and you are nervous!
During
The massage therapist will leave the room so you can undress and get positioned on the table. Place the blanket over yourself. You should start laying on your stomach or side (depending what they told you to do). Most places will have soft, relaxing music or sounds playing in the background. The lights will be dim. Some massage therapists will talk to you a little, while others will stay quiet. They will use lotions and work from one area of your body to another. If you are getting a full body massage, which I recommend, they will have you turn over onto your back at some point. The first time I ever got a massage I was really freaked out when she asked me to turn over. They will usually hold the blanket/sheet up to keep you covered while you roll over. The bigger you get in pregnancy, the harder it's going to be to roll over! My favorite parts of the whole massage is when she works my hands, neck, and scalp!
After
When the massage is over — and you will be so sad that it's over — the massage therapist will leave the room so you can get dressed. Hopefully you haven't fallen asleep! Once you are all dressed, be sure to tip your massage therapist. Depending on the price of the massage, a normal tip ranges from $5-$10. For me, it always just depends how much cash I have on hand. Before you leave, be sure to book your next massage! If you are anything like me, you're going to want another one!
Have you ever gotten a prenatal massage? Do you have tips to share?
Check out these other posts for mamas-to-be:
Be sure to follow along on Pinterest too! I have lots of great boards for pregnancy and baby!