My mother-in-law made something like this awhile back, and I loved it. Ever since, I've been on a honey mustard kick! Travis and I started making this honey mustard chicken dish together, and we love it! Plus, it's really easy to make so that's always a pro.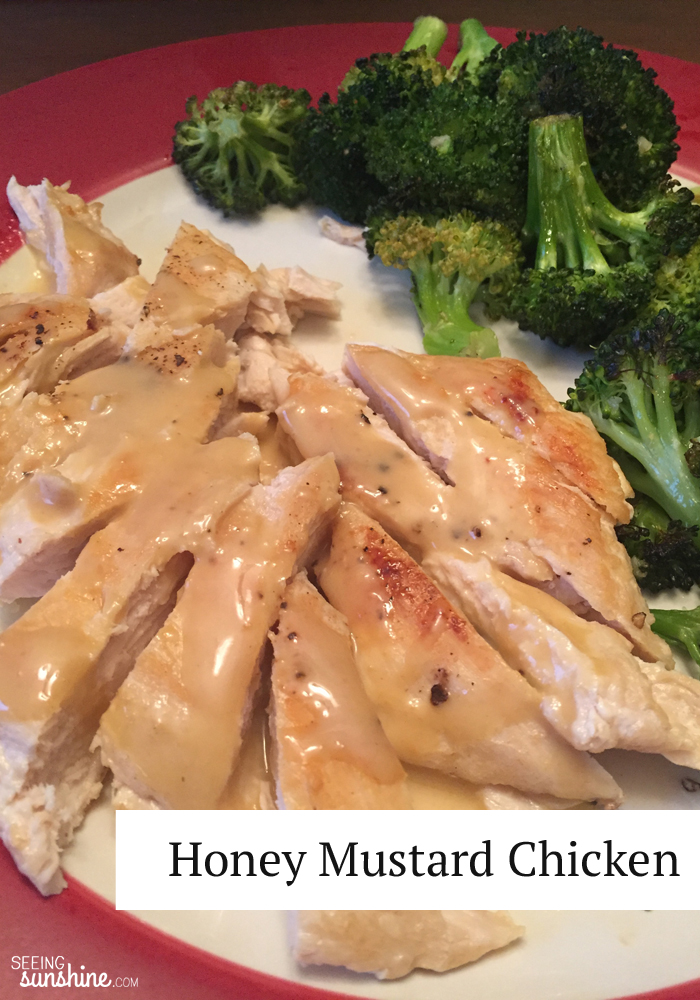 Here's what you'll need:
Chicken breasts
Dijon mustard
Honey
Lemon juice
Mayo
Soy sauce
How to Make Honey Mustard Chicken
We start by pounding out the chicken. Be sure it's room temperature and has been patted down with a paper towel. Get your cast iron skillet hot. Season your chicken breasts with salt and pepper on both sides. Travis cooks up the chicken for us in the cast iron skillet.
Cook the chicken on each side — around four minutes or until fully cooked.
While he's cooking up the chicken, I make the sauce. It's really easy — just add all the ingredients together and whisk until smooth. We drizzle (or sometimes drench!) the sauce onto the chicken. The sauce is so delicious!
We love to eat this chicken with roasted broccoli with garlic. But it would be good with almost any side dish.

Honey Mustard Chicken
Ingredients
2-4 Chicken breasts
⅓ cup dijon mustard
¼ cup honey
1 tbsp lemon juice
3 tbsp mayo
1½ tsp soy sauce
Instructions
Get your cast iron skillet hot.
Pat the chicken breasts with paper towel.
Pound the chicken down to make it thinner. Season each breast with salt and pepper.
Cook the chicken on both sides in the cast iron skillet until fully cooked through.
In a bowl, mix all the sauce ingredients together. Whisk until smooth.
Drizzle the sauce over the chicken and enjoy.
For more recipes, check out
this page
! Be sure you follow my
Pinterest board
too!