When we found out we were having a girl at our baseball-themed gender reveal party, I knew exactly how I wanted to decorate the nursery. I've never been a pink kind of girl. Purple has always been my favorite color, so I wanted to do a purple and grey nursery. I wanted to use all different shades of purple with lots of different patterns. Simple. Cute. Girly.
We started by taking out all the furniture in my home office and painting the walls grey. It turns out grey is a hard color to find. The first coat looked blue and Travis repainted the whole thing until it finally looked grey. Then we began filling the room with furniture and decorations. Now, that it is finished I can say that it turned out exactly the way I wanted. I absolutely love it!
Purple and Grey Nursery Details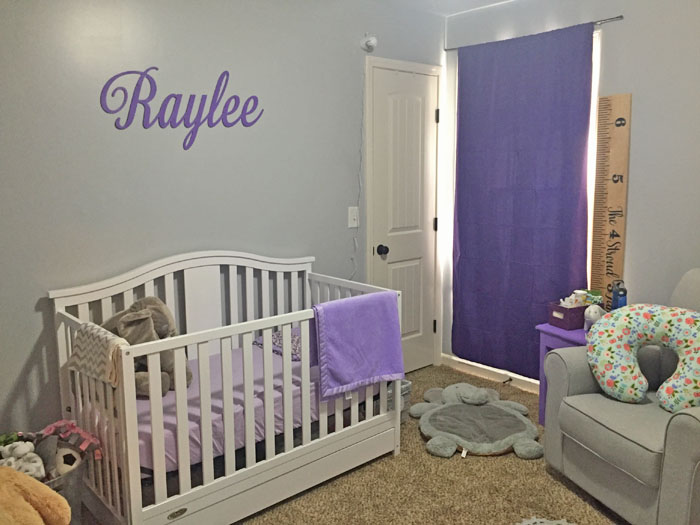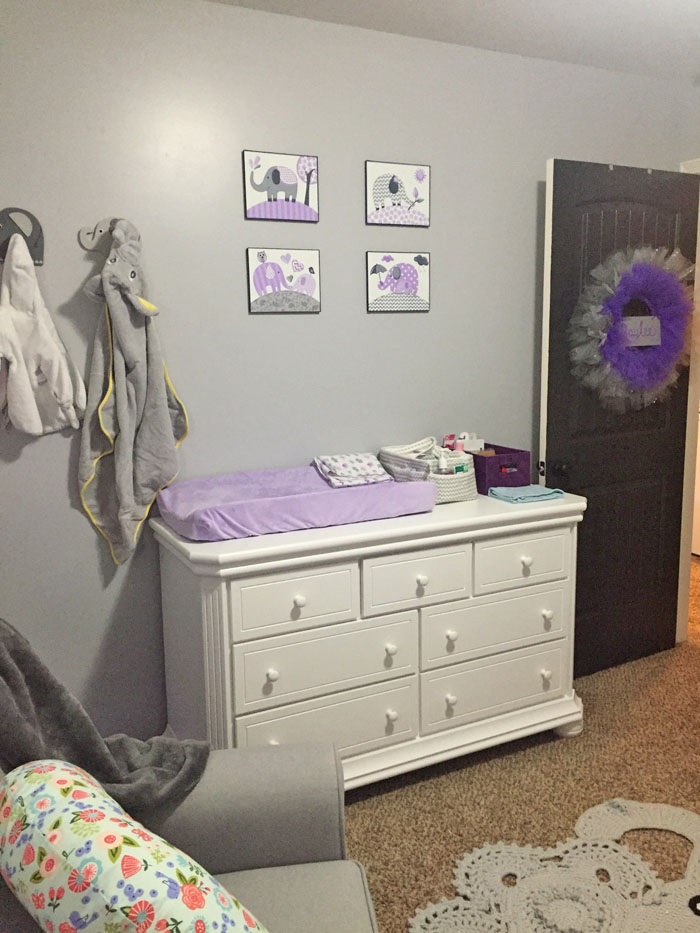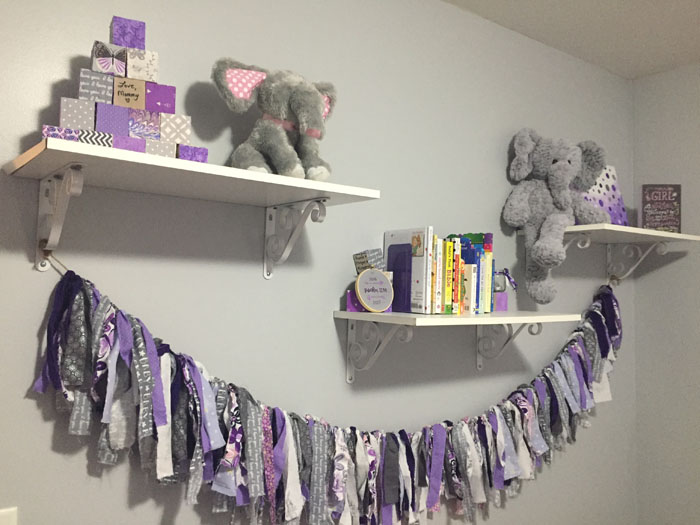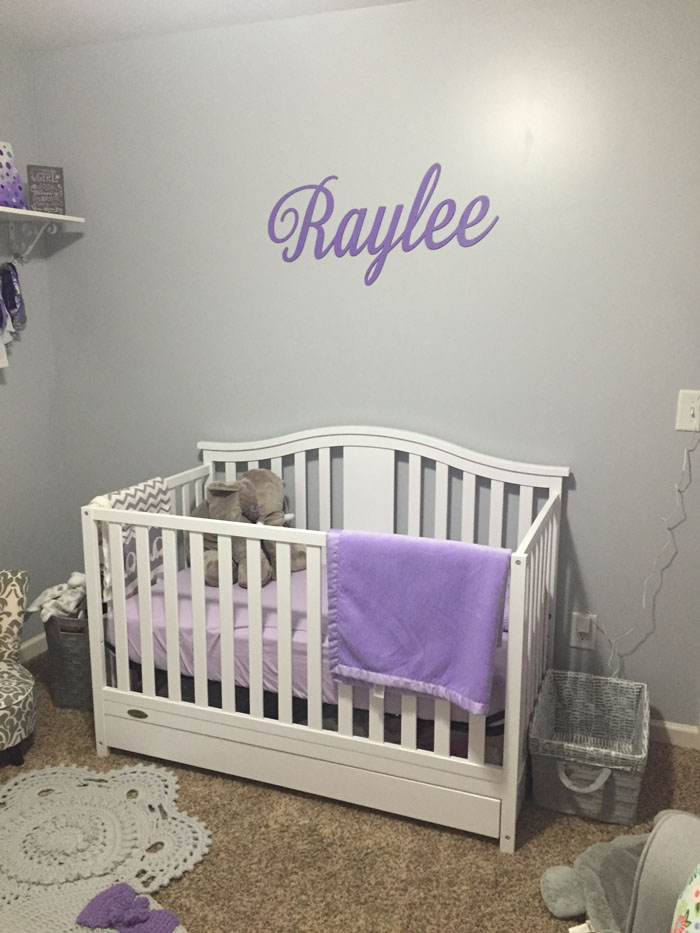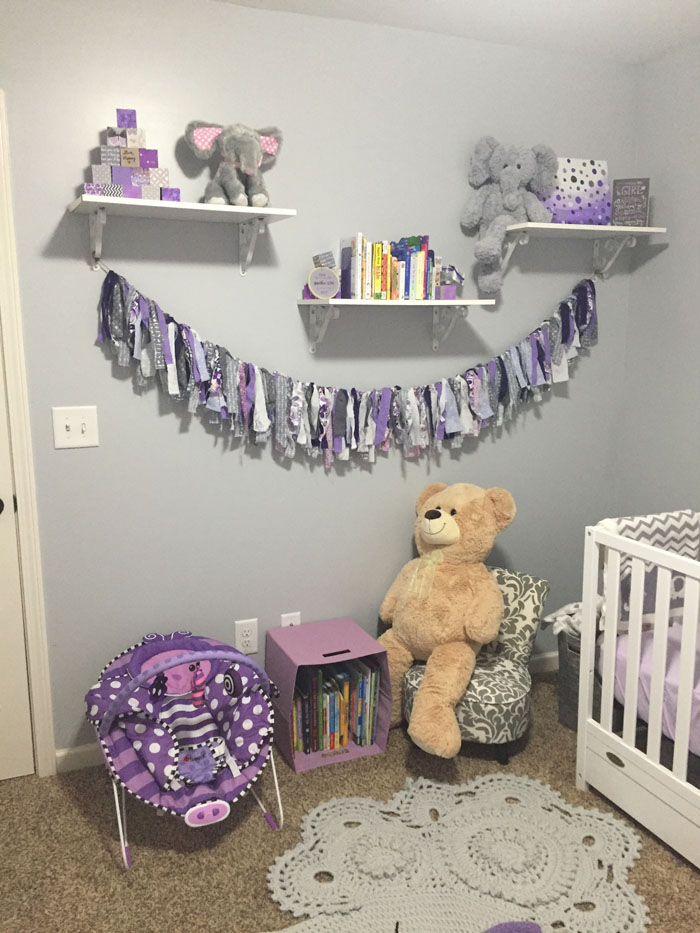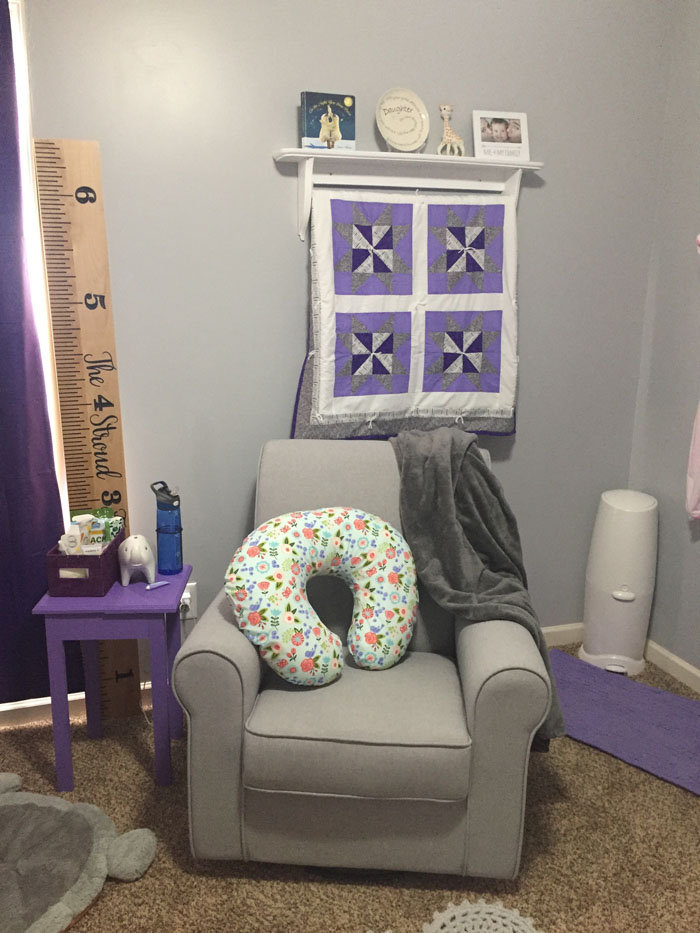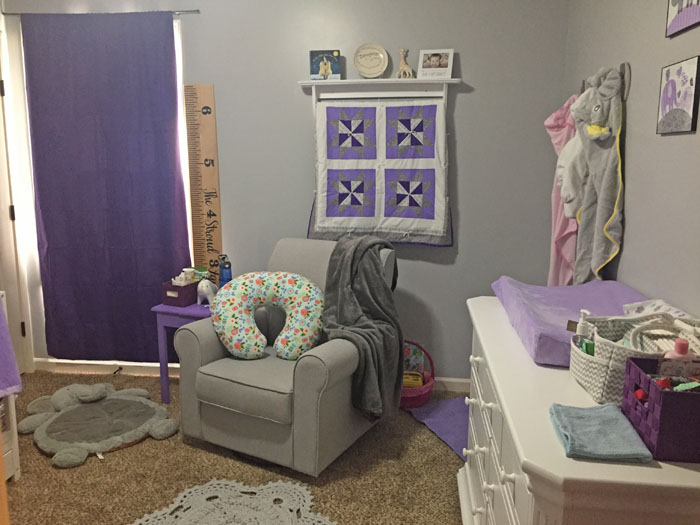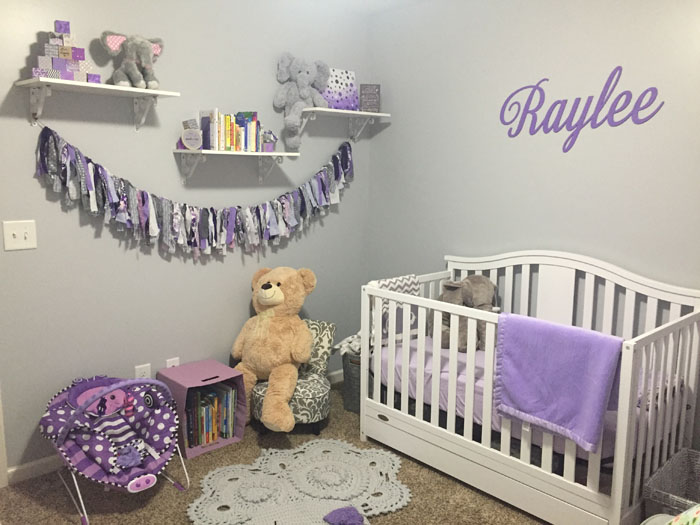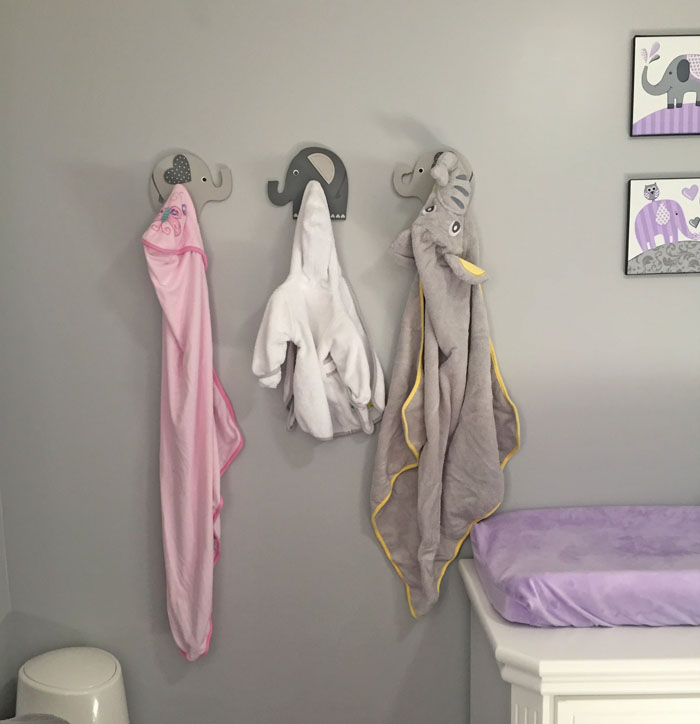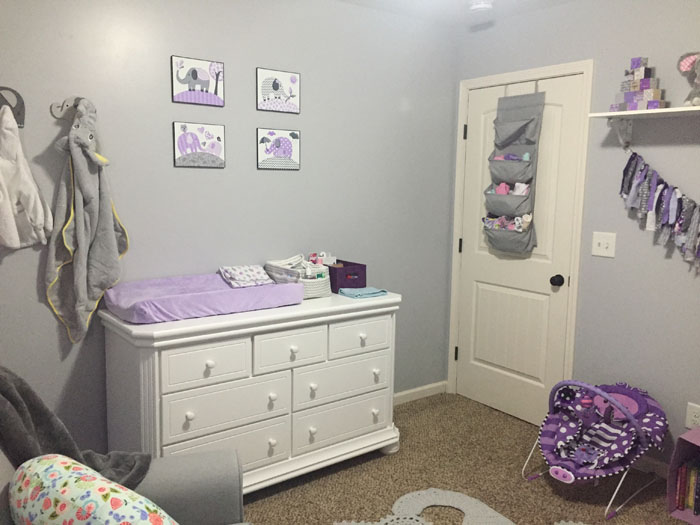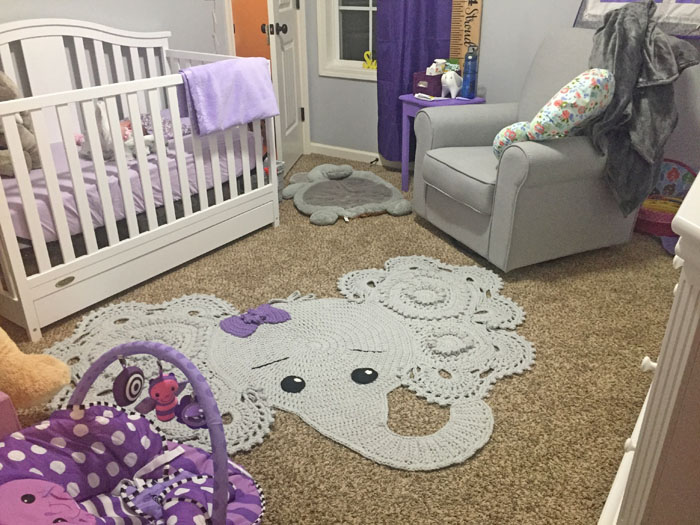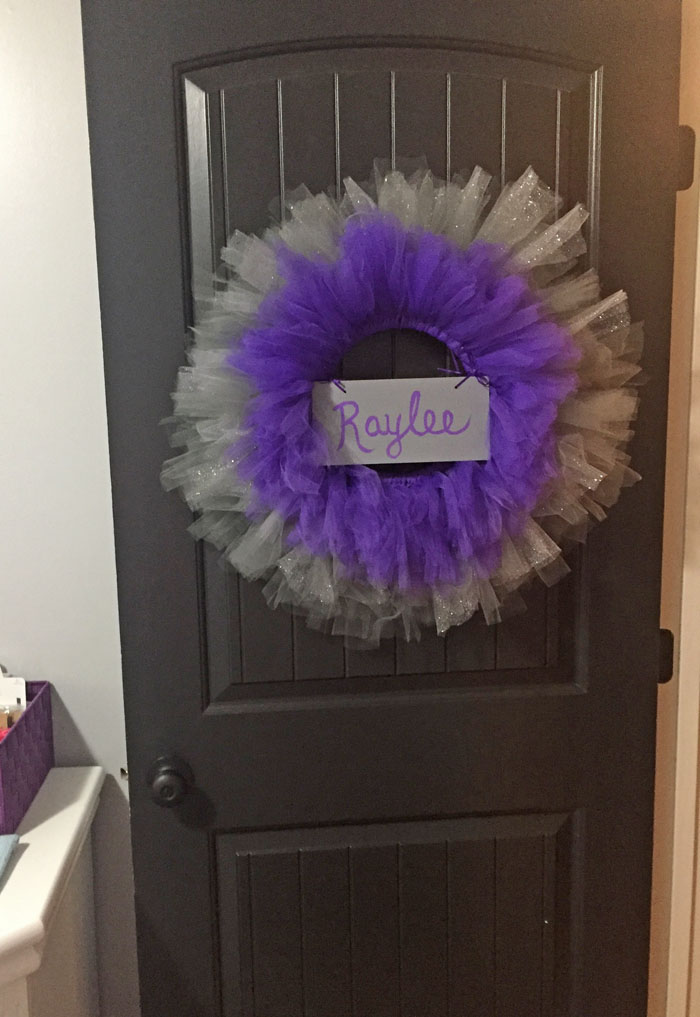 Let's go over the details in case you want to find something similar for your own nursery!
The wreath on the door was made by my mama!
The white dresser came from Babies "R" Us.
The four elephant pictures above the dresser were found on Ebay and given to us as a gift.
The three elephant wall hangings with hooks were given to us as a gift.
The crib came from Walmart. It has a drawer on the bottom, and it is a convertible crib.
The wooden name sign came from Woodland Manufacturing.
The white shelves came from Lowe's. The white shelf that holds the quilt was made by my uncle.
The butterfly bouncer seat came from Amazon and was given as a gift.
The white and grey chair is from Burlington and was given to us by my parents.
That giant teddy bear is from Kroger. Raylee got that for Christmas last year.
The large fabric garland was made by my sister-in-law and used at our baby shower.
The quilt and growth chart were both handmade and given to us as gifts.
The gilder was found on sale at Buy Buy Baby.
Travis made the small end table and I painted it purple. It's where I keep my breastfeeding essentials.
The purple curtain is from Amazon.
The elephant play mat is from Babies "R" Us.
The elephant rug was handmade by my sister-in-law.
I can't tell you what my favorite part of this room is. I just love all of it so much!
What's your favorite part of our nursery?
I got a lot of inspiration from Pinterest. Be sure to check out my boards!