As you may know if you read my daughter's birth story, after delivering her I found out that I had a fourth-degree vaginal tear that went all the way through my rectum. I know, sounds pretty, right? Pretty gruesome and painful — that's for sure!
Thanks to my epidural, I didn't feel the tear happen at all. Thank the Lord Almighty! But the recovery from such a vaginal tear is not fun. I was given a two-month recovery time, which feels like forever! I was given plenty of pain medication in the hospital, and they sent me home with quite a bit too. That has been very helpful, but pain medicine is not all that I needed.
At the hospital, I was given all sorts of items to aid in my recovery. They sent as much as they could home with us, but to be honest, it wasn't enough. I ran out of some of the items quickly. Others were things I found on my own that helped. Thank goodness for Amazon! I definitely didn't have time or energy to go to a store to find these things, but all of the items I'm sharing with you can be found on Amazon — many of them on Amazon Prime.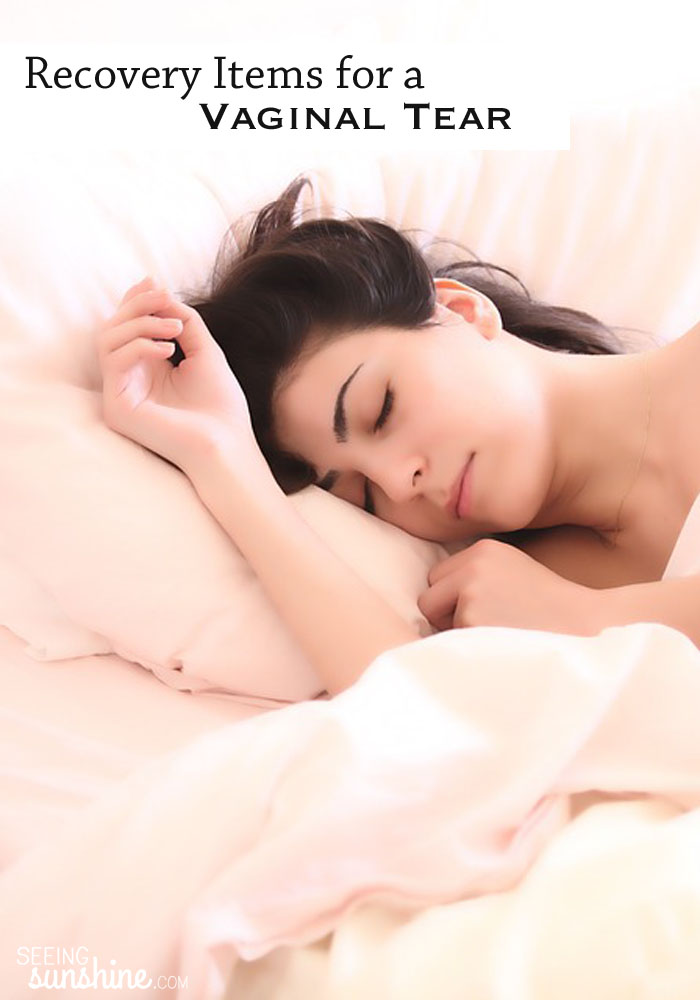 Vaginal Tear Recovery Items
Pads with Ice Packs — I loved the pads I got at the hospital, and they sent me home with a bunch of them. However, I went through them pretty quickly. Travis called two local hospitals to try and get more for me. But we only got a few more. Then he found these on Amazon and bought a big box of them. When they came to our door, I was so happy!
Peri Bottle — I got one of these from the hospital and it really helps when I needed to use the restroom. But I wanted an extra one to keep in the downstairs bathroom. When you are dealing with a tear, you don't want to have to walk up the flight of stairs just to use the restroom. I tried to keep a little of everything I needed in both the upstairs and downstairs bathrooms.
Tucks Pads — The hospital sent me home with the generic version of these, and I went through them in like one day. Seriously, we bought two more packages and I went through all of them within a week. The ones I got from the hospital had a refill, but they wouldn't let me refill it so soon. I thought that was crazy! So get as many as you want. You will use them!
New Mama Bottom Spray — Someone recommended this stuff to me, so my mama went out and bought some that very night! I love that it is a spray so it's easy to apply. I put this on every time I went to the bathroom.
Mama Bottom Balm — My mom also bought me this stuff while she was running errands for us. At first, I wasn't too sure about it. Rubbing something on my nether-region didn't sound fun. So I waited a couple weeks before trying this out. Once I was comfortable applying it, I really liked it! This stuff gives you such a cooling sensation. Plus, it's specifically made for problems like vaginal tears.
Sitz Bath — If you didn't get one of these from the hospital, buy one. My husband would help me take sitz baths every once in awhile. It felt really good. And it helps keep your bottom clean, which is important. Once I was able to go #2, I made sure to have a sitz bath that same day.
Postpartum Underwear — I got plenty of these from the hospital, but in case you didn't — here they are on Amazon. These mesh undies are great for keeping your giant pad in. They aren't pretty, but who cares! I wore these for several days when I came home from the hospital.
Inflatable Butt Pillow — This sounds funny! We came home with one of these from the hospital, and I didn't use it all the time but I did use it some, especially when I was in pain. You sit on it so the pressure isn't on your stitches.
Stool Softner — The hospital should give you plenty of these, but if not get some! Going #2 is really scary when you have a tear. So the softer your stool is the better. I was advised to take the stool softener three times a day. When you feel your body needs to go #2, just be sure to take it slow. Let your body do it's thing and clean well afterward.
More than anything, make sure you get help. Whether it be your spouse, mom, sister, or friend — be sure someone is available to help you. That first week is really rough (even without a tear!) and it is even rougher when you are in pain. My husband was a huge help! He would get the sitz bath ready for me and even helped me go to the bathroom those first few days. Having my husband and mom at my house to help me was amazing! Be sure you are eating (lots of fiber too), drinking lots of water, and getting plenty of rest.
Have you had a vaginal tear? What things helped you heal?