I didn't know it was going to be like this. I've wanted to be a mom my whole life. When people would ask what I wanted to be when I grew up, more often than not my answer was "a mom." Thanks to lots of babysitting throughout my life, I always thought I'd be a good mama. I thought motherhood would come easily.
And then she was born. We left the hospital with our brand new daughter, and suddenly my entire life was different. Not only am I trying to heal and recover from delivering an 8 pound human and getting a fourth-degree tear in the process, but I'm also trying to take care of said human. I didn't know taking care of someone else — someone who is completely relying on you to survive — would be so exhausting.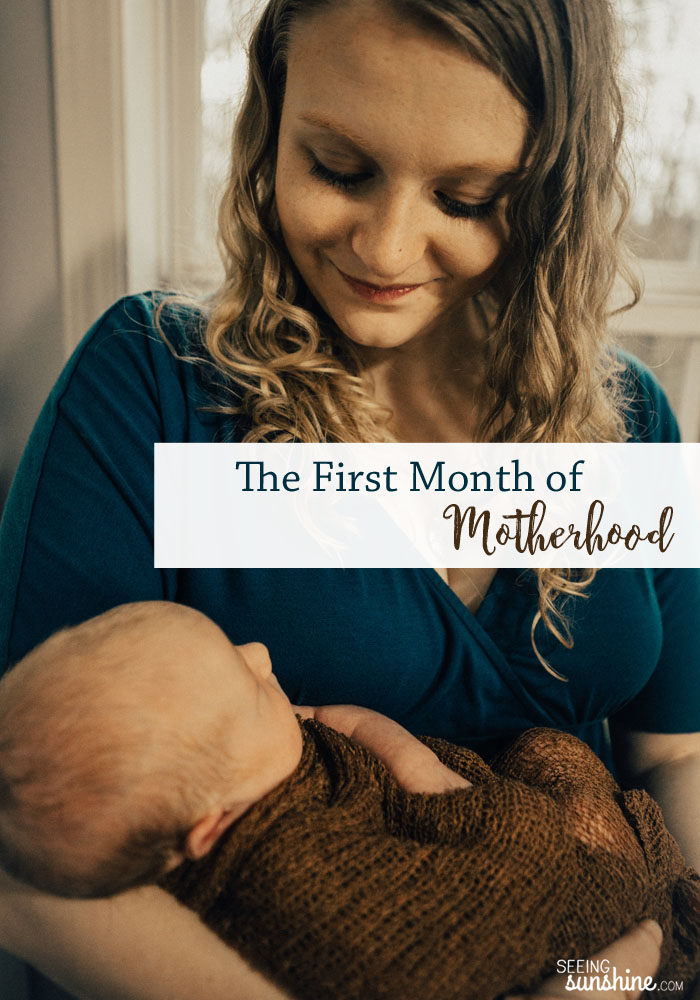 Motherhood is Hard.
That first week is a blur.
My expectations were off regarding breastfeeding. I thought it would come naturally. I thought it would be this special bonding experience between my baby and me just like everyone had told me. Instead, it was painful. My nipples completely scabbed over. And the baby wasn't the only one crying anymore.
After seeing a lactation consultant, it did get better. My nipples have healed and nursing isn't painful anymore — for the most part anyway. Even after I figured out the latch and positioning, it still wasn't the bonding experience I had anticipated. I was still dreading feeding time. It felt like that was all I did. There were so many days I just wanted to give up. Breastfeeding is difficult, restricting, and time consuming.
Then there's the pressure and guilt. I feel like others will look down on me or think less of me as a mother if I stop breastfeeding. There have been so many days I have felt like a failure, like I'm not a good mama. There have been days where I feel like my baby doesn't like me. It seemed to all come so easily to my husband — someone who hadn't even changed a diaper before our daughter arrived! How come it felt so hard for me?
There's also the guilt of knowing others would love to be sleep deprived if it meant they got to have a baby of their own. There are those out there who are suffering from pregnancy or infant loss, those who are dealing with infertility — and here I am complaining about having the one thing they desperately want. And there are people who have much harder complications than what I have. Yet here I am with a healthy baby and tons of support from family and friends. Guilt. Guilt. Guilt.
My life is now full of changing diapers, swaddling, changing her clothes when she pees or poops on them, burping her, feeding her, rocking her, soothing her, singing to her … I've learned that motherhood is giving of yourself. Over and over. With no thanks in return. If the newborn stage wasn't hard enough, it makes it even harder that your baby can't tell you what she likes/dislikes, that she appreciates what you are doing. She can't even smile at you yet.
A friend of mine said, "The newborn stage is hard. All they do is eat, and poop, and need, and take, and they cry if it's not done fast enough. It's hard to give everything you have with no gratitude in return." Exactly.
Add in the hormones and every day is a roller coaster of emotions. I thought I cried a lot during pregnancy, but I cried even more postpartum. Part of it was sleep deprivation too. I didn't know I could go a whole month with no more than 3 consecutive hours of sleep at a time.
Everyone kept telling me to enjoy the newborn stage. They won't be this little forever. Savor all these moments. But rather than savor the moments, I was trying to survive them. That's honestly what the first month of motherhood is — pure survival.
I'm not trying to complain. Or whine. I don't want anyone to feel sorry for me. I'm just being honest. I didn't know it would be like this. I had no idea it would be so hard. And I'm sure there are new mamas out there who may feel the same way. I know it helped me to hear someone else was struggling too, to have friends say "Yeah, the newborn stage is no fun!" It takes away the guilt when you know you aren't alone.
So if you are a new mama who is struggling and just trying to survive — I feel ya, girl. I'm there with ya. Everyone kept telling me it gets better and easier. Sometimes, I had a hard time believing them. But I look back on that first week, and I can see that it did get better. Each week it's gotten a little better.
After hitting the one month mark, things really began to improve. Don't get me wrong, I still have days where I cry right along with her. Or days where I just want to pass her off to Daddy so I can get a break. But we are getting the hang of breastfeeding and she is beginning to sleep more, which means I get to sleep more. We are finding a routine. I'm beginning to think I can do this. And I know soon the good days will outweigh the bad ones. Maybe there will eventually be more smiles than cries.
New mama, you are not alone. You will survive. We're in this together. And we can do it.
How did your first month of motherhood go?
Read my daughter's birth story here!