When I was pregnant, people joked by saying things like, "Get sleep while you can!" At least I thought they were joking. They laughed when they said it. But it turns out, it wasn't much of a joke at all. I didn't think I could sleep well with a giant belly and bladder that needed emptied every two hours. But little did I know what was to come! You really don't get any sleep when you have a baby. The sleep deprivation is very, very real. Sadly.
As far as I can tell, Raylee is just a really bad sleeper. At least I hope so. If this is normal, I might not want any more kids! Joking … kind of.
When she was about five months old, I was pretty fed up with the lack of sleep I was getting. I didn't think she should still be waking so many times at night. I also really needed to figure out how to get her to nap on her own — without me holding her! If she could nap on her own, I could get things done (like blogging!). And I really missed blogging.
A friend of mine recommended some sleep consultants who helped her sleep train her baby. So after going back and forth for awhile, we finally decided to just chuck over the money and hire the help. I'm kind of embarrassed to say we hired someone to help us get our baby to sleep. It makes me feel like I'm not a good parent because I couldn't figure it out. But in all honesty, I couldn't figure it out! I had no idea what to do even after reading countless articles on the topic of sleep training and getting lots of opinions from other mamas.
The sleep consultants gave us lots of advice and tips. They created a plan for us to follow. That plan included a daily schedule that would get Raylee into a nap routine. It evenly spaced out her naps and her feedings, and it gave her a strict bedtime and wake time. I followed the plan for four weeks, and in that time I learned a lot.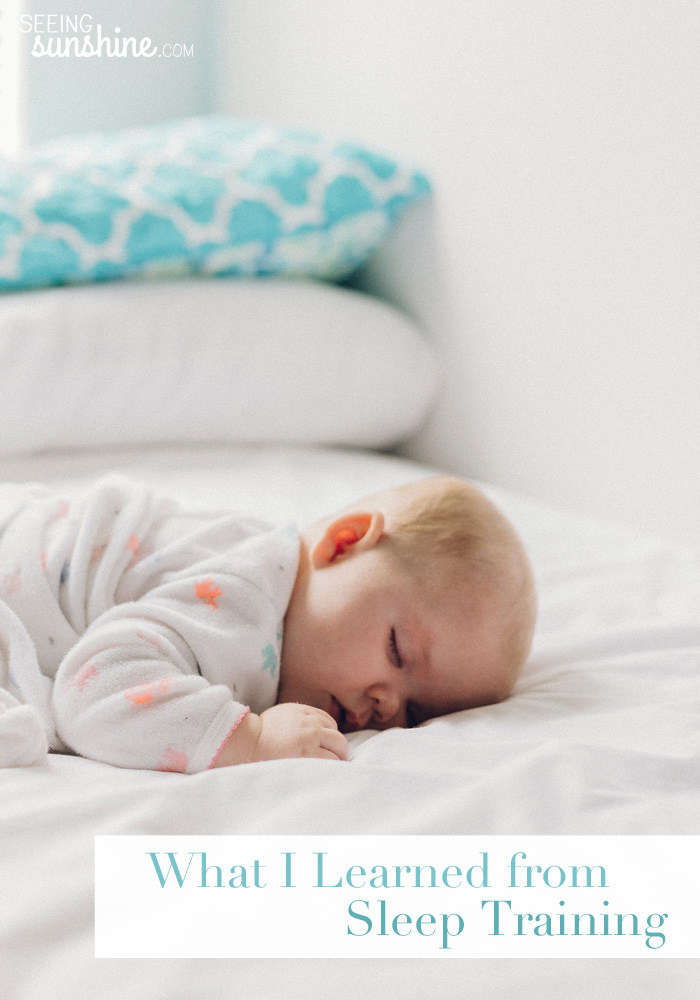 Sleep Training: What I Learned
This is the second time I've written this post. The first time I talked about some of the things the sleep consultants taught me — things like wake times and sleep cycles and wake, eat, play routines. But instead, I've reworked this post. I've edited it down to the three most important things I've learned from sleep training.
It's Hard Work
If you ask me, sleep training was harder than giving birth. Maybe because it lasts longer. Sleep training is all about consistency. It's about creating routines and adjusting your baby to that routine until they learn. The cry-it-out method just wasn't for me. So we chose to do a pat-shush method. That means when Raylee woke up, I would go in and pat her and shush her until she fell back asleep. We didn't pick her back up because we didn't want her to learn that crying means she gets to be held.
According to the schedule from the sleep consultants, Raylee is supposed to take three naps a day. That means for four weeks, three times a day I was patting and shushing for however long I needed.
And it was terrible.
I wanted to give up basically every single day. Another reason this was harder than giving birth — I was all alone. There was no one there to cheer me on or encourage me like there was when I was pushing. That brings me to the next point…
It's Not Worth My Sanity
Sleep training made me feel depressed. Trying to follow a strict schedule drove me insane. I felt so alone every day. I dreaded nap time. And when I finally got her to sleep, I felt anxiety knowing she would wake soon. Every time she wouldn't sleep, I felt like a complete failure.
As I wrote in this post, breastfeeding made me feel trapped. And when I received our proposed schedule from the sleep consultants, I cried. It made me feel even more trapped. How was I ever going to be able to leave the house with this nap schedule? I was turning down play dates and other events that I desperately wanted to go to. I stopped going to my weekly Bible study. I canceled other events that I had signed up for. I was stuck at home, all day every day, patting and shushing until I was in tears.
I was told that just a few weeks of sticking to the schedule would help Raylee get the routine down and then we could be a little more flexible with it. After two weeks, we did begin to see results. Raylee began sleeping for longer stretches in the night and she did really well for two of the three naps. But then we traveled to visit family, and the whole thing went out the window. I did everything I could to stick to the schedule while we were away, but for whatever reason she regressed.
Everything Will Change
The last thing I learned when it comes to sleep training is that everything will change. Your child will regress because of traveling, teething, sickness, or some other reason. Hopefully, they will go back to the routine you've taught them. Hopefully, they will learn to be a good sleeper. But as soon as they do, things will probably change again.
Once we got home from our travels, I still stuck to that strict schedule. After another week though, I finally talked to my husband about it all. I just couldn't do it and I was afraid of becoming more depressed. I dreaded nap time. I dreaded wake time. I dreaded bedtime. I dreaded the morning. I didn't look forward to anything at all. And worst of all, it felt like it was never ever going to end.
So after several weeks of sleep training, I honestly can't tell you whether it's worth it or not. I wish I could say my daughter is now an amazing sleeper. But she's not. It's still a struggle. But giving up that strict schedule and just "going with the flow" has given me the chance to breathe again. I can leave the house now!
We threw sleep training out the window. Maybe that means our baby will never learn to sleep well, but it does mean that her mama is going to be much healthier.
I would love to hear your take on this topic.
Have you tried sleep training? Did it work? What recommendations do you have for someone who has a bad sleeper?
Check out these other posts: