I recently went to a Favorite Things party. Have you ever been to one? I think I need to throw one myself! I wanted to bring a treat to the party, which had a Christmas theme, so I made these Christmas shortbread bars. And they were delicious! Plus, it didn't take me long to make them!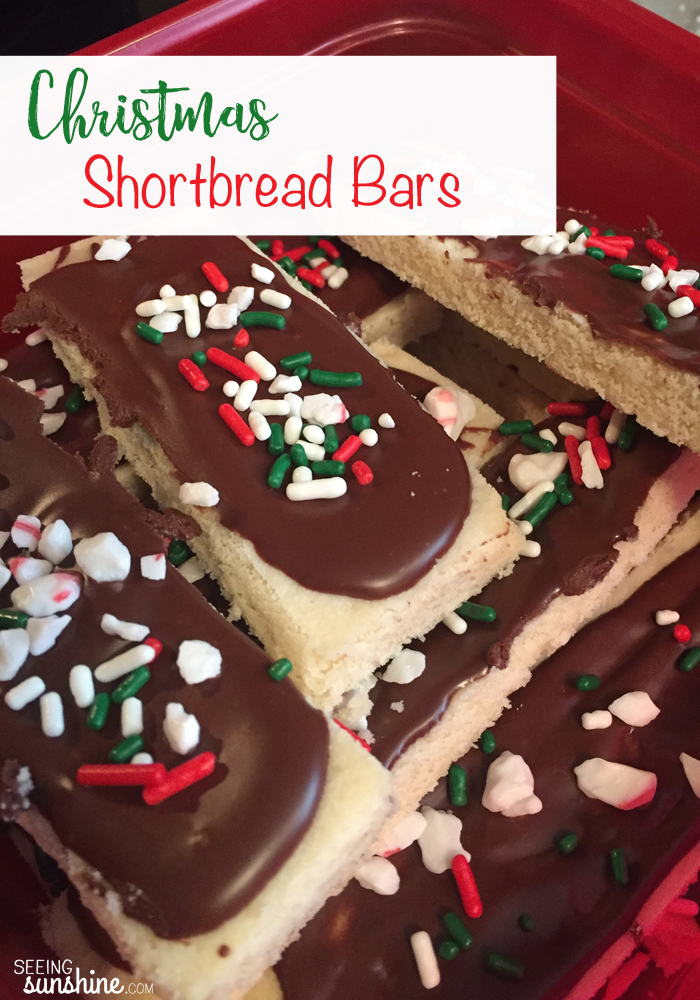 Here's what you'll need:
Butter
Powdered sugar
Eggs
Vanilla
Salt
Flour
Dark chocolate chips
Shortening
Christmas sprinkles
Peppermint candy pieces
How to Make Christmas Shortbread Bars
To make the shortbread, you take softened butter and cream it together with the powdered sugar. I used my Kitchen Aid mixer for this recipe, which made it super simple. Next, I added in the eggs and vanilla. I mixed that all together, and then added in the salt.
Lastly, I added in the flour about one cup at a time, mixing between each addition. I rolled the dough into a ball and cut it in half. You can put foil or parchment paper down on two baking sheets. This helps with clean up! I sprayed cooking spray over the foil. This is important because it will help you get the shortbread bars off the cookie sheets without breaking.
Roll the dough out onto the baking sheets into rectangles. You want the shortbread to be thick so it will be nice and soft. You also want the whole layer to be even so it all bakes evenly.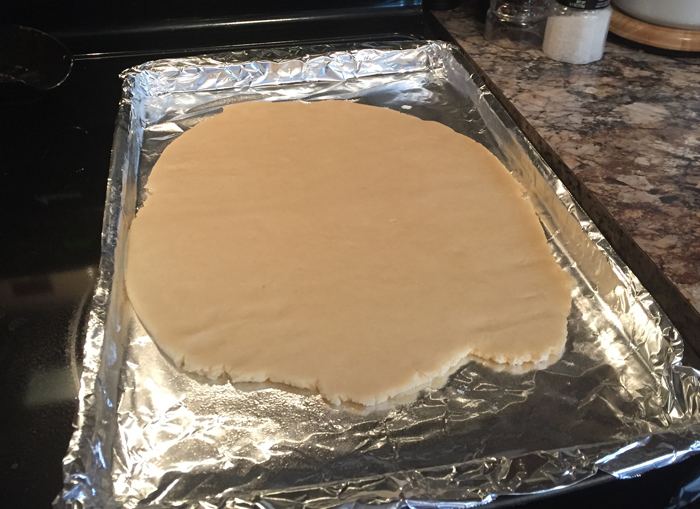 After they are finished baking, let them cool completely. Then use a pizza cutter to cut them into bars. You can make them as long or short as you'd like.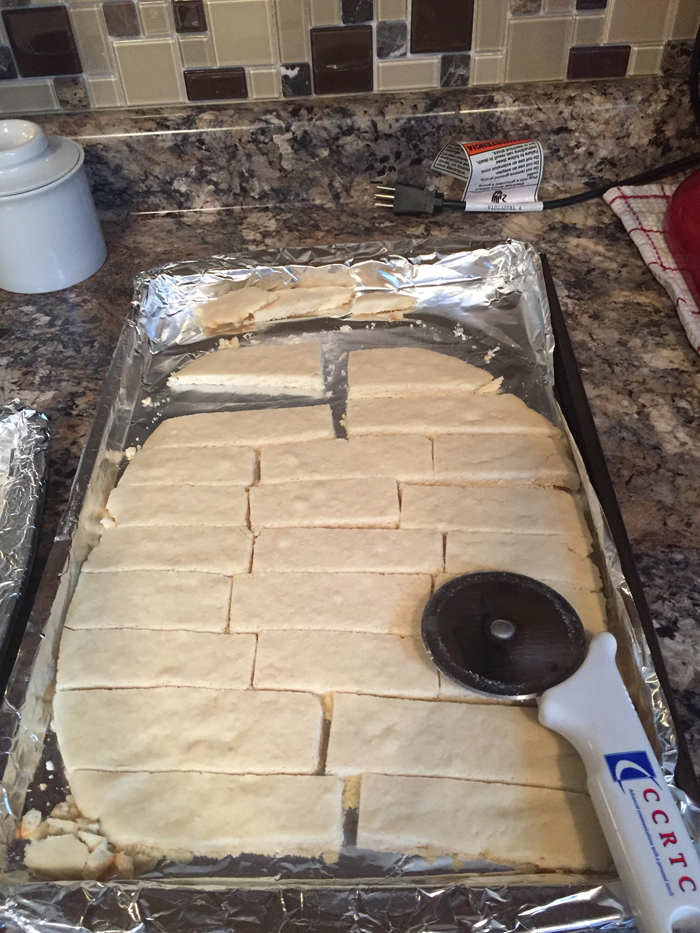 Next, melt the chocolate chips and shortening together in the microwave. Be sure you do this in intervals so you don't scorch the chocolate. I put it in for 20 seconds, stirred, and did another 20 seconds. Spread the chocolate sauce over your bars evenly. You can use a knife or a spoon.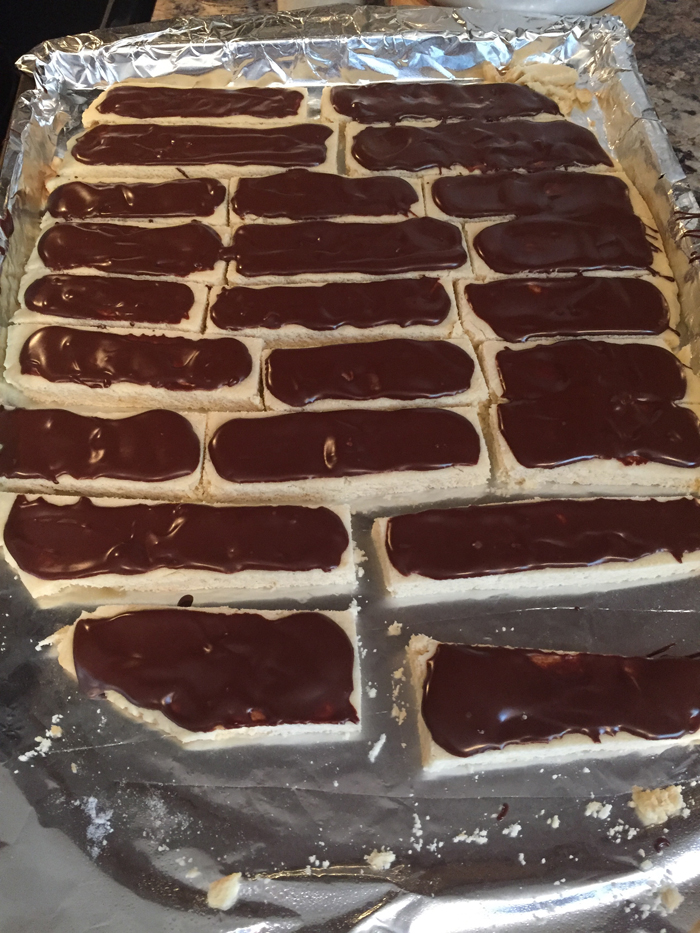 Before the chocolate sets, sprinkle the peppermint candy pieces and the sprinkles over the top. If you aren't a fan of peppermint, just add sprinkles without the candy cane pieces. Let the chocolate harden a bit before putting them in a container.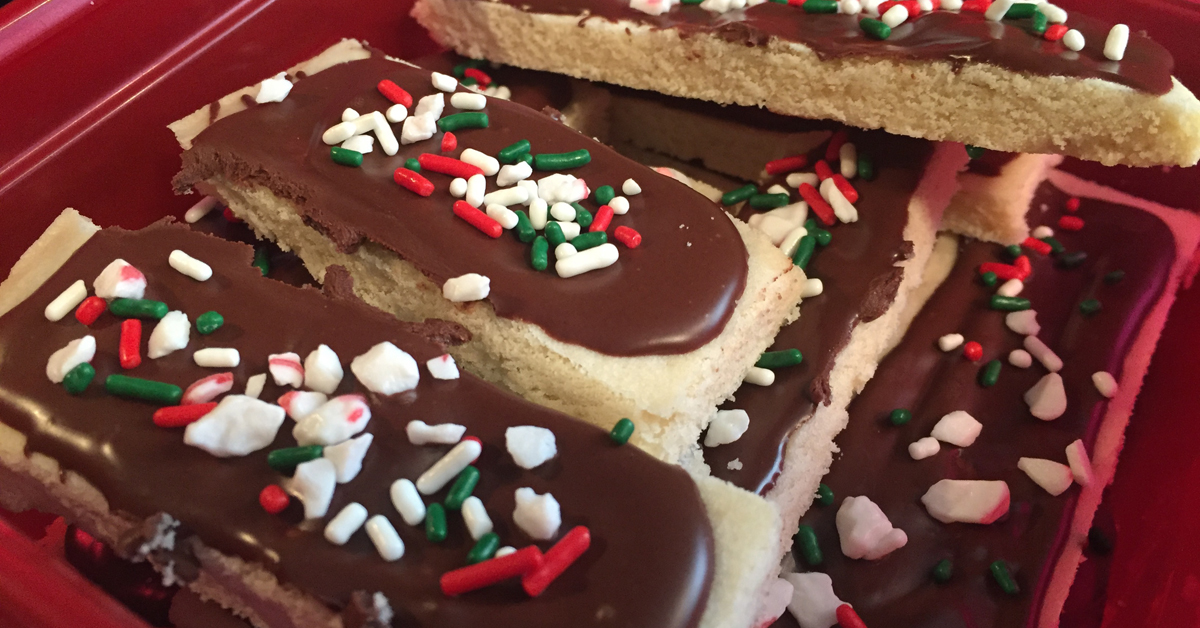 Christmas Shortbread Bars
Ingredients
Shortbread
1 cup butter, softened
2 cups powdered sugar
2 eggs
2 tsp vanilla extract
½ tsp salt
4½ cups flour
Toppings
2 cups dark chocolate chips
2 tsp shortening
peppermint candy pieces
Christmas sprinkles
Instructions
Preheat oven to 350 degrees
Cream together the butter and sugar
Add in the eggs and vanilla, mix
Add in salt
Add the flour one cup at a time while mixing
Roll the dough into a ball, split in half
Roll the dough onto two baking sheets lined with foil and sprayed with cooking spray
Roll out the dough into even and thick rectangles on each sheet
Bake at 350 degrees for 10 minutes
Let the shortbread cool completely
Use a pizza cutter to cut the shortbread into bars
Melt the chocolate and shortening together
Spread chocolate over the bars evenly
Sprinkle bars with peppermint candy pieces and sprinkles
Check out my other recipes
here
. This recipe was adapted from
Inside BruCrew Life
.